I had the opportunity to interview Oscar®-winning screenwriter Dustin Lance Black, Milk, back in January at the Critics Choice Awards (where he won Best Writer). Since then, his screenplay—about Harvey Milk, the first openly gay elected official—has been recognized by BAFTA, the Chicago Film Critic Association, Writers Guild of America (Best Original Screenplay as well as the Paul Selvin Honorary Award, which recognizes written work that embodies the spirit of constitutional rights and civil liberties), and others, including last weekend's double-whammy screenwriting nods: the Film Independent Spirit Award for Best First Screenplay and the Academy Award® for Best Original Screenplay. For more information on the film, go to imdb.com.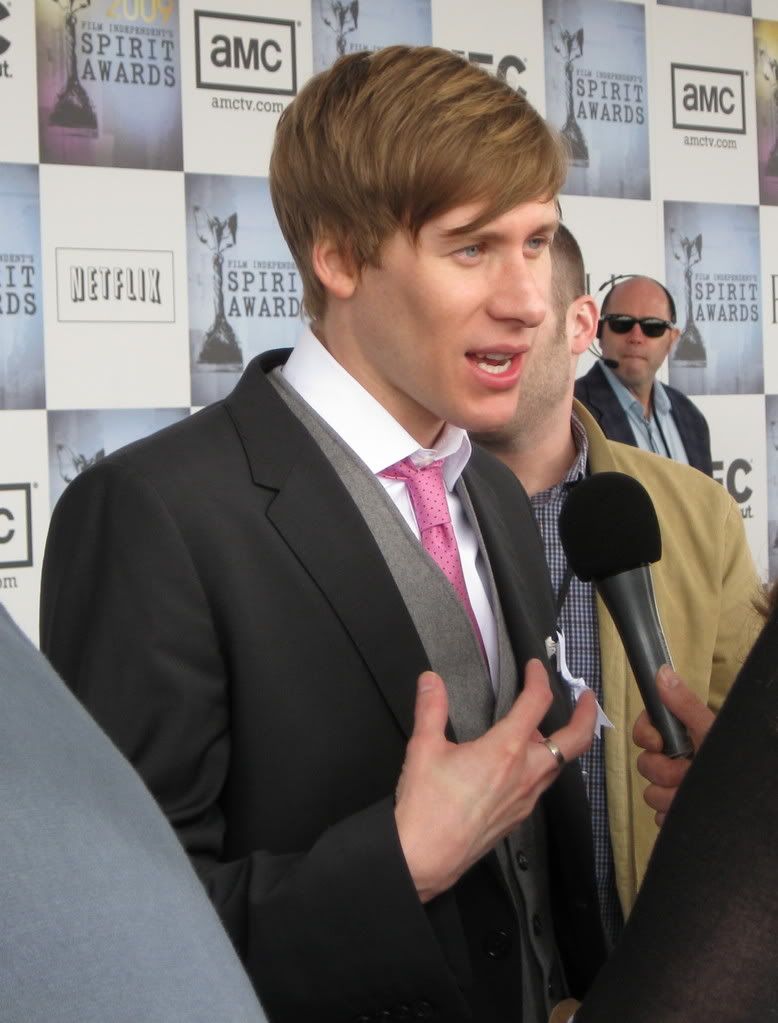 Why Milk?
When I was a teenager and I was living out in San Antonio, Texas, I was in a Mormon home, a military home—it was very conservative, and I was very, very closeted. I had a lot of trouble. I was a very shy kid, for that reason, I think.
I moved out to the Bay area—my folks got a transfer—and I heard the story from a theatre director of an out gay guy (Harvey Milk). I thought, "That was a real stupid thing to do. Why would you ever do that?" You invite a lot of shame and, potentially, physical harm.
But he said, "No, he was elected into public office and celebrated and beloved."
It was such a new idea for me. I think it's still a new idea for a lot of kids out there. That you can be an out, gay hero.
That story gave me a lot of hope. I could see that so clearly as the moment I went from feeling so repressed and underdeveloped to the moment I started to grow and come to life again.
This story has always been so immensely important to me personally.
Have you always wanted to be a writer?
I grew up in the theatre, and when I went to film school, it was as a director. I started writing, so I would have something to shoot that I really cared about. It's not like you are getting out of film school and being offered your favorite book or something that you really, really care about passionately. So, you have to start writing. And somewhere in there, I started my love/hate relationship with writing—I'm still working on it today: that love/hate relationship with writing.
How did you go about writing Milk? How did you approach the blank page?
Since it is based on a true story, it's all about the research. I get to a point where there's so much research, that eventually it has to explodes, it has to get out of my head. I never really had blank pages—I have tons of pages and lots of note cards with information.
It's becomes more like sculpting. You have your ideas, you have your over-reaching ideas of what you want to say and what each story is, and then you start to sculpt with your notecards. And then by the time you get to that blank screen, you have a roadmap. It's a nice way to avoid the blank page.
Any advice for writers?
This one is easy. You've got to write what you're passionate about. I don't care if that's a bio pic about a gay man or if that's about the bloodiest horror movie you could ever imagine. You've got to write what you believe in, because you can't go do a commercial movie just because you think it's going to sell.
What is your favorite way to procrastinate?
I work at this coffee shop but I say it's because I work better in a coffee shop, but it's because all my friends come. It means I can get absolutely nothing done all day and feel like I accomplished something.
What is the one thing you know now that you wish you knew when you first started writing?
I probably wish I knew those short cut keys on Final Draft. Now that I finally figured them out, they're extremely helpful. That would be number one.
Tags:
2009
Author Q&A
Best Screenplay
Critics Choice
Dustin Lance Black
Milk
Spirit Awards
WGA
Write On!