Today, writer Dennis Palumbo shares his experience with the Write On! Community. A former Hollywood screenwriter (My Favorite Year; Welcome Back, Kotter, etc.), Palumbo is now a licensed psychotherapist in private practice, specializing in working with writers. He is the author of Writing from the Inside Out: Transforming Your Psychological Blocks to Release the Writer Within
and the recent From Crime to Crime: Mind-Boggling Tales of Mystery and Murder
. Check out Dennis' blog: dennispalumbo.blogspot.com.
How did you first start writing?
I started writing in high school, co-writing the senior play. Then I did political pieces for my college newspaper, The Pitt News. After some years as an ad copywriter in the Midwest, I came to Hollywood to try my hand at TV and film writing. I started by writing jokes for stand-up comics, which led to my meeting Gabe Kaplan, which led to my job (working in partnership with another comedy writer, Mark Evanier) as a staff writer for Welcome Back, Kotter. After Mark and I parted amicably, I turned to features, most notably the film My Favorite Year, starring Peter O'Toole. No doubt, I worked hard, but I also had a good bit of luck along the way.
How and why did you go from screenwriter to fiction and non-fiction writer?
I've always loved writing fiction. In fact, before my first TV-writing job, I'd already sold a mystery short story to Ellery Queen's Mystery Magazine. During my entire 20-year career as a Hollywood writer, I continued to write short stories, as well as articles for The Los Angeles Times, EMMY Magazine, and other publications.
What process did you go through to get your books published?
Agony. Seriously, it just takes being persistent. My first novel, a sci-fi thriller called City Wars, was published by Bantam Books early in my Hollywood days. It wasn't until 2000 that John Wiley & Sons published my nonfiction book, Writing From the Inside Out. Then it took another eight years until From Crime to Crime. Like most writers I know, I've been through a dozen agents, have received hundreds of rejection slips, and faced daily the trials and tribulations of the writing life.
How important is diversification for a writer?
I think it's very important to diversify. Though publishers are interested in establishing your "brand," for the writer him- or herself, writing about whatever interests you keeps you nimble and creative, and keeps your work personally relevant. That's why so many writers use multiple pseudonyms. If you're known for whodunnits and you want to write a romance novel, it's probably a good idea to use a pseudonym. Since, as a therapist, I'm interested in social and media-related concerns, I could never give up writing articles, Op-Ed pieces, and essays. Besides, anything that gets your name out is good for building what's called your "platform," or name recognition. My essays in The New York Times, my Commentary for NPR's All Things Considered, and my weekly blogs for The Huffington Post have done as much for me in terms of name recognition as My Favorite Year! Seriously.
In what ways do your different types of writing differ (article, short-story, and non-fiction vs novel and screenwriting)?
Articles and essays allow me to speak to social concerns that interest me. Regarding fiction, I love the short story form for its emphasis on what Poe called its "single effect." That means, it builds, in theme and narrative, to a single important climax or moment or revelation. In longer fiction, you get the opportunity to explore more deeply nuances of character and plot, and really expand on your ideas. The trick with the novel, though, is to keep all these plates spinning while still pulling the reader along. Building tension by foreshadowing, or offering new twists.
Do you have a favorite writing exercise?
No, though I know a lot of writers do a version of Julia Cameron's "morning pages." Myself, I just try to write every day, even if it's for a half-hour. I think writing begets writing, so the more you do it, the better it becomes. I like something that screenwriter Frederick Raphael said. "For a writer, there is only one real definition of work: pages that are there in the evening that weren't there in the morning."
As a psychotherapist who works with writers is there a common issue writers seem to face? What do you recommend as resolution?
The most common issues writers present in my practice are writers' block, procrastination, and fear of failure. The usual suspects, I guess you'd say. As to how to deal with them, I don't believe there's a "one-size-fits-all" solution. Since, in my experience, a writer's professional dilemmas are inextricably bound up in his or her personal issues, I would have to know the person, learn about their past and the issues they struggle with, and see how this relates to their writing concerns. For example, if a person was severely criticized as a child, and now feels shame at the thought of writing poorly, this fear of shameful self-exposure might help explain why he or she is procrastinating.
Any advice for writers?
The most important thing to know is that you are enough, right now, to be the writer you want to be. Don't wait till you get your MFA, or you've read enough how-to books. Get going now. Start writing, and keep writing.
What do you know now that you wish you knew when you first started writing?
That every hour I spent worrying about my writing was an hour I would have better spent writing. I believe that writers solve their writing problems by writing, not by thinking, or doing more research, or taking more classes. These things are all fine in themselves, but the magic of creativity is that it is endlessly self-replenishing. The more you do it, the more you do it, if you know what I mean. So start writing today! But go easy on yourself, show compassion for yourself, because writing is hard. But you can do it. Believe me, if I can, you can!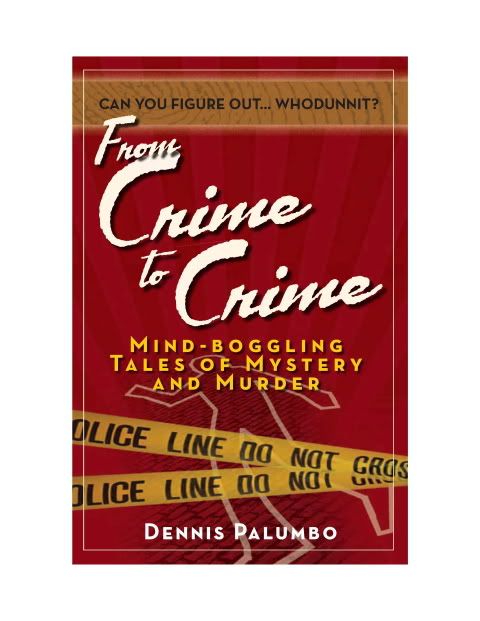 Tags:
Author Q&A
Debra Eckerling
Dennis Palumbo
From Crime to Crime
MY Favorite Year
Write On!