Today, Write On! speaks with Sarah Happel, an international model who went on to become an award-winning filmmaker and playwright. Her play, Modelogues, is being published through Players Press, Inc. Recently, she's been producing network reality television and writing short comedy webisodes. Sarah also reviews theatre for SoCal Magazine.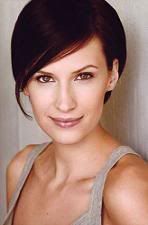 When did you first start writing?
I fell in love with writing at a very young age. I have always enjoyed writing short stories, in particular ones based on my life. Since the age of 16, I have journaled daily. I find it's a great way to make comedy from the negative happenings in my life.
How did farce become your specialty?
My greatest interest lies with comedy. I find that life is juiced with comedic undertones from which I draw inspiration. I enjoy satire, farce, romantic comedies, and anything where I can create humor out of life's situations. I like to write about the ironic and make a theme come to life through humor. I have always been the type of person to be first in line for a great comedy movie. Making people laugh is exceptionally rewarding for me.
How do you get your ideas?
My ideas come from life around me—my past, present, and new people I meet. I see and grab character traits from anything and everything. I hear dialects and manners of talking that I make into specific character dialogue. I grab habits and physicality from people, including strangers.
The situations in Modelogues are real. All the events and scenarios have happened to me during my life as a model. It's like watching a movie and thinking these events could never have happened and then finding out that it's based on a true story.
How did Modelogues come about?
I began my modeling career in 1998. Within two years, I was working internationally while balancing business school at Arizona State University.
After graduating, I moved to Los Angeles and dabbled in acting. I had success booking soap operas, and national and foreign commercial spots. These lucrative bookings enabled me to produce my first short film Fairy Tale Follies, which I also wrote and directed. I won "Best Director" at the New York Downtown Short Film Festival and "Best Short Film" at the Real to Reel Film Festival.
Following the success of my film, I realized my love for writing and wanted to create a play. I had lunch with a close modeling friend and shared hilarious stories about work. I decided I would write monologues about modeling. Modelogues is a farcical play based on my experiences and the characters I met while navigating the wild world of modeling.
Through a series of vignettes, the theme focuses on our society's views on beauty. On one hand, we put this lifestyle on a pedestal and on the other we deconstruct all the people who are involved. Modelogues pokes fun at society and the fascination with idol-worship while questioning the importance placed on beauty. The play ran in Hollywood during 2007 for six weeks, and received rave reviews from various L.A. critics including The Ticket Stub, LA Weekly, and KCLA Radio. Modelogues will be available this summer for purchase through Players Press, Inc.
Does being a playwright make it easier or more challenging for writing theatre-reviews?
Being a playwright gives me great insight into the difficulties and challenges of theater production. It's easier in the sense that I can better pinpoint what works and what does not.
Do you have a process or system for writing reviewing plays?
I always try to review a show based on the audience it appeals to. Sometimes a play I review may not be my cup of tea, but I look at it objectively and compare it to other productions I've seen in the same genre. Let's be honest: not every performance is the Royal Shakespeare Academy, nor should it be reviewed as such.
How important is diversification for a writer?
I don't believe diversification in genre is important. I think if you enjoy one genre and have success at it then you should continue to create other works in the same category. In fact, you may have more success if you create a niche. However, diversification in characters and themes is important if you want to continue to amuse and surprise your audience.
Any advice for writers?
Yeah, write! Don't waste time over-thinking things. You will rewrite it all anyway. Don't wait for others to produce your work! If you write a play, find actors to put it up. If you write a short film, make it happen on screen. There are screenplay competitions and short story websites. Get your stuff out there and don't fear rejection. I've had pieces of writing win awards that others thought were crap. Just put it out there! What's the worst thing that can happen? You write something.
Also, know your characters. Just like you know how your mom would feel, know how your characters would feel. Keep them honest and have them behave as they would.
There are books available with endless information about publishing, grants, awards, and everything else you need to know. Read them, they are usually accurate and extremely helpful. No one can know everything. I lived by The Dramatists Sourcebook while working on and publishing Modelogues.
What do you know now that you wish you knew when you first started writing?
Writing is an art; it's subjective. You do not have to write just like a writer you've read in order to be successful. Find your own voice.
Tags:
Author Q&A
Debra Eckerling
Modelogues
Playwright
Sarah Happel
SoCal Magazine
Writing