Write On! wraps up the week with Mary Beth Sammons, award-winning journalist and author of eight books, including Second Acts That Change Lives: Making a Difference in the World
, (Conari Press). Living Life as a Thank You: The Transformative Power of Daily Gratitude, which she co-authored with Nina Lesowitz, is being published by Viva Editions this fall. Mary Beth lives in the Chicago suburbs with her three children.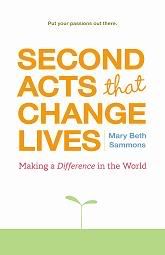 When and how did you start writing?
I knew I wanted to be a writer when I was six, and read my first book, The Secret Garden. As a grade school student, I wrote stories and articles and even sent letters to book authors and newspaper reporters giving them story ideas about things I thought would make good stories. But I didn't "officially," launch my intent until I was in college. I majored in journalism at Arizona State University, because I figured that that would be a way I could be employed as a writer. I worked as a reporter and editor for the university newsletter, and had my first taste of success when I got a Hearst scholarship for a feature story I wrote.
How did you start earning money as a writer?
After college graduation, I expected to land a great job at a major daily, like The Chicago Tribune, my hometown newspaper. It was humbling to have them tell me I had talent, but to "come back in 10 years." Instead, I went to work at The Daily Herald, a suburban Chicago newspaper as a municipal reporter and then the business columnist. (I am convinced they picked me because I always wore suits). I also had my first child in my 20's and went to my bosses before the idea of working moms had really hit newsrooms and broached the idea of job-sharing. My all male bosses were beyond skeptical, but agreed. It didn't work well when my job-sharing colleague left the newspaper one hour after she returned from maternity leave.
That was the beginning of having to forge opportunities where there were none in my quest to write for New York City-based women's magazines, keep a day job in journalism, write books, and make money to support three kids as a single mom.
I learned the art of writing about what was in front of me and being creative and entrepreneurial to try to get writing-assignments that paid. I convinced my newspaper bosses to let me stay at home days with my oldest daughter when she was a baby, and work nights. Being home during days, I realized the power of women's magazines and soap operas, and actually had a gig writing features for Soap Opera Digest. This was in the 1980s and I made about $600 a month just writing opinions about stuff they were doing on soaps—like how babies are born in three months or what really happens in love scenes. It was the beginning of what I wanted to be my career at women's magazines, so I was thrilled and was one of the only moms I knew at the time who stayed at home and had a career.
In the years that followed, I went on to become a bureau chief for Crain's Chicago Business and then a regular features contributor to the Chicago Tribune.
What led you to writing in this niche? Is it important for a writer to have a niche?
Along the way, I did discover a niche for myself. I found I loved writing about ordinary people doing extraordinary things. I started seeking out ordinary people who were making a difference in others lives.
That is how I forged my way into writing for Family Circle where I began writing regular features for a column they had at the time called "Women Who Make a Difference." At the same time, I found that those kinds of stories were becoming increasingly popular in mainstream newspapers and I wrote those kinds of stories for The Chicago Tribune as well.
How did you come up with the idea for your first book? How did you sell it?
Ironically, or not, my first book was born through my own adversity. I was traveling from downtown Chicago on the train back home to my suburban home following my own divorce proceedings and was very upset and trying not to let anyone see me crying. A stranger handed me a card with a sun and a rainbow drawn on the outside, and inside she wrote: "I see you there crying, but know that you are not alone and that the sun will come out again." I realized at that moment that I would be okay, and though I never even saw this women's face (she got off the train right after handing me the card), she had changed my life.
I realized that that was a significant story about the impact people can have in each other's lives and went to the bookstore to explore if there was a publisher publishing books on this subject. I found Conari Press, publishers of Random Acts of Kindness, and wrote a personal letter to the then founder and editor Mary Jane Ryan, suggesting a book on "gifts with heart," stories about the kinds of gifts this stranger had given me that day. She liked it and that became my first book.
It followed no rules about getting an agent, or writing a book proposal. But, I spoke from my heart and my passions, and Mary Jane and the publishing house "got it." Since then, I have written seven more books, most of them about people doing extraordinary things.
What are the big differences between writing full-length books, as opposed to articles? Any similarities?
In many ways, both are similar. When I pitch a story to a newspaper or social networking site, I still have to have done my research, uncovered sources, and have crafted a definite angle that sells. The same with a book, only the book uses more examples or stories to create the point.
Typically, I test any book ideas by first doing an article on the subject and see what interest it inspires and/or an article I write may garner so much response, that I know it is a trend or a compelling story that would make a good book. Obviously books take a ton of more time and research and writing, but both processes are similar.
What is your favorite part about being a writer?
I LOVE being a writer. I realize that I have been a "life explorer," always. I love to learn. I am curious about people's stories. I love meeting people and learning what drives them, and I personally know the power of story to motivate and inspire, and to make us all feel that we are never alone. I love to read, and, when I read, it gives me the power to hold on and inspires me to go for my dreams—even when my circumstances are not so good. What is great about being a writer is that I get the opportunity to research and learn more about any subject that catches my interest. It is a lot like being a student and learner forever. And, I love when I find really cool people that have a story that will really make a difference to others and help and inspire them. I feel so grateful for and honored by the many, many people who have shared their stories with me.
The biggest challenge?
Making money. I have been fortunate to have held fairly decent jobs in the writing profession, but writing is a tough profession, and not always high-paying. I think now, especially with the explosion of self-publishing and bloggers who write for free, it is increasingly difficult to find platforms and assignments where professional writers are respected and valued for their talent. When I worked as a consultant for a PR agency training the staff to write, I was billed out to clients for editorial services at $300 an HOUR; now, writers who write blogs/columns for social networking sites are lucky to get $300 a month.
Do you have a dream project?
I believe everyone has a compelling story. I would love to find a way to teach people to tap into their stories and to become empowered by them. And, I would also love to be able to support myself and my three children through some kind of storytelling project where I continue to surface and write about ordinary people making a difference in the world.
Advice for writers?
Never give up. If you are a storyteller, you will find a place to tell your stories. But it might not be easy. I could decorate my house with the rejection letters I received.
What do you know now that you wish you knew when you first started writing?
I wish I had believed in my own gift, meaning that I always was fascinated by people who overcome great adversity, but never realized that that was a gift to surface them and to write their inspirational stories. I didn't believe in myself enough to speak up more loudly to editors and say, "these are stories," when I was younger.
Tags:
Author Q&A
Debra Eckerling
Mary Beth Sammons
Second Acts That Change Lives
Write On!
Writing