Happy New Year! Write On! kicks off 2010 with a fun and informative interview with Jamie Reidy, author of Bachelor 101: Cooking + Cleaning = Closing. A former pharmaceutical rep, Reidy is also the author of Hard Sell: The Evolution of a Viagra Salesman. (He sold the movie rights to Universal.) Reidy is currently working on a new spec screenplay, and is compiling a collection of humorous essays for a book.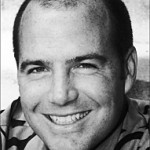 How did you go from Hard Sell: The Evolution of a Viagra Salesman to Bachelor 101?
I was dating a woman whose brother approached me at a 4th of July bbq with a "great idea" for a book. I'd only been an author for a year, but I'd quickly learned that people constantly approach writers with unsolicited ideas, much like strangers asking doctors to examine their moles at a cocktail party. Since I wanted to keep dating this woman, I humored her brother. Imagine my surprise when he pitched me a truly entertaining concept: a cookbook/lifestyle guide for idiot single guys. As a card-carrying member of that fraternity, I jumped at the chance to co-write the book. Sadly, he didn't have the time to devote to the project, so I ended up writing the whole thing myself.
Why did you write Hard Sell?
Two reasons: First, my friends loved hearing about all the wacky things in pharmaceutical sales (i.e. my schemes for making it look like I was working when I wasn't, and why doctors actually end up prescribing the drugs they prescribe). Second, when my mom asked what I did for a living, I couldn't keep a straight face while I explained it. Those two things convinced me that I had a story on my hands. But I didn't have my "hook" until I got promoted to sell Viagra and it became a cultural phenomenon.
Why did you write Bachelor 101? How is it different than any other books in the "guy handbook" genre?
There are a lot of cookbooks for idiot single guys and there are some books to help those same dudes square away their apartments, but I didn't find any that accomplish both things. Once I got started, I found myself laughing out loud at stupid things I used to do—still do?—and how widespread those errors were amongst my friends. These flaws were so easy to fix that I felt like I owed it to the male species to finish the book!

How were the processes different for writing each of these books? Were there any similarities?
The processes were completely different. For Hard Sell, I simply sat down and told my story from beginning to end. I didn't need an outline or a plan, because all the info was already seared into my brain. I just needed to download it. Fortunately, I have a fantastic memory for conversations and stories, so it wasn't a difficult process. And since I'd lived it, I didn't need to do much research.
For Bachelor 101, though, it was all research at first; hands-on testing of each recipe. As I cooked, I'd jot down insights, quips, and helpful hints. The cleaning up the apartment portion of the book didn't require research per se, but it did force me to acknowledge the myriad deficiencies (disgusting elements?) of my own apartment, and then devise fun, funny ways to correct them.
Why did you go the self-publishing route for Bachelor 101?
I self-published Bachelor 101 because numerous publishers told my agent, "We love him and think this is so hilarious, but guys won't buy cookbooks. So we can't publish it." The self-publishing process is fairly easy and inexpensive, so don't let a stack of "No's" keep you from getting your stuff out there! Self-publish it, then self-publicize like crazy through friends, writer's groups, Facebook, etc. Let your passion and enthusiasm create the market!
What specifics do non-fiction writers need to know before starting a new project?
I am a bad example for non-fiction authors, as I got published without an agent; so my advice will probably seem hypocritical. I wrote Hard Sell and then looked for an agent. So, I wrote it without knowing if anyone would ever publish it. Everyone else I've spoken to says I did it backwards; you should not write a non-fiction book, unless an agent tells you she can sell it! Had I waited for that, though, I never would've written it. But I do think it's important to get some guidance—if not from an agent, from numerous writer friends—on your topic and whether anybody thinks there's a market for it. Otherwise, writers risk wasting valuable time on an unmarketable project.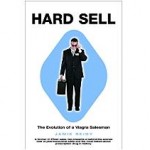 What are the biggest mistakes newbie writers make?
Not having a plan. I don't write anything now without a detailed outline. I check things off as I go; so when I wake up in the morning and sit down at my desk, I know exactly where I left off the night before and I can simply start cranking. Without an outline of some sort, a writer risks being lost or, worse yet, getting sidetracked on a tangent that doesn't move the story along.
Additional advice for writers?
Everybody has heard "Just write," so I won't belabor that point. My advice is to save everything you ever write! Cut, paste and save it in a new file with a clearly identifiable name. You might think that paragraph sucks today, but it just might rock next year.
What do you know now that you wish you knew when you first started writing?
I wish I knew that the floodgates do not open at will. So many times I got up from a "roll" because I had to meet friends or whatever. I thought I'd just pick up where I left off and keep riding the mental wave. It took several stubborn years before I realized how f'ing stupid I'd been. Now, when I am rocking and rolling, I won't stop for anything or anyone. Which is why things didn't work out with Halle Berry or Salma Hayek.
Tags:
Author Q&A
Bachelor 101
Cooking + Cleaning = Closing
Debra Eckerling
Hard Sale: The Evolution of a Viagra Salesman
Humor
Jamie Reidy
Screenwriting