Earlier this month I attended the annual International Consumer Electronics Show (CES) in Las Vegas to get a first look at all of the exciting innovations set to hit stores in the coming weeks, months, and years. Thousands of companies from around the world showcased the latest in technology. I've narrowed down the list to feature five of my faves for gadget-loving writers and commuters.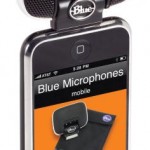 1. Mikey from Blue Microphones: I was wowed by the microphone products from Blue Microphones, and am eager to try the portable Mikey, shown here. It attaches to your iPod or iPhone and offers professional-quality stereo recording capabilities. Blue also released a free high-fidelity field-recording app through the Apple App Store to complement the portable mic. The Mikey is already certified by Apple for iPods and is currently undergoing iPhone certification. The new second generation Mikey will be available this spring and retail for a MSRP of $99.99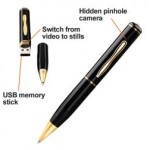 2. PenCam by Swann Security: If you're seeking spy-worthy fun as you gather material or interviews in person  I suggest you check out Swann Security's PenCam Mini Video Camera and Recorder. Just imagine what Ian Fleming could have written if he carried along one of these to capture inspiration. The pen has 2GB of memory allowing the built-in pinhole video camera to record over one hour of video. While the resolution is only 640×480, that's still good enough to enable you to record some great on-the-street or in-person interview moments without the bulk of a handheld camera.
3. Planon's DocuPen: For people who prefer to work with hard copies of paper while researching and writing, Planon's DocuPen may be just the right thing for you. Disguised as a pen, it's actually a powerful portable scanner. Scanning up to 1200dpi, you can easily scan a hard copy document with the DocuPen, email the created image to yourself, or connect the DocuPen to Planon's PrintStik portable printer to make an instant printed copy.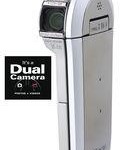 4. SANYO Xacti: The full HD, slim type dual camera Xacti, VPC-CS1 was unveiled as the world's lightest, smallest, thinnest dual camera. It captures video in full HD (1920 x 1080) with 10x zoom and 8 megapixel still images. It even—get this—includes sound zoom! Not only is it portable enough to fit in your pocket, it's compatible with Windows 7, has an HDMI port, and is currently undergoing iFrame certification. It's slated to be available in late February for $299 and will initially be available in the US in silver.
5. Lenovo U1 Hybrid Notebook: One of the coolest innovations to come out of CES this year was Lenovo's hybrid notebook, which gives you the freedom to detach the screen entirely from the base. The multi-touch slate runs in landscape or portrait modes offering web gadgets for browsing, media play back, and E-book reader capabilities. Plus, both sections are capable of operating independently; you can use the base as a docking station and the slate as a portable device.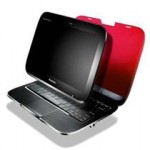 Heidi Leder (@c2cmom) is a freelance writer with specialties in technology, travel, and family. Heidi (Coast 2 Coast Mom) mothered her son literally from coast to coast—Silicon Valley to the Chicago suburbs to North Jersey, where he is currently in pre-school—while keeping one foot firmly planted in the working world. She also contributes to Techlicious.com, NYMetropolista.com, and www.NewJerseyMomsBlog.com.
Tags:
Blue Microphones
CES
Consumer Electronics Show
DocuPen
Heidi Leder
Lenovo U1 Hybrid Notebook
Mikey
PenCam
Plannon
SANYO Xacti
Swann Security
Techno Tools for Writers
Write On!
Writer Gadgets