In time for Valentine's Day … Write On! speaks with author Franz Wisner, How the World Makes Love … And What it Taught A Jilted Groom (recently released in paperback). Wisner is also the author of Honeymoon with My Brother (St. Martin's Press), a New York Times best-selling memoir about the two-year, 53-country honeymoon he took with his brother Kurt after being left at the altar by his fiancee. The brothers have told their tale on Oprah, The Today Show, CNN, and Fox News, among others; and Franz has penned essays for NPR, Redbook, the San Francisco Chronicle, the Toronto Globe and Mail, Coast Magazine, and more. For Franz' follow-up—How the World Makes Love—the brothers spent another year traveling to various foreign countries—including Brazil, Egypt, and New Zealand—talking to singles and couples about love.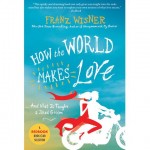 You seem to be the poster child for "when life gives you lemons …" Was there a big epiphany that led you to write these experiences? Or was it the natural progression after uprooting your life and taking your honeymoon with your brother?
A television host in Denver once told me, "I've heard of lemons to lemonade, but your story is more like lemons to margaritas!"
Never in a million years did I think I'd be a professional glass of lemonade. Or margarita. Or even a writer. I studied political science in school. I worked in government and public relations for the first portion of my career. And I was very content in my jobs and life.
But life has this way of ignoring best laid plans. What's that old line about plans being the sound of God laughing?
As you know, within the span of a couple weeks I was dumped at the altar and demoted at my job as a corporate lobbyist. The two loves of my life—gone. Suddenly I needed a new dream.
Almost without thinking I decided to go on my two-week honeymoon to Costa Rica, substituting my recently divorced brother Kurt for my runaway bride. We had such a rewarding time exploring the country and re-bonding as brothers that we extended the trip….for two years and 53 countries.
One of the things I love about travel is the freedom to tap into a hidden passion. With me, that was writing. For the first time in my life I wrote for myself, not others. I wrote when I wanted to write, about subjects that struck my fancy. These missives started out as emails, then essays, then ultimately a bestselling book, Honeymoon with My Brother. I'd never planned to be a writer. It was just something that happened naturally, and thanks to the actions of others as much as my own doing.
The thought of writing a book didn't hit me until the end of the two-year honeymoon, when Kurt and I were contemplating what to do with our lives, not to mention our bank accounts. I knew I had a book in me, it was just a matter of pulling it out. I took a leap of faith and spent a year working without a salary to do just that. I'm very thankful for the way things worked out.
What was your favorite part of writing How the World Makes Love? The greatest challenge?
The inspiration for How the World Makes Love came as I wrapped up Honeymoon with My Brother, and the inspiration was personal. After the honeymoon, I came back to America single. I then compounded my problem by moving to the worst place on the planet to be single: Los Angeles. My views about love and relationships were warped by Los Angeles, not to mention spending two years in honeymoon suites with a brother.
I decided I needed some help. The road had been helpful to me before, I thought. Why not with love?
We'd met so many couples during the honeymoon, couples who'd been together for long periods, couples whose views on love differed from the American model. They seemed so wise. I wanted to explore that wisdom, to see if the planet was doing something that we should consider here at home.
And I was hoping a little bit of that wisdom would rub off. I needed all the help I could get. Some people go to therapists or relationship counselors. I went to the world.
As with Honeymoon, the most enjoyable part of the writing process wasn't the writing, but the travel. I'm not one of those writers who craves time alone. I'm fine writing at cafes or bars. Traveling energizes me, enough to propel the writing.
The biggest challenge for How the World Makes Love involved interviewing Arab women about love. Culturally, that's a difficult thing to do. You start talking to a woman and immediately you'll be surrounded by men answering for her, then arguing amongst themselves as to what she meant to say. The poor woman will usually back out at this point and slip away.
We ended up talking with women in secluded areas or private homes, places where they could speak without being harassed. Still they were guarded. Female interpreters helped.
How was the process of writing Love similar to/different from writing Honeymoon with my Brother?
I didn't think about writing Honeymoon with My Brother until the very end of the travels. On the plus side, this allowed my brother and me to keep the trips fresh and authentic. We traveled for ourselves, not for an assignment. But this also meant I didn't take notes or keep records of conversations. Kurt's photos helped. They allowed me to remember details.
For How the World Makes Love, the travels had more of a plan and purpose. We had a deadline. We tried to talk to as many people as possible each day. I took more notes and we recorded the trips through photos and videos. This made the writing process easier, but I was always mindful to keep the trips as organic as possible. I tried to have a few interviews lined up before we visited each country. The vast majority we left to chance encounters or recommendations. I think that balance between responsibility and authenticity is very important with these types of books.
What was your experience getting each book published?
Honeymoon with My Brother was rejected by every one of the publishing houses who received our proposal. Except one. A woman at St. Martin's Press bought our pitch for a minimal amount of money. And the main reason was because she had a teenage son who'd just been dumped by his high school sweetheart, the first love of his life. She said all these emotions began pouring out of her son, emotions she never knew existed. Our proposal hit her desk that day.
"God bless your son," said Kurt.
"No, God bless the woman who dumped your son," I said. Without her, our book may have never been published.
I took a year to write Honeymoon, turned it in, and started to hear a positive industry feedback about a half-year before the publication date. The Today Show booked us for an interview with Matt Lauer. Vanity Fair picked it as the buzz book of the month. Good omens that the book would do well.
It was around this time that I sold the proposal for How the World Makes Love to St. Martin's. The momentum behind Honeymoon made the sale fairly easy. Those were better economic times as well.
What are the top three things you learned while writing "Love"?
So many "aha" moments come to mind, it's tough to limit to three. On a personal level, I quickly discovered that I was the George Costanza of love. It seemed like the opposite my every view was true.
Large families in Brazil made me question the wisdom of excluding my family from most aspects of my love life in the past. Arabs taught me the importance of anchoring relationships to faith. African men and women talked about finding a partner who would be "a good parent," a "hard worker," a "loyal spouse."
India showed me the importance of learning to love. I remember a woman in Delhi who said that by seeing our wedding days as apexes, we Americans set ourselves up for a fall. View love as something that comes only with time, commitment, work, she counseled. See your wedding day not as a finished mansion, but as a vacant lot. That way, you'll pick up a shovel and get to work. Aha!
The developing world places a higher significance on appreciating assets—family, community, faith—rather than on criteria that usually gets worse with age. Not once did I hear the words "six pack abs."
How important is it for a writer to have a niche?
The publishers will tell you it is very important. It's easier for them to market a book if an author fits into a certain niche. One of the first questions they'll ask is, "Where does this book go in the store?"
Writers who don't have that niche, and I'm honored to fall in this category, might be more difficult to slot and market, but we benefit in other many other ways. I love the wide range of readers and people who come to our events—travelers, dumpees, seniors, book clubs, mid-career types, you name it. There's a deep personal satisfaction with not being typecast.
What's next?
To be honest, I don't know. In the past, this would have bothered me. Today, I'm more comfortable with change. I know I want to continue writing in some form, though I'm not currently working on a book. Stay tuned.
Additional advice for writers?
The word "no"—strike it from your vocabulary.
What do you know now that you wish you knew when you first started writing?
I think it's crucial for writers to understand writing the book is only half the process. Plan to spend an equal amount of time marketing the book. I know this is abhorrent to many writers, but the promotion process can be very rewarding. Don't see the process as selling your book, see it as a feedback. Some of the most gratifying moments I've had in writing have come during this phase. We write to communicate, after all. The best communication is an exchange.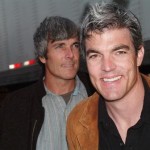 Tags:
Franz Wisner
Honeymoon with My Brother
How the World Makes Love
Jilted Groom
Kurt Wisner
Looking for Love
Love
New York Times Best-Seller
St Martin's Press
The Today Show
Vanity Fair