Playwright Jennie Fahn's latest is Broads! The Musical; Fahn wrote the show's book; the show's creator Joe Symon wrote music and lyrics. Fahn speaks with Write On! about collaboration, writing a musical, and bringing Broads to the stage.
Fahn has extensive experience on stage, as well, appearing in shows such as Jackson Frost, Alice In One-Hit Wonderland 1 and 2, and more. She is also the writer/performer of You Mutha! A One-Mother Show. Plus, Fahn won Best Writer awards for her short film, Tea With Grandma, in which she co-starred opposite Tippi Hedren. Other written works include Cracker Jack Day (a children's musical), 12 Items or Less (co-written with her husband Jonathan), and various sketches for her all-woman comedy group, The Jersey Girls.
Broads! stars Broadway veterans Ivonne Coll (Tony-nominated Chronicle of Death Foretold), June Gable (Tony nominee for Candide), Leslie Easterbrook (original Broadway production of California Suite), and Barbara Niles (Jesus Christ Superstar). Broads! The Musical runs Thursdays through Sundays from February 19 through April 4 at the El Portal Forum Theatre, 5269 Lankershim Blvd. in North Hollywood. For reservations and ticket information, call (818) 508-4200 or go to www.broadsthemusical.com.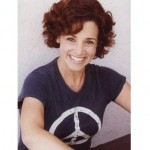 Why did you write Broads?
Joe Symon, the composer and lyricist, and I have been friends since we were 15. He had an idea to write a musical about these women who live in a retirement community in Florida. My grandmother lived in just such a place and I thought, "Wow, I would love to write something that's basically an homage to her and her friends." It was really a pleasure to relive those memories and put them on the page.
How did you go about bringing it to the stage?
We went through several—okay, many—rewrites. The entire concept changed a few times. We had several readings that we thought were good, but something still wasn't quite clicking. Then we came up with the current concept, the show-within-a-show idea—it's amazing how simple ideas can sometimes be elusive. Anyway, we had been talking about the show for a long time, and we found someone who believed in it and was willing to help us put it up on its feet. But we really had to have something we believed in before we could find that person.
What was your favorite part of writing Broads? The greatest challenge?
Honestly, I cracked myself up a lot. I laugh pretty easily. It was exciting when Joe and I would come up actions and songs that worked well in tandem. The greatest challenge was coming up with entirely new concepts. Writing becomes your baby and when someone criticizes it, it can hurt. But then you step away and realize, hey, they have a point. And you have to start all over. That's hard, but ultimately, the right thing to do.
What are the main things a writer should know when taking on a musical?
I learned it this way: When you become to emotional to speak, that's when you sing. When you become too emotional to sing, that's when you dance. As the book writer of a musical, you have have to learn to be succinct. No one wants to hear too much talking. Get to the song already!
What was your collaboration process with the composer/lyricist?
Some of the songs were ideas that Joe already had, so we tried "making them fit." That became difficult after a while, and we realized, the songs need to propel the action forward. We're not writing a jukebox musical where we're stuck with lyrics from 20 years ago. So there were times when I was able to say, "Such and such needs to happen and we're going to need a song for that." It was a kick to work with such a great, old friend. We argued some, for sure. But having history like that is pretty special.
When did you start writing for the stage?
I didn't major in theater in college, in fact, at my school, theater was just a club. But for fun, I took a playwriting class. I didn't realize quite how much it meant to me, but I still think of Professor Donn Murphy as I'm writing. My first play was a one-act called "Daisy's Boy," and Professor Murphy thought it was good enough to submit to a playwriting contest, which I ended up winning.
What is it you love about theater?
The collaborative process is so exciting! A writer brings their work to a director who helps shape the piece. Then actors come in and have their own unique spin. Then you see a set get built, a costume made… it's incredible! All from some words on a page. And it becomes so much more than what you wrote. Theater is just so exciting and immediate. I've been winked at by actors on stage and nearly had my breath taken away.
How does being a performer help you as a writer?
It helps to imagine the words said aloud and to imagine how the staging might work with the action you are trying to write. I'm constantly "trying out the words" I wrote, because I know as an actor how tongue-tied you can get.
Additional advice for writers?
It's certainly been said before, but write, write, write. It might be total crap, but just put your ideas on paper. (Okay, it's 2010, put them on a screen.) You never know where one of those dumb ideas might end up. At least it gets your brain moving. Keeping ideas in your head is not all that helpful.
What do you know now that you wish you knew at the beginning of your career?
No one is going to come knocking on your door saying, "Hey, I hear you're really fantastic! Come work for me…" You have to get out there and sell yourself as being fantastic. Sometimes you feel a little like a salesman, and artists usually hate being salesmen, but it's just part of what you have to do. You have to sell yourself as the product. I still have trouble taking this advice!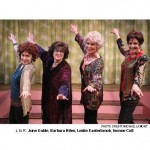 Tags:
12 Items or Less
Author Q&A
Barbara Niles
Broads! The Musical
Brods
Cracker Jack Day
Debra Eckerling
Home is Where the House Falls
Ivonne Coll
Jennie Fahn
Joe Symon
June Gable
Leslie Easterbrook
Musical
North Hollywood
The Jersey Girls
Theater
writing musicals
www.broadsthemusical.com