We may have rounded the corner through winter. Yet, it's still easy to become tempted by the overcast and perhaps snowy weather—at least in most of the country—and retreat inside our homes like hermits at our computers. Spending an extended amount of time click-clacking away can cause wrist, hand, and arm pain from repetitive use. If you're feeling the pain, but can't seem to quit the computer, look into these keyboard options, designed to help reduce repetitive stress injuries while typing.
The Smartfish ErgoMotion keyboard MOVES as you type on it. With its ErgoMotion technology, it monitors your typing speed and frequency to automatically adjust the position of the keyboard forcing your hands and wrists to adjust out of an otherwise fixed position. This periodic change in position and posture is designed to improve circulation and reduce the risk of repetitive stress injuries. Announced at this year's Consumer Electronics Show, the ErgoMotion keyboard will retail for $149.95; available in March 2010. You can even sign up for notification when the keyboard is available for purchase.
The Microsoft Wireless Comfort Desktop 5000 keyboard was ergonomically designed to encourage a more natural posture for your wrist, angled at a 6 degree slope. If you're a PC user, the Comfort Desktop 5000 supports Windows 7 through Taskbar Favorites, which enables you to access programs and common tasks easier and with greater speed. The keyword is wireless and has soft-touch palm rest for additional comfort. Otherwise, it is what you would come to expect from a keyboard. MSRP for the Comfort Desktop 5000 is $79.95 and is in stores now.
Something entirely different to consider is the Peregrine Glove. The glove registers more than 30 different commands (or keystrokes) by touching any of the 18 contact point sensors embedded along the fingers and three activator pads—two located on the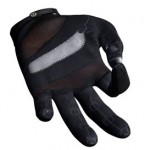 thumb and one on the palm. The glove is promoted for gaming purposes, as it can increase your play speed when you are trying to conduct a series of actions quickly. However, beyond multi-player online gaming, it's easy to see the Peregrine Glove being applied to help people avoid repetitive strain injury or carpal tunnel syndrome. There are many possibilities for integrating the glove with these keyboard shortcuts, and even the US Department of Defense has contracted with Iron Will Innovations to integrate the technology.
The Peregrine glove is initially available for the left-hand only, designed for people who commonly use a mouse in their right hand. There are three sizes: small, medium and large determined by measuring your hand. You can purchase it now via pre-order on the Peregrine website for $129.99 (a $20 discount off of the normal retail price of $149.99), and it will ship around the end of March 2010.
If you frequently travel with your laptop to writing locations or interviews, you may want to check out the Celluon CL800BT Virtual Keyboard as a good portable option. This device projects a laser QWERTY on any flat surface, allowing you to type on a virtual keyboard up to 400 characters per minute. The LaserKey retails for $199.99 and is compatible with most mobile devices and PCs.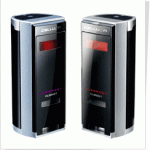 Heidi Leder (@c2cmom) is a freelance writer with specialties in technology, travel, and family. Heidi (Coast 2 Coast Mom) mothered her son literally from coast to coast—Silicon Valley to the Chicago suburbs to North Jersey, where he is currently in pre-school—while keeping one foot firmly planted in the working world. She also contributes to Techlicious.com, NYMetropolista.com, and www.NewJerseyMomsBlog.com.
Tags:
@c2cmom
Carpel Tunnel
Celluon CL800BT Virtual Keyboard
Consumer Electronics Show
Ergonomic Keyboard Solutions
Ergonomic Keyboards
Heidi Leder
Keyboard Options
Keyboard Solutions
Microsoft Wireless Comfort Desktop 5000
Peregrine Glove
Smartfish ErgoMotion keyboard
Techno Tools for Writers
Write On! Online