April 1 is just around the corner and that means Script Frenzy is nearly here.
Script Frenzy–the sister event to National Novel Writing Month–runs April 1- 30. It's a free event that encourages participants to write a 100-page screenplay in a month!
The greatest challenge many writers face, especially as far as long-form writing is concerned, is getting through that first draft. With such a tight deadline, there's no time to go over and re-write. The idea of Script Frenzy (and National Novel Writing Month) is to move through the first draft as quickly as possible, write through any blocks, so you can get through it … and move on to the re-write!
Participants, sign up on the  Script Frenzy website–there are lots of great resources. If you are participating in Script Frenzy, comment below with your user link, so all the Write On! Members can cheer each other on!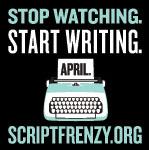 Tags:
National Novel Writing Month
Office of Letters and Light
Screenwriting
Script Frenzy