In honor of National Poetry Month, Write On! speaks with poet and freelance editor Judith MK Tepfer, founder of East On Central, a Journal of Arts and Letters from Highland Park, Illinois. Tepfer was "born at the age of 50, before which she had one middle initial and neither the ability nor the inclination to write creatively." Her late-in-life muse directed her to other writers and visual artists, which led to creating East On Central, where she is Editor-In-Chief.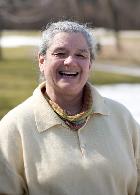 What led you to first start writing poetry?
I started writing memoir at the age of 50. Early on I went to a writing seminar led by Philip Lopate, an expert in the field of creative non-fiction. He was lukewarm about the prose piece I brought to the workshop, but when I showed him a poem, he said, "Now this, I like." That's one possible reason. The other is simply that everything I wrote came out in short lines.
Tell us about East on Central. How did you come to be editor?
East on Central was begun by a small group of creative writers who had been meeting as a support group for about a year. We all knew talented writers and visual artists in Highland Park and felt a community journal would be well received and more desirable than merely putting out a "vanity publication" of just our own work. We joined together with the visual artist who had introduced us to each other and put out the word to the other creative people in the community. At the same time, we petitioned the city for a small grant.
I had been an editor at a large law book publisher, where I had worked for ten years, before retiring to pursue more creative possibilities. My editorial experience there, together with my anal-retentive personality, made me the natural choice, I guess. Also, while working for the legal publisher, I received excellent training in many computer skills and publication programs that have proven invaluable to my work for East on Central.
Art is also a major part of the publication. How do art and poetry work together in each publication?
The writers' group was taken with the concept of what we call "mutual inspiration," the idea that art of all genres could draw inspiration from one another. This was first suggested to us by our visual artist friend, the one who had introduced us. One day we asked him to loan us a painting, which each of us used to inspire a piece of writing. The result was three poems and a humorous short story, inspired by a painting, titled "Survivor," depicting Chicago's Hancock Building rising from the ashes of the Great Chicago Fire. Those four pieces were printed, along with a photo of the painting, in the first edition of East on Central, in a section called "Creative Exchange." Since then, every edition of the journal has had a Creative Exchange section, promoting the concept of mutual inspiration. For example, the second edition invited visual artists and writers to take their inspiration from a sculpture displayed in downtown Highland Park of a Boy on a Swing; a later edition devoted that section of the journal to the 100th anniversary of the town's music park, Ravinia, including writing and artwork inspired by the place, the music, the overall experience of Ravinia; another year the Creative Exchange included the work resulting from a program featuring a large still life put together by an instructor at The Art Center of Highland Park.
Another aspect of this is that we pay a lot of attention to the placement of writing and artwork in the journal. We juxtapose work we believe mutually enhance (not illustrate) each other. Also, every year, we receive submissions that are based on the concept of mutual inspiration, work that was created specifically in tandem with a piece from another genre, and we consider and publish some of that work.
How do you approach the blank page?
I'm not one of those writers who thinks it's necessary to write my poetry by hand. I practically live with my laptop velcroed to my body. Generally I start with what's been on my mind or what's going on in my life. I find the best way to keep writing is to take classes or participate in a workshop. With a class, there's always an assignment; with a weekly workshop, there's a commitment to bring something new to the group.
What is your favorite part about writing poetry? The greatest challenge?
Having begun creative writing in middle age, I would say my favorite aspect of writing is that I am leaving a legacy: those who come after me, especially my grandchildren and great-grandchildren, will know who I was and what was important to me. The last words of the first poem of mine ever published in East on Central, not coincidentally titled "Legacy," are: "Let them read what I have written,/ Let them know my life, and say:/ There was a woman who knew what was essential."
The other favorite part would be the community I have come to know by immersing myself in the arts. One might think that writing is a solitary pursuit, but for me it has not been. Through classes and workshops and my involvement in East on Central, I have met some extraordinary people and developed friendships that are precious to me. And I have acquired an amazing education in disciplines I had never before studied.
My greatest challenge, I think, is something that is the focus of Write On! Online is getting myself to submit work for publication. For six months of the year I am heavily involved in the editorial and publication aspects of East on Central, and find I don't have a lot of time for writing, let alone submitting work. The rest of the year I am trying to catch up on things I let slide during the editorial season—household and family commitments, as well as just writing. And since I feel my writing and the journal are my legacy, I have to bend over backwards and kick myself in the butt to get the motivation to submit to outside publications and contests. The result is I have only a few publication credits outside of East on Central.
Can anyone write poetry? How can someone who is not a poet get started?
My answer to your second question is to find a class with a good teacher and supportive students. But, to answer the first question, I think one has to choose poetry because it reaches out to you. It never occurred to me that I would write poetry and, in fact, I hadn't read a lot of poetry before I began writing it—I have a lot to catch up on. I may joke about everything "coming out in short lines" but the truth is that I embrace the challenge of saying as much as possible in the fewest words. My earliest—and probably least successful—poems were wordy and long-winded. I think writing poetry means finding the essence of what you want to say; the use of metaphors and other poetic enhancements allow the writer to do that. The most gratifying part of the process for me is finding "the perfect word."
Advice for writers?
It's never too late to start. I tell people I was born at the age of 50, because that's when I began to write, and it's a brand new chapter in my life.
What do you know now that you wish you knew when you first started writing?
I wish I knew how happy this would make me. Then I would have started writing much earlier. If I had, I would have studied writing in college and made it my career. But there's nothing that says I can't go back to school now. Who knows?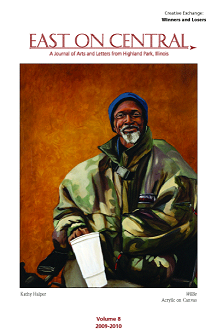 What's next?
The next edition of East on Central will be published on June 16th. The Creative Exchange will be focused on the fiftieth anniversary of The Art Center of Highland Park and on the arts in our community.
We will be having our publication party and any of your readers who are in the area are welcome to attend. It will be held at The Art Center at 7 pm on June 16th. We will have artwork from the new journal on display and selected writers and artists will read their writing and talk about their artwork. Refreshments will be served and there is no charge.
Next for me will be to get back to my friends, my family and the other parts of my life because, ultimately, they are the inspiration for my writing.
Tags:
Arts
Author Q&A
Chicago
Debra Eckerling
East on Central
Highland Park
Illinois
John Hancock Building
Judith MK Tepfer
National Poetry Month
Poetry Month
Ravinia
The Art Center of Highland Park.
Write On!
Writing Community