The best route to getting what you want is to make a plan, stick to it, and move forward. I think the "stick to it" part is the step that gets a little tricky. I believe in the reward system—small rewards for accomplishments along the way—though I truly believe the ultimate reward is the realization of your dreams.
I recently launched a new project with life coach/matchmaker/author Marla Martenson, Diary of a Beverly Hills Matchmaker, called Dream It, Then Do It! We are offering workshops, tools, and inspiration to help you turn your dreams into reality.
Our first Blog Talk Radio show—Power Lunch—will be Wednesday, May 19, 2010, from 11 am to 11:30 am.
Our first Workshop will be Saturday, June 5, 2010, in Santa Monica, from 10 am – 1 pm.
Please stop by the website and "like" our Facebook page.
Best of luck in your pursuit of your dreams!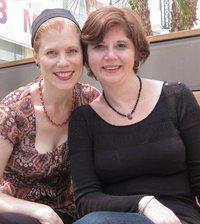 Tags:
Blog Talk radio
Debra Eckerling
Diary of a Beverly Hills Matchmaker
Dream It Then Do It
Inspiration
Marla Martenson
Workshop