Writer/director Hilda Hidalgo's film—Of Love and Other Demons, based on the novel by Gabriel Garcia Marquez—is in narrative competition this year at the Los Angeles Film Festival.
A Costa Rican/Columbian production, the film had its North American premiere last Friday at the Festival—a late show received by a packed audience.
"It tells the story of a 13-year-old girl who is believed to be possessed by the devil and lives in colonial Cartagena," Hidalgo explains. "Basically she starts a relationship with the priest that is going to exorcise her."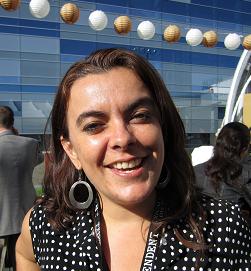 What inspired you to do this project?
This kind of story really attracts me. I ended up adapting this novel by Nobel prize-winning author Gabriel Garcia Marquez as my first film, which is very extraordinary, actually.
I am really like obsessed with a subject I call subversive love or mystical love, which is just love that grows between people, no matter if they're men or women; mother and child; brother and sister; or two men, two women. Even when there are huge differences of age or opposite beliefs or many obstacles, still, love finds its way.
In my very short career, I have been obsessed with this subject. I had the opportunity to assist Gabriel Garcia Marquez … so I told him that I was surprised that this novel wasn't been adapted yet, because it's also one of his most cinematic works.
He said, "Would you like to do it?" So I said, "Of course." Like who wouldn't. And he said, "Well, then do it."
That's how it all started and how I ended up doing this film.
How do you feel about the LA Film Festival?
I came from Costa Rica to the festival. I was very pleased to see a lot of Latins in the audience, they even asked questions in Spanish, which made me very happy.
One of the basic things that I really like about this festival is that they create an audience for works that come from other parts of the world. It's good that we open our minds and broaden the content we are viewing.
What was your favorite part of working on Of Love and other Demons?
Doing this film entailed both a lot of sacrifice and incredible payoffs.
What I most appreciate are the personal and professional relationships I formed. I feel very fortunate for being able to work side by side with a group of very talented artists who dedicated a huge amount of work and commitment to the project.
All the way from scriptwriting through color correction, the road was filled with teachings and creative challenges. Both my perseverance and patience grew during the process, and I've noticed that I also grew in an aspect that really means a lot to me, which is trust. This film increased my confidence in people.
During the shooting I especially enjoyed sharing the creative process with the actors and admired how their characters came to life after being only in our minds and on paper.
The greatest challenge?
One of the biggest challenges was portraying this story of forbidden love in a tactful manner, as it involves a 13-year-old girl and a 36-year-old priest. I wanted to achieve a balance between passion and naivete. Cayetano and Sierva María are unique characters; their innocence makes them terribly vulnerable but they are also unrelentingly brave. I wanted to get to know them, to understand their innermost desires and fears. Pablo Derqui and Eliza Triana poured their hearts and souls into this movie and made these characters exist on film. Thanks to them, the love scenes have a subtle intensity.
What was your creative process in making the film?
During the process of creating the movie's screenplay, I decided to focus on the love story and tell it through Sierva María's eyes (the novel's main female character). The movie, with its intimate approach, focuses on the characters' inner battles and contradictions. On the one hand, a 13-year-old girl living in Cartagena de Indias (Colombia) during colonial times wonders what kisses taste like. On the other hand, Cayetano, a Spanish priest, reads poetry by Garcilaso de la Vega (who never wrote any religious poems and instead depicted pagan and mythological worlds) and is desperately trying to come to terms with his passion for scientific truth and his deep religious beliefs. I decided to delve into a world of senses and sensuality instead of focusing on the novel's anecdotal twists.
The scriptwriting process was a solitary one but I had the opportunity to share and debate along the way with great advisors. One of the best was actually Laura Imperiale, one of the film producers. I'd say she has a special sensibility for quickly catching the essence of the film you're trying to picture and also an outstanding aesthetic taste. Also I worked with Martin Salinas and attended the Sundance-Toscano Foundation workshop.
The whole creative process of doing a film is collective. It's true that the director is the one who has the film in her head, but to transform it into a 90-minute succession of images and sounds, team work is essential.
Additional advice for filmmakers?
I guess it all has been said already. Let's see… first, a great script is indispensable (though you might as well be the exception and create a great film without ever writing a script for it, why not). Secondly, choosing your actors is the equivalent of doing 90% of the film (though anything might happen in the middle of the way, even at the 3rd week of a shooting). Third, it is best to summon a group of collaborators that are able to see the same film you're seeing. And last, but not least, enjoy it! Doing films is a way of living so we might as well enjoy it along the way and never forget is a job—hopefully useful—as any other.
What do you know now that you wish you knew at the beginning of the filmmaking process?
Again, as I just said: you have to relax and enjoy! I know I'll try to do that more the next time.
What's next? What do you do as a follow-up to Gabriel Garcia Marquez adaptation?
I'm working on the second draft of a script I actually wrote before doing Of Love and Other Demons. It is about rebelling at an old age. It is to be shot in Costa Rica.
The LA Film Festival runs through Sunday, June 27, in downtown Los Angeles.
Tags:
Filmmaking
Gabriel Garcia Marquez
Hilda Hidalgo
LA Film Festival
Of Love and Other Demons