Moving Write Along: Advice from the Experts – The Agent/Client Relationship
by author Michele Wallerstein,
MIND YOUR BUSINESS: A Hollywood Literary Agent's Guide To Your Writing Career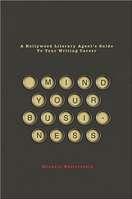 It's always been interesting to me to see the variants in the agent/client relationship. Naturally, in the beginning a new writer wants desperately to get an agent.
Transversely, agents really want to sign writers who have already sold and have a great reputation. To overcome this crevasse is both difficult and tricky. The entertainment business is, however, business and the same laws apply as they do in any business. This means the law of supply and demand. You supply agents with great scripts and there will be a great demand for them.
Getting an Agent
First of all, you need to be where the action is. If you can't live in Los Angeles or New York, then you must go to every Film Festival, writer's workshop, writer's conference etc. that you possibly can. Once you are there, please, please remember that everyone you meet is a "contact." You must follow up with these people, particularly agents, producers, development executives, and even other writers. That means sending thank you notes, query letters, emails about your new project ideas, and any other reason you can think of to re-connect with these folks. This is your door. Go through it.
Another great way to be considered is via referrals. Whether it's by another writer, friend, writing teacher, or consultant, you have to push for those referrals. Promise your first born if necessary, but get someone to make a call on your behalf. We always look at referrals before anything else.
All of the above is only valid if your manuscript is wonderful. Make sure that your story is solid, your characters are real and believable, your plot interesting and don't forget that grammar and spelling still counts.
Once an agent reads your work and likes it, here comes the first meeting. It's a doozy because you only get one chance to connect to this person. Be sure you get there early, dress cleanly, listen well and share things about yourself and your work. If you don't speak, you won't be remembered.
You Have an Agent … Now What?
Only you can make him/her a really good agent for you. You need to be constantly coming up with new story ideas and new scripts. It is not your job to come up with producers or studios that you think will like your film. The agent knows this better than you do. If you keep supplying your agent with terrific new material, then you may call him/her once a week. Preferably call them on Monday, which will give them a week to put more energy into you and your work. Always be prepared to pitch new ideas if your agent gets spur of the moment meetings for you.
The worst thing you can do vis a vis your relationship is to be defensive and belligerent. No one wants to take the call of a pain in the ass. Whining is also up there in the top 10 of things not to do. Lots of product and a positive and professional attitude are your greatest assets.
Additionally, and this is important, it wouldn't kill you to occasionally take your agent to lunch, buy them a birthday and/or Christmas gift, and inquire about their life and health.
Keeping or Changing Your Agent
Well, now everything has gone well for a year or two, perhaps you've sold a script, been hired for a re-write or two, had lots of meetings and made more good, solid contacts via your agent. You agent seems to like you and believe in you and your work. But, people start to tell you about a better agent or a bigger agency or that your last deal wasn't big enough. This begins to nag at you. It becomes more and more difficult to stand up for your agent. Maybe they didn't return your last call in a timely way, or they didn't like your last two scripts or you didn't get read by the President of a studio. Stop and think. Try to be fair in your judgment. Ask yourself these very important questions before you fire that agent to go elsewhere:
1. How good were your last two scripts? Where they really marketable, well written and competitive?
2. Have you been calling the agent every day or two? Are you hounding them without a good reason?
3. Do you easily give in to peer pressure?
Remember the golden rule of the agent/client relationship: if it ain't broke, don't fix it.
Over the years I've witnessed so many writers shoot themselves in the foot by leaving good agents who believed in them.
When you change agents, your writing career is put on hold for quite a long time. Invariably you will lose good connections with people who like your agent and don't like that you've fired them, or there is a long lag between firing your agent and signing up with the new agency where you have to meet with everyone there, push to see that they all read your work (which they won't), try to figure out who your real contact is and make sure that the assistants like you too. All of this can take months. If there is 'heat' on you, any time lost will never be regained and you will fall off of the hot list.
The new Agency will have wined and dined you because you have already made money and they want the 'easy' sales. You become one more on their never ending list of clients, and agents are people who have their favorites.
Another essential before changing agents is to see if there is a problem in your career that lies within you. This is of paramount importance. Ask yourself if you are pitching the same (or similar) old ideas, have you given your agent a new and excellent screenplay. Without ammunition, an agent can not do the impossible. Be very sure to take responsibility for your actions.
Don't react to outside pressure. The loss to you and your career can not be regained. As in any other relationship, try your best to make this one work. Have a meeting with your agent to discuss any concerns you might have. Listen to what they say.
As long as your agent has been honest with you, worked on your material, responded to your calls and made the best deals they can for you, then stay where you are and put your time, energy, and concentration into your writing.
Michele Wallerstein was a literary agent for 25 years and currently works as a screenplay, novel, and career consultant. She is the author of MIND YOUR BUSINESS: A Hollywood Literary Agent's Guide To Your Writing Career (Michael Wiese Productions). She will be having a book signing and Q & A at the Bookstar, 12136 Ventura Blvd, in Studio City on August 7th at 3pm.
Become a Fan of Michael Wiese Productions on Facebook.
Tags:
Agent Client Relationship
Michael Wiese Productions
Michele Wallerstein
Mind Your Buisness
Moving Write Along: Advice from the Experts