We Yanks love the British and Aussie actors and their films, particularly tales of the royal family. Stiff upper lip, decorum and a real appreciation for the English language, and all that sort of thing. Anglophiles, delight in this holiday release, The King's Speech.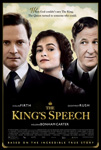 Anyone who has been reduced by a fear of public speaking will more than sympathize with the attempts of the Duke of York ("Bertie") and future King George VI (Colin Firth) to overcome a severe speech impediment. And everyone can empathize with the tenacity and courage required to triumph over adversity so brilliantly portrayed by Firth.
From 1984's Another Country to Pride and Prejudice, the Bridget Jones movies, Girl with a Pearl Earring and Love Actually, Firth is consistently interesting on film. Just prior to viewing The King's Speech, I watched Firth in A Single Man, and appreciated how totally he assumed the role of that George. Firth completely inhabits his role of a soon-to-be king as well, flawed and scarred, often frustrated, but determined to work hard to "fix" himself.
The King's Speech covers a 14-year period and Bertie's attempts to overcome debilitating stuttering. The persistence of his wife, the future Queen Elizabeth (Helena Bonham Carter), leads to enlisting the services of many doctors, who recommend such things as cigarette smoking (it "calms the nerves and opens the larynx") and practicing talking with a mouth full of marbles. Close to giving up, the unorthodox speech therapist Lionel Logue (Geoffrey Rush) is enlisted. He's an Australian whose experience in speech therapy comes from his acting background and work with "shell-shocked" soldiers in WWI.
While the official relationship between Logue and Bertie is as speech therapist and patient, Logue also is stealth psychologist and friend–recognizing that Bertie really has no friends in his isolated royal role. The lightness and humor of Rush's Logue nicely balances with Firth's tense and concerned Bertie. Logue's unconventional approach for the time extends to class distinction. "In here, it's better if we're equals," he says to the future king of what he expects from their daily office sessions.
The story unfolds along with the "abdication crisis" of the period. Bertie's brother, Edward VIII (Guy Pearce), assumes the British throne only to abdicate when he refuses to give up his love interest, the twice-divorced American socialite, Wallis Simpson, an unacceptable choice for Queen. It's always fun to see superb actor Pearce show up in unexpected roles such as this, The Road and The Hurt Locker. His performance as a man preoccupied with personal affairs over affairs of the state and duty is perfect, right down to his petulance that his father, the King, is intentionally "departing prematurely."
Previously seen as unsuited for the role of King due to his verbal challenges, Bertie ultimately assumes the throne in December 1936, taking the title of King George VI. The King's Speech culminates with a difficult speech given forcefully, but not without challenges, by the new king on the "wireless" to his subjects as Britain heads to war with Germany.
While Bertie never completely overcomes his speech problems, as Firth assessed in an interview, "He was thrown into a terrible situation for which he was ill-suited and yet led his country through World War II."
Flawless in script, acting, costuming, and creation of 1920's-1930's Britain, I suspect there will be some Academy Award nominations for The King's Speech.
The King's Speech was nominated for Best Foreign Film for Film Independent's Spirit Awards. Read the complete list of nominations here.
5 of 5 Purple Pencils

Tags:
Colin Firth
Geoffrey Rush
Guy Pearce
Helena Bonham Carter
King George VI
Kings Speech
Maria Fotopoulos
Queen Elizabeth
Screenwriting