Director Alejandro González Iñárritu is perhaps best known for Babel and 21 Grams. Iñárritu described Babel as a film with "multiple lines, fractured structures and crossing narratives," which is an apt description for 21 Grams as well. With his new film, Biutiful, Iñárritu, who both directed and cowrote, departs from this style for a more linear telling, and it works most beautifully.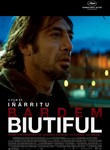 Biutiful shows the grinding realities of people living on the edge in Barcelona—there are the billowing smokestacks, the rooftops of the poor (that all have satellite dishes), and the close, cramped apartments with water-damaged ceilings and aging wallpaper. But through extremely thoughtful storytelling that also is social commentary, Biutiful manages to weave strains of beauty throughout the composition, not an easy balance to strike when looking at the general plotline.
Javier Bardem is Uxbal, a fixer of sorts. He's a low-level criminal who deals in illegal Chinese and Senegalese workers—the former to make knockoff goods and the latter to hawk them in the streets—and is go-between for police and the hiring exploiters. But he may be the most gentle and sympathetic petty offender to come to the screen. If Tony Soprano is the image of a U.S. gangster not really cut out temperamentally to be one, then Uxbal is his European counterpart—minus the trappings of wealth.
Uxbal is a very loving father who has custody of his two young children, so touchingly portrayed by Hanaa Bouchaib as Ana and Guillermo Estrella as Mateo (in fact, Estrella may the most endearing child actor on screen in years—you want to scoop him up and take him to safety, as he tries so hard to please).
Uxbal's estranged wife, Marambra (Maricel Alvarez), is unfit. She's a manic-depressive who skips her meds, has no parenting abilities, and slips into numerous beds, including Uxbal's brother, the petty criminal in the family who didn't get a conscience. Even so, Uxbal is exceedingly patient with Marambra.
Besides the family struggles through which he tries to do the best, Uxbal walks the line between the police and illegal workers, also trying to do right by both sides. Is he helping them or exploiting them? In the context of Uxbal's life, it's unclear.
Into this world, where Uxbal is the only reliable adult for his children, he is diagnosed with cancer—symptoms of which were clear, but attended to too late. Uxbal moves between a belief he won't die to acceptance when he sees Bea (Ana Wagener), spiritual adviser, who says, "You're dying." "So it seems," he replies matter-of-factly. Yet, as he tries to put his affairs in order for his children, no matter what he tries to do right, it seems to go wrong. As you hope for the best outcome, a line earlier in the movie resonates, "It's dangerous to trust a man who is hungry."
Uxbal's impending death is just one exploration of the theme of what does our mortality mean? The theme plays throughout Biutiful, including through looking at the death of Uxbal's father, who we learn fled Franco's Spain, and who Uxbal never knew. In a manner, Uxbal meets his father when the father's coffin needs to be moved to make way for a new development.
There's also the death of exploited immigrant laborers. And, death is a frequent companion of Uxbal, who can communicate with the dead just after they've died and before they've passed to the next realm, an ability which is treated as a given and not as a sham for money.
It's hard to imagine an actor other than Bardem who could have conveyed the nuance and humanity of Uxbal. If we didn't know Bardem was brilliant after The Dancer Upstairs, Before Night Falls, The Sea Inside, and No Country for Old Men, then Biutiful most certainly will assure his position as one of the most complex and talented actors of this generation.
Javier Bardem has been nominated for an Academy Award, Best Actor. It will be a tough choice between him and Colin Firth. Biutiful was also nominated for Best Foreign Language Film.
5 of 5 Purple Pencils
Alejandro González Iñárritu
Biutiful
Javier Bardem
Maria Fotopoulos
Movie Review
Write On! Online
Write On! Reviews