It's a cold day in Santa Monica, when that "four-letter word" is the most commonly used by the winners of the Film Independent Spirit Award.
You've just won a Spirit Award, how do you feel?
"F'ing cold," said Darren Aronofsky, who had won the Award for Best Director for Black Swan. "That pretty much sums up the awards this year."
Black Swan also took home honors for Best Feature, Actress (Natalie Portman), and Cinematography.
On Saturday, February 26, the Spirit Awards returned to the beach in Santa Monica after doing their 25th anniversary awards show last year at LA LIVE downtown. The ceremony, hosted by actor and comedian Joel McHale, aired on IFC.
"We also wanted to do a late night show last year," explains Film Independent Executive Director Dawn Hudson. "It was a grown up party for the 25th anniversary. Now we came back to the kids table with our feet in the sand, and back to the roots of the Spirit Awards."
The cold Santa Monica weather couldn't dampen the spirit of the Spirit Awards.
"We were really excited to come back to the beach," said Hudson. "It does feel like a signature part of this show: that beautiful vista, and the casualness of it, sets the stage for a different kind of awards show."
This particular awards show, courtesy of the cold front, featured celebs and filmmakers wearing scarves, hoodies, and sweaters on top of their cocktail attire.
Hudson wore her wool coat throughout the show, sans the five minutes when she was on stage.
"I still felt like cold and sun were a lot more fun than wet cold, which is what we could have had," said Hudson whose first reaction to the Saturday morning sun was: "God loves independent film."
Hudson's favorite part of doing the show is connecting new filmmakers with those who are more experienced. "Bringing everybody, literally and metaphorically, together under one tent."
Santa Monica is also an important part of that team.
"It's a very progressive city and it's an independent city. I think it's a perfect city," Hudson continued. "There's probably no better place to have a party than Santa Monica, California. It's got everything. It's got the beach, the sun, and the casualness, the irreverence and the fun. It's perfect!"
After the main event members of Film Independent and guests of LG converged on Santa Monica Place for an after party and to watch the the broadcast on IFC.
"LG Cinema 3D has been supporting our young filmmakers in a big way along with the owners of Santa Monica Place," Hudson added. "They really believe in supporting the arts and their community."
Film Independent is the non-profit arts organization that produces the Spirit Awards and the Los Angeles Film Festival.
Here are the winners of the 2011 Spirit Awards:
Best Feature – Black Swan
Producers: Scott Franklin, Mike Medavoy, Arnold W. Messer, Brian Oliver
Best Director – Darren Aronofsky, Black Swan
Best Screenplay – The Kids Are All Right, Stuart Blumberg & Lisa Cholodenko
Best First Feature – Get Low
Director: Aaron Schneider
Producers: David Gundlach, Dean Zanuck
Best First Screenplay – Lena Dunham, Tiny Furniture

John Cassavetes Award For the best feature made under $500,000) – Daddy Longlegs
Writers/Directors: Benny Safdie, Josh Safdie
Producers: Casey Neistat, Tom Scott
Best Supporting Female – Dale Dickey, Winter's Bone

Best Supporting Male – John Hawkes, Winter's Bone
Best Female – Natalie Portman, Black Swan

Best Male – James Franco, 127 Hours
Best Cinematography – Matthew Libatique, Black Swan
Best Foreign Film – The King's Speech
Director: Tom Hooper
Best Documentary – Exit Through The Gift Shop, Banksy

Robert Altman Award (Given to one film's director, casting director, and its ensemble cast) – Please Give
Director: Nicole Holofcener
Casting Director: Jeanne McCarthy
Ensemble Cast: Ann Guilbert, Rebecca Hall, Catherine Keener, Amanda Peet, Oliver Platt, Lois Smith, Sarah Steele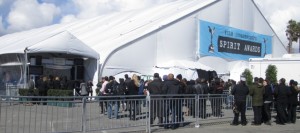 Tags:
2011 Spirit Awards
Dawn Hudson
Film Independent
Spirit Award Winners
Spirit Awards