Write On! Writing A Song by Damen Martin, Proverbial Cool Aid
I wrote West of Tucumcari in the fall of 2009 from a tiny little top floor loft apartment in Houston's Energy Corridor. I wrote it for our upcoming album Proverbial Cool Aid, Volume I, that was scheduled to be released later on that year.
I had the idea for the song for years, but I guess it finally took a tough patch that I went through to actually get me to sit down and pound the song out.  That Fall, within pretty much a two-month time-period, I lost my grandfather, I lost my job, and I lost a beautiful gal who I was seeing.  No kidding, right? But, really, it put me into a daze to say the least, not knowing where I was going to go or how I was going to live.  So, I did what I have done in the past when I needed some spiritual rejuvenation, I headed into New Mexico.  For a good spell there I zigzagged through the state, stopping at every site, every rest stop, and every dirt road out into the desert that I wanted to go down … I went down. I guess I was out there for a couple of weeks. When I got back to Houston, I was mentally refreshed. I sat down with this little hand-held electronic voice recorder that should have been used in a college class or something, and I recorded the chord progression to West of Tucumcari as the base. Then, I wrote the main leads, the solos, and the words, using that little recorder, listening, and rewinding it over and over and over.
I look at that little recorder now laying on my bookshelf at home and it makes me laugh at how a song written on a voice recorder was received so well by the people of Tucumcari and New Mexico as a whole.  I think it was just the type of song that it was, the genre.  I mean, who writes that kind of tune anymore?
It was picked up pretty much right away by the Chamber of Commerce in Tucumcari who was putting together the Songs of Tucumcari CD.  We got on that CD and then we got on a couple of radio stations out there in New Mexico. It was a real privilege to be grouped with the other artists on that CD. We were invited out there to Tucumcari to play an outdoor summer show and everyone knew our song. It was surreal, seeing our song on a CD being sold up and down historic Route 66. Then, New Mexico magazine called and interviewed me. Being in a magazine with the Easy Rider himself Dennis Hopper on the front was a real thrill.
That's what it took to get West of Tucumcari out of me … some loss, some unemployment, miles of endless desert highway, and a cheap, little, hand-held voice recorder.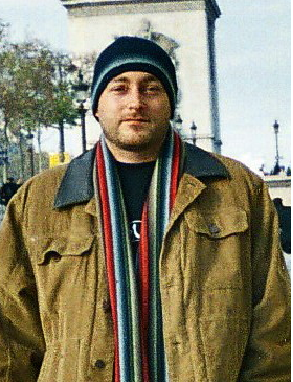 Damen Martin is lead guitarist and songwriter for blues/rock band Proverbial Cool Aid. Originally from Visalia, California, he currently lives in Houston, Texas.
Tags:
Damen Martin Song Writing
West of Tucumcari
Write On! Online
Writing a Song