National Poetry Month starts this Friday, April 1. Poet Veronica Golos is the author of Vocabulary of Silence (released in February by Red Hen Press), an exploration of war and its witnessing-from-afar. Her first book, A Bell Buried Deep, co-winner of the 16th Annual Nicholas Roerich Poetry Prize (Story Line Press), was nominated for a 2004 Pushcart Prize by Edward Hirsch, and adapted for stage at the Claremont School of Theology in Claremont, California.
Golos has taught poetry and multi-genre writing for Poets & Writers, Poets House, and the 92nd St Y/Makor and the New York City Public Libraries. In 2002, she co-founded The Domino Effect, a multiracial quartet of spoken word artists. A lifelong activist for social justice, humanitarian, and peace causes, Golos uses her poetry not only to interpret and question but "to challenge and act."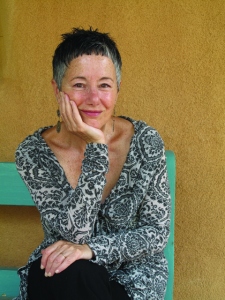 What led you to first start writing?
Reading. Reading. And more reading. Something caught, especially in poetry. And music. Singers like Nina Simone, Sara Vaughn, and so many others. Also, I was a dancer, and so music was an inspiration. Finding music in words is the beginning of poetry.
When writing poetry, to what do you attribute your inspiration?
Well, in A Bell Buried Deep (Story Line Press) my inspiration—or rather the questions I tried to explore were power and powerlessness, race, class; and how two women—the biblical Hebrew Sarai and the Egyptian Hagar, the white mistress Sarah and the enslaved African Harriet, the present day Sadie and Hattie come to love one another through time.
In Vocabulary of Silence (Red Hen Press, 2011) it wasn't so much inspiration, but anger, outrage at the continuing wars against Iraq and Afghanistan. How could I write about what I only witnessed from afar? Was I culpable? And, of course, that photo out of Abu Ghraib, of Lynndee England holding the leash around a naked, beaten Iraqi prisoner.
In terms of influences, I think they are the "poets of conscience" "witness poets" "poets of resistance." Mahmoud Darwish, for example, especially for Vocabulary of Silence.
The poetry I love tries to push beyond the expressible, past the appearance of things, into the heart of longing. That is poetry's challenge and its reward.
How did you go about getting your poetry published?
Rattapalax, published by Ram Devineni, was the first journal to accept many of my poems. I sent my first manuscript to Robert McDowell at Story Line Press, and it was chosen as a co winner for the 16th Annual Nicholas Roerich Poetry Prize. To tell you the truth, I'm not at my best sending out poems for publication. But the presses online are wonderful; I've found some real "partners" there: Press I, Pemmican, Pedestal, Drunken Boat, just to name a few.
For Vocabulary of Silence, I met Red Hen Press editor Kate Gale at A Room of Her Own conference in Abiquiu, New Mexico and give her A Bell Buried Deep and some poems from Vocabulary…it clicked. Kate is an intuitive editor, and Red Hen Press publishes a number of, as Kate puts it, "outsider" poets and writers.
What is your favorite part of being a writer? The greatest challenge.
My favorite part is revision. Revision is at the heart/and head of making the poem work. Of course, most writers will tell you that the book, or the poem, has a mind of its own. It's funny how that happens. What you began with, how you saw the poem, changes sometimes, into something almost foreign, almost new.
The greatest challenge, especially for a "poet of witness" or a "political poet" is to make sure that the "Poetry" is there – that the craft is honed, that attention is paid to the details of the poem, its assonance, its rhyme and rhythm, its poetry. That the "message" is encased in poetry that speaks straightforward language, and in undertones, the sub conscious if you will. In Vocabulary of Silence, I tried to experiment with forms: Ghazal, the Chant, and a new form, The Bop. I did this to push the poetry itself as far as I could for this book.
Tell me about the "Domino Effect."
It was a collaboration of four poets: Roger Bonair Agard and Lynn Procope, Trinidadian spoken word artists, Jamal St John, an African American slam poet, and myself, a bit older, white, and tending towards a more lyric poetry. (Thus, the "domino" effect). We conceived of and performed a piece at NYC's HERE theatre, titled, Evolving to Skin – based on Biblical characters: God, Eve, The Serpent and Lilith. We also read/performed for many events. I think it was a great coming together – each of us brought something different into the mix. It also gave me a taste of collaboration – something that I have continued throughout my writing career. I joined with poets Angelo Verga and Chris Brandt to form Three Poets For Peace: Against the Tide of War and we performed and organized numerous events in New York.
More recently, a collaboration that influenced Vocabulary was an installation I initiated, titled My Land is Me: Four Artists Explore the Veil. Its premiere was in the RANE Gallery, in Taos, NM. My motivation was to question the Western view of "veiled women." The three visual artists, Robbie Steinbach, photographer, Nancy Delpero, painter and Debra Rael-Buckley,sculptor, all took off from my poems, embedding them (literally) into their work. I am very proud of this. There is a book available with the same title from Blurb.com.
How important is it for poets to also be speakers?
Well, if you mean, how important is it for poets to read their work, I'd say its very important. Poetry after all, began as an oral art, memorized. That is what the slam/spoken word poets are able to do. There is something special when a poem, your own or someone else's is put to memory. Sometimes, I have found some poets simply show up to a reading, haven't practiced, haven't timed themselves, and look like they've just stepped out of bed! That's not me. Before every reading, I inquire about the time length, and I shorten it by at least 2 minutes. I practice reading, and have it planned what I'm going to read. As an audience member, who might have paid an entrance fee, I want the poet to be prepared. That's just me of course.
In what ways does being a poet compliment the other work you do?
I've taught memoir for about 20 years, as well as fiction, creative writing, and of course, poetry. I think being a poet, and thinking like one, gives me a possible depth of understanding, and a slant towards "poetic" use of language, punctuation, and sound. I also concentrate on condensation. I've taught teachers how to teach poetry to young people, done workshops with Holocaust survivors, seniors, prisoners, and youth.
I think in some ways, as a person, I'm at my best teaching – it's a way to go beyond yourself.
What are some of the common mistakes new poets make?
That depends upon the poet. Perhaps the biggest tendency, rather than mistake, is to state the emotion: I am angry. I hurt. I love. I try to encourage young poets to write "love poems without the word love," as an exercise. Also, I think that new poets sometimes are afraid to read other poets. They want to be "unique." But I believe that reading other poets can spur you to involve language and structure that perhaps you haven't thought about. Another "mistake" I think is to use the performance of a poem to put emotion into the piece, rather than have the reading reflect the emotion that's already there. I'm with Aristotle: The catharsis is for the audience – it's the job of the writer, the poet, the actor to make the audience feel, to "hold their hearts in your hands" so to speak.
Advice for poets?
Read. Read. Read. Take a poet and read all their work, and everything that's been written about them. In your own poetry, be bold. Say what need to say. Don't worry about publishers, audience, friends. Keep at it. Poetry — any writing – any art – is work, and lots of it. Then, comes the moment – when the words seem to be drawn out of you, when you're not sure WHO is writing the poem. That is what we go for. That is the place we want to be.
General writing advice?
Same as above. Read. Read and be bold. Don't flinch away from the truth. Learn the craft. Learn about the world. Be part of the world. Witness those around you. Develop empathy, develop humility, develop steadiness. Have your writing have consequences.
What do you know now that you wish you knew at the beginning of your career?
Not to be afraid. To be willing to fail, to fall. But most of all, "to thy own self be true."
Tags:
Author Q&A
National Poetry Month
Poet
Poetry
Veronica Golos
Writing