Janine Warner is the author of more than a dozen books about the Internet, including Web Sites DIY For Dummies, Dreamweaver For Dummies, and Mobile Web Design For Dummies. Warner's website—DigitalFamily.com—has free tutorials about web design and social media, as well as more info about her books and videos.
In this Author Q&A, Warner talks about how she got into the tech niche, trends in technology for authors, and more.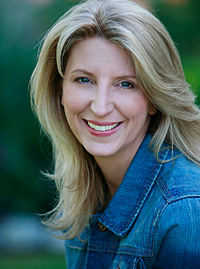 What is your favorite part of being a writer?
The flexibility, the independence, and regular the excuse to complain that I have too much work to do…
The greatest challenge?
Keeping up with the constantly-changing world of the web, and then sitting my butt in the chair and writing, even when I don't feel like it …
How did you end up with a specialty in technology?
After working for several years as a reporter and editor, I started hearing about this "Internet thing" in the mid 1990s, and it just clicked for me. Somehow, I understood right away that the web was going to completely transform the way we share information in the world. I was living in Northern California where so much of the early Internet activity occurred. I was on Craig's List when it was still just an email list for people in the Bay Area. I signed up because it was the best way to learn about all of the cool parties south of Market Street. If I'd only known then …
I never really expected to get "techy." I set out to learn everything I could about the Internet and the next thing I knew I was writing HTML and creating websites. It was pretty easy to learn HTML back then because it was much simpler.
It all clicked for me when I realized that most people who understand technology are not very good at explaining it to anyone else. It turns out my background as a journalist gave me an advantage. As a reporter, it was my job to figure out new things every day and then write them in a way even a 7th grader could understand. When I started trying to learn how to create web sites I realized I was using the same skill-set I used when I was reporting about immigration issues, organic farming, or the last controversy at a school board meeting.
Today, I call myself a "techy translator"—much of what I do is try to decipher the words far more accomplished tech experts and then 'translate' what I've learned into articles, books, and training videos, that other people can understand. I don't always succeed, I'm sure, but I think the fact that I have a background as a journalist has helped me more as a tech writer than a degree in computer science or programming ever could.
What was your process for writing your first book and getting it published?
I met a guy at a conference who had a little more gumption than I did. He'd already decided he was going to write, edit, and publish his own book. I might never have dared such a thing at that time, but when he found out I'd written a couple of magazine articles on the same topic, he asked me to write a couple of chapters for him.
I wasn't sure self-publishing was the best plan, but I was pretty sure we could write the book together so I started researching how to write a book proposal. When I went back to him with a proposal instead of my first chapter, I was able to convince him to try the more traditional publishing route.
We knew that a book about HTML and web design would have to get to market quickly or it would be outdated right away, so we went to a bookstore and looked for books on hot tech topics that were the first to market. Once we identified a publisher that looked like it understood the time sensitivity of our topic, we searched through the credits in the book and found the name of the Acquisition's Editor (that's the title of the editor whose job it is to "acquire" new book ideas).
We FedExed our proposal on a Thursday and on Monday we got a phone call from the editor. By the end of the week, we had a contract. Those were crazy days and publishers were desperate for people who could write about technology. Sorry, but I have to say it's not that easy anymore.
I went on to write two more books for that same publisher, and then an agent found me and ultimately brought me my first Dummies book deal.
Are there specifics for writing for the tech industry?
Probably the biggest challenge of writing tech books is the short shelf life and the super short writing schedule. When I was in college I had this fantasy that someday I'd write a book and I'd go off to a cabin in the woods and spend a year focused on writing that one book.
Instead, I get 3 to 5 months to write an entire Dummies book (the books range from about 360 to 480 pages). Because I also run a consulting business and travel quite a bit for speaking gigs, I find myself writing chapters on airplanes and in hotel rooms. It's not nearly as romantic as that cabin in the woods I used to imagine.
The other thing about the tech book industry is that most publishers, especially if you are writing for a series like the For Dummies series, have very strict guidelines about style, formatting, etc. You have to be able (and willing) to follow the rules if you want to be part of a series, and yet you still have to be able to find your own voice or the books fall flat. It's not an easy line to walk sometimes.
The reward is the combined marketing power of a series. Just about everyone I meet knows what I'm talking about when I say, "I write Dummies books." My first book wasn't part of a series, it was called Hybrid HTML Design, and if you don't know what that means today, imagine the blank stares I got in 1996 when most people hadn't even heard of HTML yet.
What are the most important things a writer's website must include?
Start with a compelling description of your book(s) and an image of the cover.
Offer a way to order the book—at the very least, include links to Amazon, Barnes & Noble, etc.
Prominently include your name and bio. That may seem obvious, but don't skimp on your own biography. It's one of the hardest—and most important things—you'll ever write.
I finally turned to my husband (my partner in all things analogue and digital) and asked him to help me write my bio. He came up with a "top 10 list" idea and threw in a couple of lies to add humor. I have a very diverse background and my bio was getting rather long and dull and the list made bio more fun to read. I still include a link to my more formal bio for conferences, etc., but adding a little humor to the bio on your site can make you approachable. I'm not saying this approach will work for everyone, but you're welcome to steal the idea if you like it.
What are the new trends in the tech industry that authors should know about?
Self publishing. It's amazing how well some authors are doing on their own these days. Don't get me wrong, I appreciate all that my publisher has done for me in the past, but I'm looking more and more at creating my own ebooks and videos.
Interactive books. Expect meteoric growth in the world of eBooks and eBook Apps. Creating books with interactive features, video, and other rich media is definitely the next big thing (or the new big thing already). If you have an iPad, check out the Inkling app and their growing book collection, get Al Gore's book, and then explore some of the children's titles. I especially loved the Dracula book by Padworx.
Additional advice for non-fiction book authors?
Find a niche, get known for that topic by posting on groups, tweeting about it, and getting your name out there any way you can to promote yourself and your expertise. Then do the hardest part of all: sit in the chair and start writing.
What do you know now that you wish you'd known at the beginning of your career?
That writing a book is only part of the job. To be successful as an author, you have to spend at least as much time marketing and promoting your book(s) as you do writing them.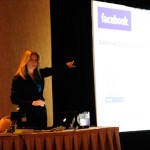 Tags:
Author Q&A
Digital Family Album
Dreamweaver For Dummies
Janine Warner
Mobile Web Design For Dummies
Technology
Web Design
Web Sites DIY For Dummies
Write On! Online
Writing