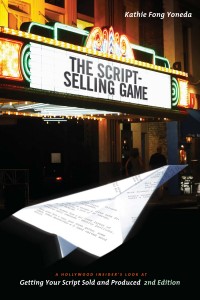 Kathie Fong Yoneda, author of The Script Selling Game- 2nd edition: A Hollywood Insider's Look at Getting Your Script Sold and Produced, is an independent script consultant with more than 25 years experience in the entertainment industry. She who has worked for such studios as Paramount, Columbia, MGM, Universal, 20th Century Fox, and Disney, specializing in story analysis and development of live action and animated projects.
Yondea talks about her experience writing The Script-Selling Game, and offers advice for screenwriters and non-fiction writers in this Write On Author Q&A.
What led you to a career in the entertainment industry?
I did work as an "extra" and ended up working in the typing pool at Universal, as suggested by my first husband. I moved up the ladder as an assistant, ending with a boss who was a Vice President of Production. He went back into an indie-production deal and was on location on a film. Scripts from agents were piling up in the office and out of sheer boredom, I started reading them. When he returned, I had the scripts separated into the ones that I felt he should read first. He asked me to write up a short synopsis on each script as well as a paragraph on what were the script's strengths and weaknesses. Turns out, he thought I was pretty good at analyzing submissions. From there he helped me gain entry into the Story Analysts Guild and after several years I ended up at Disney, where I was asked to do a set of notes for Jeffrey Katzenberg. I guess those notes must have been pretty good because the next thing I knew I was an executive.
Why did you write The Script-Selling Game?
After working with new writers as well as seasoned pros, I came to realize that their learning curve was made even longer because they didn't have any information about how the system worked and what they needed to know to move ahead once they finished film school or had a couple of scripts under their belt. There were several books on subjects like structure, characterization, and the craft of screenwriting, but nothing on the "business" end of screenwriting. I wrote a monthly column for four years and it eventually became the basis of my book.
What was your process for writing it? Getting it published?
I organized my columns into various chapters and put them in a logical order. Because the columns had the basic information, all I had to do was add examples and more details—in fact, I loved that I was able to go beyond my usual 750 word columns to give more detailed advice. I actually had thought about getting my columns published, but my workshops were starting to get in the way. At one of my workshops, I became friends with one of the writers. Turns out he knew Ken Lee, who heads up things in the United States for Michael Wiese Productions. Ken mentioned he was looking for "a Hollywood insider" to write a book on screenwriting from the other side of the desk. The writer suggested me.
What are some of the biggest mistakes newbie screenwriters make and how can they fix them?
Most new writers think that success will come to them overnight. Very few writers get their first script optioned or bought. In fact, I used to ask the dozens of produced writers I worked with how many scripts it took before they got their first big break—either an option/sale or getting representation with an agent. Only one writer got her very first script optioned and she was quick to mention that it took her five years and several scripts later until she got her second sale. Another writer told me it took him 15 scripts until he got an agent to sign him. I asked him about his first ten scripts and he said he still has them in his office, but he won't let anyone see them because he now realizes they really were much-needed "practice" scripts. I tell my writers to give themselves permission to fail—in other words, it's important to understand that in reality, it will probably take people several scripts before things start to happen for them, so don't be so hard on yourself and just continue to keep writing. Real writers always have half a dozen (or more) other projects in their hip pocket—they just can't help themselves—they are compelled to write!
There is a learning curve to writing. Take classes, do research, attend and participate in pitchfests, competitions, and fellowship programs. Build a community—get to know other writers and share your work and your experiences to help gain additional knowledge and insight into the business.
Are there any advantages to being a new screenwriter?
New writers are (hopefully) not as jaded in their approach. They seem to be more open to getting in touch with their creativity. They are usually more eager to learn, to grow, and to experiment with their work.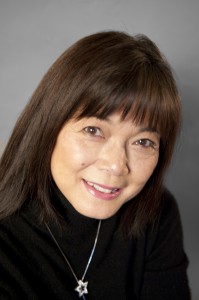 Do you have any additional advice for screenwriters?
Try to understand that timing is important. Although Oliver Stone was a much-sought-after writer/director, it took him ten years before Hollywood finally agreed to let him produce Platoon because the subject of Vietnam was still too fresh a wound for many Americans. Join a writers group—believe it or not, writers who are in a group tend to move to the next level a little faster than those who try to go it alone!  And keep in mind that you only get one chance to make a good first impression—so always be sure your work is in the best possible shape it can be before sending it out.
Do you have any advice for non-fiction book writers?
I still maintain that truth is often a heck of a lot stranger than fiction. But what usually catches my attention with a non-fiction book is the personal approach that the author takes. Although your non-fiction book may be accurate in its facts and thoroughly researched, if you have characters, be sure their personalities jump off the page and engage us—be sure their story and their goal has an immediate, compelling and meaningful appeal to the readers. If your non-fiction book does not necessarily have characters in it, but might be more instructional, it's still best to infuse the approach of your book with a personal style that makes your material more than just facts. Writing from within, whether your work is fiction or non-fiction, usually shows up on the page and inherently, makes its way up the New York Times best-selling charts.
What do you know now that you wish you knew at the beginning of your career?
I guess I wish I knew that making a mistake wasn't necessarily a bad thing, when, in fact, most of the time, it's an opportunity to learn a lesson and move ahead. If I had looked for the lesson I could have learned, I might have moved ahead a little faster and a whole lot wiser!
Tags:
Author Q&A
Business of Screenwriting
Kathie Fong Yoneda
Michael Wiese Productions
Non-fiction
Screenwriting
The Script-Selling Game
Write On! Online