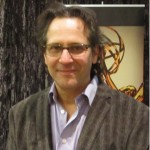 Congrats to all the winners at the 63rd Emmy Awards. Was thrilled to catch up with both the drama and comedy series writing winners last Tuesday at the Writers Guild's Sublime Primetime annual panel of Emmy-nominated writers.
Writing for a Drama Series: Jason Katims (pictured), Friday Night Lights, "Always." Also won for lead actor in a drama for "Coach" Kyle Chandler. Watch for my interview with Katims coming soon.
Writing for a Comedy Series: Steve Levitan and Jeffrey Richman, Modern Family, "Caught in the Act." Modern Family – the night's big winner – also took home trophies for Best Series, Directing (Michael Spiller, "Halloween"), and Supporting Actor (Ty Burrell) and Actress (Julie Bowen).
Writing for a Variety, Music or Comedy Series: The Daily Show with Jon Stewart. Also won for best Variety, Music or Comedy Series.
See the full list of winners.
What's your favorite television show? What was your favorite win?
Tags:
Emmys
Friday Night Lights
Jason Katims
Modern Family
Steve Levitan
Writing