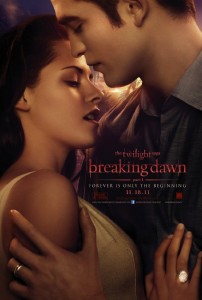 Yes, I admit it. I'm kind of a Twilight nerd. Not in a Twilight-Moms kind of way (no offense), but I do like the movies, and I'm looking forward to The Twilight Saga: Breaking Dawn, Part 1, in theaters Friday, November 18, 2011.
I haven't even read the books by Stephenie Meyer, although my daughter has, and she keeps me abreast of how closely the movies follow the books. Most of my time these days is spent watching movies, so I'll have to get caught up on the books at some point in the future. Haven't read any of the Harry Potter books yet either—although I did leap wildly into The Hunger Games.
The Twilight Saga: Breaking Dawn, Part 1 continues the story of Bella Swan (Kristen Stewart), her soul mate, vampire Edward Cullen (Robert Pattinson), and her friend, werewolf Jacob Black (Taylor Lautner). Don't worry. I won't reveal any major spoilers here, although if you know nothing about the plot and want to keep it that way, stop reading here.
It's been a long time coming, but Bella and Edward are finally getting married, even though Jacob is heartbroken because he's always loved Bella, too. But things go as planned, and Edward whisks his blushing bride off to a secret honeymoon location off the coast of Brazil. Check out the trailer below. That waterfall scene looks absolutely magical.
Just days after the two have mad sex, it's revealed that Bella is pregnant. Except the baby is not exactly human, and it's growing at an accelerated rate that will kill Bella if she goes full term. The wolf pack catches wind of it and takes steps to prevent this "monster" from being born. Jacob ends up breaking off and starting his own wolf pack in order to protect Bella.  All heck breaks loose, and I'll leave it at that. Check over at Reel Life With Jane this weekend for a full review after I see the movie.
There's something very romantic about the story of Bella and Edward's love, intermingled with the heartbroken Jacob, who will do anything to save Bella even though she chose Edward over him. The fact that it involves werewolves and vampires just makes it that much more exciting, in my view. I'm late to the whole vampire thing, and only became fascinated with it after watching Moonlight, Buffy the Vampire Slayer, and Angel a few years ago.
What about you? Are you a Twilight fan, or does just the thought of it make you want to hurl?
Tags:
Based on the Book
Jane Boursaw
Reel Life with Jane
Stephenie Meyer
Twilight