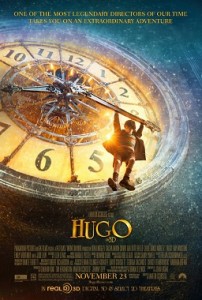 Only the master of film himself, Martin Scorsese, could make a family movie that involves the history of filmmaking. The reason it works as a family movie is because Scorsese slyly blends the history of filmmaking with a very human story about loss, hope, and new beginnings. Viewers—especially young viewers—don't need to be conked over the head with an inspirational message. They need a tale so engaging they'll forget they're even watching a movie.
And yes, the best family films start with a great story, so it helps that this one is based on Brian Selznick's Caldecott-winning novel, The Invention of Hugo Cabret. It tells the story of Hugo (Asa Butterfield), a 12-year-old orphan living within the walls of a Paris train station in the 1930s. He's a good boy who's trying to make the best of things after losing his dad (Jude Law) in a tragic fire and being sent to live with his drunken Uncle Claude (Ray Winstone) who keeps the clocks running at the station.
After his uncle abandons him, Hugo continues caring for the clocks and survives by swiping scones from vendor carts and dodging the stern Station Inspector (Sacha Baron Cohen), who stomps around with his leg brace and scary Doberman. But Hugo's real passion is his beloved automaton, and he steals parts to fix the mechanical man his dad rescued from museum archives before his death.
When Hugo attempts to lift a wind-up mouse from eccentric toy seller Georges Melies (Ben Kingsley), he embarks on an adventure that leads him to uncover the origins of the automaton. Georges' orphaned goddaughter, Isabelle (Chloë Grace Moretz), befriends Hugo, and they discover an intriguing connection.
Hugo is not only a beautiful story about a time in France's post-war history when movies were melted into chemicals to make shoe heels, but the attention to 1930s-era detail is magnificent. There's the fairy tale train station that bustles with activity. The complex inner workings of the massive clocks. Bakery carts filled with warm scones and buns. Wooden armoires with ornate carvings. Wise librarians who love books. And women in knitted berets selling flowers. The whole movie has a Dickensian feel to it.
And I love movies where the kids are brave and resourceful. That's not to say stealing is acceptable, but Hugo believes in his heart there's more to the automaton than meets the eye, so you cut him a little slack on the thievery. You know it will lead to good things, and more than one person in this film will find purpose in life again.
I'll leave you with this from Hugo: "I'd imagine the whole world was one big machine. Machines never come with any extra parts, you know. They always come with the exact amount they need. So I figured if the entire world was one big machine, I couldn't be an extra part. I had to be here for some reason."
Jane Boursaw is an entertainment writer and syndicated columnist specializing in family movies and TV. Visit her at Reel Life With Jane or email jboursaw@charter.net.
Tags:
Based on the Book
Brian Selznick
Filmmaking
Hugo
Jane Boursaw
Martin Scorsese
The Invention of Hugo Cabret
Writing