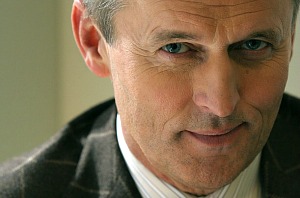 First there was a book, and then a movie. Twenty years later, The Firm is now a weekly TV series on NBC starring Josh Lucas in the role played by Tom Cruise in the movie.
I caught up with John Grisham last week, who serves as an executive producer on the TV show. Here are five things that surprised me about the prolific author.
1. He doesn't want to see advance screeners of The Firm. "I saw the pilot a couple of weeks ago, and Luke [Reiter, executive producer] has offered to send me each episode as they finish them, but I don't want to see them. I want to sit back on Thursday night and watch the show with everyone else."
2. He doesn't have writer's block … ever. "I've yet to suffer from writer's block, but if one day I get a good dose of it, I may have to go back and resurrect some of these old characters and start writing sequels. But I hope not."
3. He never revisits his books or characters. "I've never gone back and read The Firm. I've never gone back and read any of my books over the past 20-some-odd years, because when I'm through with them, I'm through with them. I'm onto the next book."
4. He hates doing research. "I'd much rather just create something than have to stop and go do the research. I'm terrible at research and pretty good at fictionalizing things, so that's what I do. You just make it up. That's the world of fiction."
5. He's not worried about the book industry. "We're always going to have book stores, and we're always going to have books and films and movies. I don't care what happens to the Kindles and E-Readers. People are always going to buy books."
Read the full interview over at Reel Life With Jane.
Jane Boursaw is an entertainment writer and syndicated columnist specializing in family movies and TV. Visit her at Reel Life With Jane or email jboursaw@charter.net.
Tags:
Based on the Book
Jane Louise Boursaw
John Grisham
Reel Life with Jane
The Firm