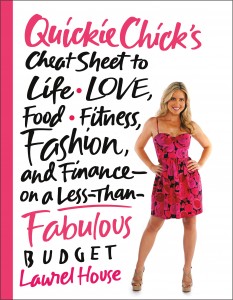 Laurel House's fourth book, QuickieChick's Cheat Sheet to Life, Love, Food, Fitness, Fashion and Finance on a Less than Fabulous Budget, is being released today by St. Martin's Press. In this Write On Q&A she talks about her writing process, getting published, mixing up mediums, and more.
What inspired you to start writing?
I have always been a writer, but I used to just write for myself—in my journal—and I would write cards for people. Whenever it was a holiday or special occasion, or just because I was thinking of someone, I would write these long novelic notes to people, letting them know exactly what they meant to me and how they touched me. I never considered actually being "a writer" until my mentor—Hollywood's Michael Ovitz—told me when I was 19 years old that, instead of my goal of being "the most powerful woman in Hollywood," I should be a writer. Now that I'm a writer by trade, my cards just day, "xx Laurel."
Why did you write Quickie Chick's Cheat Sheet?
Like many women, I have always been a "do-everything" chick, but I don't always have the time to actually do EVERYthing. So I am constantly challenging myself to figure out the most effective and efficient ways to get things done. As a magazine writer covering lifestyle (basically everything from fitness to diets, travel to sex), I have had the opportunity to pack a lot of life into my 34 years, essentially being paid to experience, test, and write about how to be a fit, well-fed, awesomely traveled chick. Beyond writing, I am a collector of knowledge—experience-based knowledge to be exact. From getting married (and divorced) at a young age to leaving the corporate world at 23 to become an entrepreneur, I have never been afraid to push the limits, take risks, prove myself and others wrong (or right), and make mistakes. For years I have said that the great thing about the mistakes I have made is that there is always a lesson! Finally, I am taking those lessons and living… But, one of the things I also love about learning is then teaching- paying it forward. QuickieChick's Cheat Sheet is like the Cliff Notes version of life for chicks.
The very first quickie, however, was my own personal workout: a Quickie Workout in Bed (yes, a real workout that's just done on a bed), that I shot, uploaded onto YouTube, and got a million views on in a couple of days. I expanded the "Quickie" concept into videos about Bites with Benefits (recipes), Refrigerator Facials (beauty tips), and dating advice… there's a quickie for everything. Soon it was sold into a book and now my videos have over 7 million views!
What was your writing process? In what way was it different from writing your previous books?
QuickieChick's Cheat Sheet is my fourth book! But this is the first one that is really mine. The first was a book about stress reduction that I wrote with my mom. The second and third were fitness books that I wrote with personal trainers … in their voices. This is really all me. It is sassy and fun and tongue-in-cheek, but still informative and actionable. It was actually much easier to write than the others, because it was coming straight from my head. I would have an experience, then I would write it down. Or I would talk with my friends and recall old experiences or delve into a topic that other chicks struggle with and it would spark a new section in the book. I would see how fans were responding to YouTube videos, what types of comments they were leaving, what types of videos they were requesting, and that would give me another idea. This book was so much fun to write because it was active. I feel like it had a life of its own. I never felt like it was work.
What was your favorite part of writing this book? The greatest challenge?
My favorite part of writing this book was when I would read certain parts to other chicks—or send it off to my 26-year-old sister—to read, and they were immediately engrossed, asking more questions and telling me how relevant it was in their life at that exact moment. Seeing the possibility of it inspiring, helping, igniting passion, and even changing the lives of other chicks… I loved it!
The greatest challenge was probably editing myself. I have a lot more to say, but this book covers so many different topics that I couldn't dig quite as deeply into any one. Hopefully there will be more QuickieChick books, each with a specific focus so that I can really dig into the topics without having to cut myself off. It may be about "quick" but there are LOTS of tips that are quick.
How did you get a publisher?
I have an agent who is amazing—Marcy Posner! She is actually my fourth agent. I have had a different agent for each book. But I am sticking with her. She gets me as an author, as opposed to as a book. She also helps to focus, and, yes, to edit me. I tend to be an idea machine. She encourages my ideas, but, like a dam, keeps them from getting spastic and flowing all over the place. I wrote a book proposal, then Marcy sent it off to editors and various publishing houses. Several houses wanted to have meetings, so I flew to NY and met with the houses that seemed like the best fit, and I loved St. Martin's. Like Marcy, they were interested in me as an author as opposed to just a one-off book. I also loved their enthusiasm. They really got the book.
How do you blend video with your writing? In what ways does it help you reach more people?
I let the writing and videos feed off of and inspire each other. Not everyone wants to read, so I will often "talk a post"—in other words, take the concept of the written post and do a video of me talking about it. Of course social media is also a big part. I tweet, facebook, pin, and tumble my posts and videos. I also have developed relationships with other bloggers who will post about me. Being a writer isn't just about writing anymore. It's about being an entrepreneur. I wear a lot of hats and I am constantly juggling. It's my full-time job.
What are your three favorite tips from the book that relate to writers?
Sell yourself. Being good at a trade is one thing. Letting people know that you're good at a trade is another. There are SO MANY writers out there. Sometimes a writer doesn't have to be anything but a writer (in other words, they don't have to do the social media or the videos or publicizing and marketing) and they will get a lucky break. But it's easier to draw attention to yourself, tell people that you can write and then prove it.
Swallow Your Ego. So I said that it's "easier" to draw attention to yourself. Easy isn't exactly accurate. In fact, it's often counter-intuitive to the traditionally hermit-ish, introspective nature of a writer. You have to make the decision to put yourself out there. I say that you need to "fake it" or "divorce yourself from yourself." Create a persona who is outgoing and isn't afraid to stick her neck out. That's what QuickieChick is. She has the 3Gs that are essential to success: Gumption, Grace, and Guidance. She has the Gumption to stick her neck out, but she tempers it with Grace, then she Guides other people and teaches them the way.
Diversify. I still write for blogs for free. I always have. I write about a lot of different topics in a lot of different styles. I also do, as I mentioned, the social media, the videos, the guest posts on other people's sites with links back to mine—all for free. If you want to get noticed, you have to get out there.
What do you know now that you wish you knew when you first started writing?
I wish I had honed my focus and ran with a concept years ago. I feel like I am running a race right now, building the QuickieChick brand and getting attention to it. I wish I had figured out the QuickieChick concept 8 years ago and ran with it, building a following gradually, digging roots into social media at the beginning. But… QuickieChick is all about live and learn. So I guess I still had experiences to collect that I could then translate into quickie tips.
Any additional advice?
Right now, start thinking about who you are, who you want to be, where you want t your career to go, what you're good at, what you know, what our destination is. Then start taking the steps to get there—now. Create brandable name. Buy the domain, sign up for it on all of the social outlets and start getting that name out. You will develop it as you go, as you get feedback, as you grow. If you end up not liking it, no problem. Start over. Just start.
Tags:
Author Q&A
Laurel House
Nonfiction
Promoting
Publishing
Quickie Chick
QuickieChick's Cheat Sheet
Write On! Online
Writing
YouTube