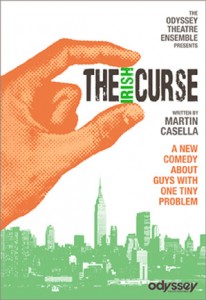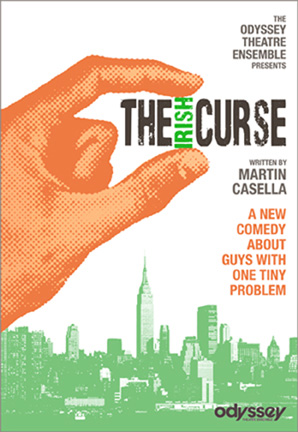 Martin Casella wrote "The Irish Curse," which is currently at The Odyssey Theatre in Los Angeles. The play, which is "a new comedy about guys with one tiny problem," runs through August 26th.
Casella's other plays include Scituate (Best New Play, SCFTA); Mates (LA Weekly Award, Best New Play), Paydirt, and more. He also wrote the book for the musicals Paper Moon, Happy Holidays, and others; he co-wrote the book for the new jazz musical Play It Cool (GLAAD nomination, Outer Critics Circle nomination, Best Off-Broadway Musical).
Casella's current theatrical projects are a stage adaptation of Jessica Francis Kane's novel The Report and a jazz musical called Club Dangerous. In film and TV, Casella has written for Steven Spielberg, Anthony Edwards, and Francis Ford Coppola, among others. He is currently adapting David Johnson's play Busted Jesus Comix for the big screen and is writing the feature film Tom's Dad.
What inspired you to write The Irish Curse?
A few years back, regional theaters—and theaters in general—began making it clear they wanted plays with no more than five characters, one set and no intermission if possible. Resigned to no longer writing plays with eight or nine—or even six or seven—characters, I started looking around for something that would fall into that category. Some Irish-American buddies of mine in New York happened to make a remark one day about a guy they all knew who had "the Irish Curse." Quite innocently, assuming it meant alcoholism, I asked what they were talking about. I was stunned to find out what they were discussing was the alleged small size of the Irish-America guy in question's genitals. Being new to the Northeast (from Los Angeles, a city where people go to escape their birth identities), I was fascinated not only by the tightly knit ethnic communities I had found in cities like Boston, New York, Philly, and Baltimore, but by this crazy and slightly silly stereotyping of Irish men. But the more I talked with the group of guys, the more I came to see that they REALLY believed this to be true. Not for all Irish-American guys, of course, but certainly for many. But the end of the evening, I had found the topic for my new play. Not so much about "the Irish Curse itself," but about what we are taught—as men—to believe about ourselves and our bodies.
What was your favorite part of writing The Irish Curse? The greatest challenge?
My favorite part of writing The Irish Curse was the utter freedom I had in writing whatever I wanted to, and to say whatever I had to. I guess I didn't really think anyone would actually read—let alone produce—the play. And that opened up something inside of me. I wrote like a house on fire, and had so much fun doing it. The fact audiences around the world have responded the way they have to a play I wasn't even going to show anyone… well, to paraphrase Lanford Wilson in one of his plays: "Every time you write something, it should be so naked that you should want to stamp BURN THIS on it."
The greatest challenge? Well, I had spent the previous year researching, talking to people and lurking on websites about penis size. I saw the passion that topic created—from both large and small guys. Getting that passion on the page, and the stage, was the hardest part of the job. But the greatest challenge was to find the balance between humor and compassion in the writing of the five characters who are at the support group, where the play tales place. You had to be able to laugh with, and feel for, the guys in the group. In New York, a group of guys who were actually in a penis-size support group came to see the play and stuck around afterwards to say how much they had enjoyed it. Their approval meant a great deal to me, and made me feel as if I had conquered that challenge.
How do you go about writing dialogue? Creating unique characters?
I basically improv a lot when I'm writing dialogue. I try as hard as I can to make it sound like real people talking. I always know before I start writing what the characters' wants and needs are. And then I try to get that information out without sounding pedantic or unnatural or clumsy. I read and reread over the dialogue hundreds of times before I even have a reading with actors. I have to make sure I love every word of dialogue I hear, and that it sounds like something you might have overheard in a restaurant or a cafe. Or a self-help group meeting! The best compliment I ever receive from actors is when they say they found my dialogue easy to say, or to memorize, or to act, because it felt like "real talking."
Creating characters is so hard. I usually take notes, either on paper or in my head, about various people I've seen or met or read about, for a long time before I start writing. I always know exactly how they look, how tall they are, how they move, whether they are successful in life, or unhappy. All of those things come together very carefully, as they do in real life, to create real people onstage. I tend to fill out the details of my character's backstories right on stage. You usually know, in a play of mine, exactly who a person is at the time the play begins. Where they live, what they eat, to whom they are married, or not married. And I usually fill part of those backstories from incidents in my own life. One friend, who was very close to my late partner, turned to me after one moment in The Irish Curse and said, "That's exactly how you met Patrick!" And that moment, because it's based on real life, resonates in a way so the audience feels the honesty of the moment. And the basic truth of the character.
In what ways are writing plays similar to/different than writing screenplays and teleplays?
That one is so easy. Plays are about dialogue, words, silences, and ideas. Movies are about action, images and feelings. Not 100% of the time, but close. With great TV shows, writing great dialogue is as important as writing great descriptions of action sequences in movies. I am a huge fan of Mad Men, The Sopranos, Homeland, and Nurse Jackie. All of those shows have dialogue as good as anything you will hear in the theatre. Movies though, especially major studio films, have very little sophisticated dialogue anymore. They are made mostly for younger American and international audiences who want to see things explode and blow-up. When you write movies, you write in images and any dialogue or ideas have to be basic enough for an eight-year-old in Jakarta to understand. God bless the independent films we still get from The Weinstein Company and FOX Searchlight. Their movies are often filled with witty, charming dialogue, and smart ideas.
How about plays versus musicals?
With plays, the writer is the star. It's his or her ideas, thoughts, story, and character. You are doing it all alone. You have to have that whole, vibrant entire world in your head. And you are the puppet master. With musicals, which I have had the honor of writing about seven, it's completely collaborative, unless you are writing the book, music, and lyrics all by yourself (as Meredith Wilson did with the brilliant The Music Man.)
Writing a musical is like President Obama's proverbial 14-layer chess game: you have to be looking out for not only your work, but everyone else's work as well. What's the tone? How many jokes do we need here? How do we build toward the act break and where does it land? How do we get into the musical numbers and how do we get out? How long has it been since we HAD a musical number? How many people are singing now? How many people sang in the last number? What do you mean we have five ballads in a row? (aka "Ballad Bondage.") The star has to change her clothes now! We have to move the set now! We can't have five ballads in Act Two! When was the last time we had a good laugh? Will the ending make people cry? Or think? Or care? Or come back again? Or can we solve those questions with a kick-ass 11 o'clock number and a really cool music Mega-Mix like at the end of Mamma Mia? When you're writing a musical you have to be the World's Smartest Writer and the World's Funniest Writer, know a Charm Song from a Want Song… and you have to be willing to put up with having nine pages of your dialogue turned (anonymously) into a song that your star could end up singing on the Tony Awards. And most importantly, when you write a musical, you have to know in advance that you will be blamed if the show is no good—and you won't be praised when it is good: the score will be. At least with a straight play, you either get all the blame or all the credit.
What mistakes do newbie playwrights tend to make and how can they fix them?
I teach a playwriting class in New York City to high school students. So every semester I run into this problem. Newbies usually write exposition in a way that's obvious and often clumsy, like "You know you're my sister!" or "Remember when we got married ten years ago in that little church on the Vegas Strip?" They often have characters that make no sense logically. They often think they are writing for movies, so they'll say something like "They all get in to car and drive to McDonalds." They usually also have trouble with stage directions, particularly when it comes to dealing with motivation and subtext. My students will write things like "She gets into bed and thinks about all the bad things she did that day." Often newbies have only seen movies and will have many scenes that are only three lines of dialogue long. The best way to fix these problems is to get them to read great plays, whether they are by Wendy Wasserstein or David Mamet or David Henry Hwang. I tell them to see a lot of plays. I tell them sometimes the best way they can learn is from what's BAD in the play they've seen. That way they know what not to do. (i.e. "Learn from the mistakes of others.") When it comes to dialogue, I tell them to go sit in the park or a cafe and listen to real people talking. Listen to their classmates on the subway. Listen to people picking up prescriptions at CVS. Listen. Just listen. And then write it down.
Any additional advice for writing plays?
Be smart. Be tough. Be willing to collaborate and compromise. But also know when you shouldn't compromise. Write for SMART people. Never write down for an audience. They know when you're doing that. Always listen to an audience during previews of a show. They will tell you when they're bored or when they don't understand a plot thread or when they're confused, and sometimes, they will tell you when a show is over. They will always tell you when they are listening, because the theatre is utterly silent. Believe in what you write. Believe you ARE a writer. Don't be afraid to rewrite but never rewrite just for the sake of rewriting. Unless of course you happen to have a better idea! Follow the lead of the character of Dot in Lapine and Sondheim's Sunday in the Park with George (my favorite musical). When her grandson is stuck for ideas, she comes back to him as a ghost and sings "Everything you do, let it come from you, then it will be new…." That's the best advice for every writer in the world.
What do you know now that you wish you knew at the beginning of your career?
That is the hardest question I have ever been asked. I wish I had known that everyone—even crazy collaborators and producers who lie—have something wonderful and useful to offer you. Two of the most heartbreaking experiences I have had as a writer were also the best experiences of my life. That's something you just have to learn for yourself.
Tags:
Martin Casella
Odyssey Theatre
Plays
The Irish Curse
Write On! Online
Writing