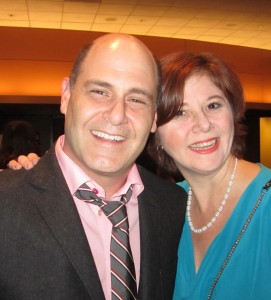 The 64th Annual Emmy Awards took place tonight in Los Angeles. Homeland was the big winner with Emmys for writing, directing, lead actor (Damian Lewis) and actress (Claire Danes), and series. Modern Family took awards for supporting (Eric Stonestreet) actor and actress (Julie Bowen), directing, and serie./Louis CK won two writing Emmys: for Louie and Live at  the Beacon Theatre.
Last Wednesday, I had the pleasure of hearing some of the writing nominees at the Writers Guild's annual Sublime Primetime event. The panel, which included Dave Boone (84th Annual Academy Awards, 65th Annual Tony Awards), Semi Chellas and Matthew Weiner (pictured above) (Mad Men), Lena Dunham (Girls), Alex Gansa and Howard Gordon (Homeland), Ted Mann (Hatfields & McCoys), and Billy Martin (Real Time with Bill Maher, 84th Annual Academy Awards [Special Material]), and was moderated by The Walking Dead's Glen Mazarra, is always one of the highlights of the year.
It's so much fun watching writers chat and ask each other questions, hearing their challenges and experiences as working writers. Attending an event is a great way for would-be writers to learn more about the business of writing and get that all-important glimmer of hope. It even makes it more fun when you see them win. Homeland's Alex Gansa and Howard Gordon took home the drama writing prize along with Gideon Raff.
Here are all of this year's writing winners:
Outstanding Writing for a Comedy Series: Louie, FX Networks, Pregnant, Written by Louis C.K.
Outstanding Writing for a Drama Series: Homeland, Showtime, Pilot, Written by Alex Gansa, Howard Gordon, Gideon Raff
Outstanding Writing for a Miniseries, Movie or a Dramatic Special: Game Change, HBO, written by Danny Strong
Outstanding Writing For A Variety Series: The Daily Show With Jon Stewart, Comedy Central, Head Writer: Tim Carvell; Writers: Rory Albanese, Kevin Bleyer, Rich Blomquist, Steve Bodow, Wyatt Cenac, Hallie Haglund, JR Havlan, Elliott Kalan, Dan McCoy, Jo Miller, John Oliver, Zhubin Parang, Daniel Radosh, Jason Ross, Jon Stewart
Outstanding Writing For A Variety Special: Louis C.K. Live At The Beacon Theatre, FX Networks, written by Louis C.K.
Outstanding Writing For Nonfiction Programming: Prohibition, A Nation Of Hypocrites, PBS, written by Geoffrey C. Ward
Check out all the Emmy winners.
What did you think of this year's winners?
Tags:
Emmys
Homeland
Louis CK
Mad Men
Matthew Weiner
Modern Family
Television
Winners
Write On!
Writers Guild of America
Writing