Moving Write Along – Advice from the Experts: Travel Writing
by Eric Hiss, Wandermelon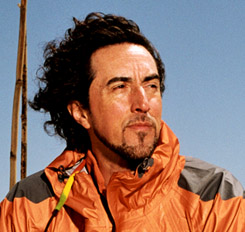 You could say it all started with the likes of Homer and Herodotus and other early historians, poets and philosophers, worldly travelers who not only wrote about topics such as the Peloponnesian wars, but also recounted details of the ancient world's far-flung locations. Through the centuries, the writing form took shape with everything from early books by navigators accompanying explorers such as Magellan during the Age of Discovery, to the lush descriptions of life abroad on the Grand Tour of Europe penned by privileged dandies. Fast forward to the present day when everyone from towering figures of travel literature such as Paul Theroux and Bill Bryson vie for our attention alongside newly minted travel bloggers clicking "post" on their first entries.
But what is modern day travel writing? Here's my take:
"Travel writing is exposition, engagement and emotion. It takes us on a journey to new places or reinterprets somewhere we thought we knew well, all without us ever leaving the comfort of our easy chair. Like all good expository writing, travel writing solidly exists in the realm of description. But it's a type of description based on the travel writer's credo of "show, don't tell," meaning the best revelations occur not through detailed explanations, but by finding the essence of a moment, place or person and revealing it in an unexpected manner."
For must of us who call ourselves travel writers, it also means constant searching. If you're not scouring your notes and pestering contacts for a new way to write about Los Angeles or Austin, you're pounding pavement in some far-flung locale looking for something that will make your editor back home love you that much more (and assign you more articles). It's tricky on several levels. First, you won't find many journalists who don't want to write about travel, consequently, the competition can be pretty fierce. And, as we all know, the pool of good paying gigs has been shrinking faster than an Outback billabong on a 110 degree Aussie scorcher. So how does one navigate the muddy-yet-rewarding waters of travel writing? Persistence. Passion for the topic. And loads of good ideas. You're going to hear plenty of "we just did that," "that hotel is too high brow/low brow for us," and "Didn't they just have a war?" so have back up. And know your subject matter, location, and current trends.
If you're still interested in diving in, here's a few more pointers on what makes great travel writing:
• A great lead to hook readers – and keep them
• Knowledge of the subject – research reaps ideas and angles
• A spot-on sense of time and place – the "being there"
• Unique angles and twists – even on well-known topics
• Strong, well-placed quotes (great devices for leads, transitions, color)
• An Active voice – strong verbs, selective use of adjectives
• Good syncopation – long/short sentences, thoughtful structure and flow
• Sensual details – evocative moments, telling revelations.
• Absolute accuracy – no mistakes.
• Humor and anecdotes (used sparingly)
• Metaphors – (used even more sparingly)
• Timeliness – why this piece? Why now?
• Knowledge of the market – An Elle audience won't appreciate Maxim tone
• Structure – a real sense of story arc
• Energy – keep the story moving, well-paced
• Ending with a "pay-off" – a sense of the journey completed
• The 'wow' factor – inspiring reader to act on or talk about the piece
• Practical information and details (especially for service pieces)
The good news is, for all the struggle, it's worth it. When you're sitting taking notes at a safari camp and a small herd of elephants glide by the adjacent river at sunset, the cranky editor's voice fades away. When you're interviewing that winemaker and given a privileged sip of a fantastic California Old Vine Zinfandel no one has tasted yet, the endless pitching all seems worth it. Even when you're working, writing that lede and you look out the window for inspiration and you're greeted with the lights of Shanghai blazing in the Pudong River, the deadline doesn't matter. Yeah, it's worth it.
* * *
Eric Hiss's next Travel Writing Intensive in Los Angeles begins February 2. Also, here are a couple additional travel resources: mediakitty.com and travmedia.com.
Eric Hiss is a veteran travel writer and journalist who regularly navigates the world in search of entertaining and enlightening stories. Over the course of a career spanning nearly two decades, he has filled three passports and contributed to more than 40 outlets. Otherwise, he's not really a numbers person. He's also the co-founder of global travel blog wandermelon.com.
Tags:
Eric Hiss
Moving Write Along
Non-fiction
Travel
Travel Writing
Wandermelon
Write On! Online
Writing