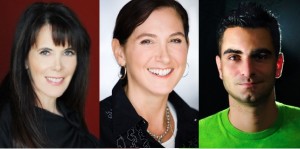 Tonight, I will be moderating the Social Media Club LA panel on Social Media and Dating Online, discussing principles can be applied when developing online communities. The event starts at 6:30pm at General Assembly in Santa Monica.
The panelists are Julie Spira, author of The Perils of Cyber-Dating and editor-in-chief at CyberDatingExpert.com; Jennifer Kelton, founder and CEO of the 5 year old social dating community Bad Online Dates; and Scott Lewallen is the co-founder and senior vice president of product & design of Grindr LLC, the company behind the Grindr and Blendr apps.
Since social media is essential for writers, for today's Q&A I asked my panelists some questions developing your brand and social media.
What do you love most about social media?
Julie: Social media gives us all a digital voice by many who want to listen. I enjoy sharing content and engaging with others. I find with social media, everyone is a brand and can be on the same playing field. It's not unusual for everyday people to become friends with celebrities. The key to success is being true to your brand, while being authentic as an individual. This helped my first book The Perils of Cyber-Dating become a bestseller, without a huge marketing budget.
Jennifer: The ability to connect with like minded people and communities all around the world on every topic from dating to snowboarding to a favorite restaurant in Europe. Social media creates a global community and vast conversation.
Scott: I love social media because it's instant, accessible, and I can filter and manipulate the content exactly to my liking. I use it as a social ice breaker in the broad context from meeting new business contacts to finding new friends in the neighborhood to chatting up people who share similar specific interests.
Look at the 2013 Oscars telecast. I was more entertained by the chatter on Twitter and Instagram than the broadcast itself, especially for the pre and post event content. Tracking visceral and personal reactions is quite exciting. That's not to say that television doesn't matter. But in social media you can break beyond the expected televised flow and bring yourself closer to the things that matter to you. I was tracking friends and keywords all night on Instagram to see what kind of photos people were uploading from the red carpet and at the after parties. No polish, no filter, just instant content streamed live to my eyeballs as it was happening.
Why is community building/social media so important for brands and businesses?
Julie: In the days of traditional media, you created a campaign with your team, developed a big budget, and hoped that it would have an impact on your buying audience. Today, if you're not engaging with and responding to your readers' and clients' concerns, you're out-of-touch. Businesses need to know if they're on the right track and respond to questions and concerns. Also if a client is spreading good news about your company, you have the opportunity to do something special for them, starting with a public thank you.
Jennifer: It creates a "real" conversation and transparency to brands like never before. For instance the Oscars just last eve had 66.5 million Facebook interactions, and during the red carpet arrivals and ceremony there were more than 8.9 million tweets. Imagine what that does for any one brand, designer or commercial that aired during the broadcast. The reach is enormous.
Scott: The social media integration gives brands and businesses a sense of life and community, and cuts down on the noise associated with an individual trying to contact a human being who is shrouded behind layers of bureaucracy. Social media also keeps businesses accountable and aware by connecting them directly to the people who feed the business.
I think consumers are generally happier with business and brands who actively engage social media. When a business cares, it makes the consumer happy. And happy consumers spend more time consuming whatever it is the brand provides. It's a cyclical relationship that builds on itself.
What do you know now that you wish you knew when you first started working in social?
Julie: As a technology marketing executive, embracing social became easy for me. I didn't realize at the time, that the engagement could really impact my career in such a big way. Initially, I put one toe in. I started out holding back information about myself personally. Once I shared things about my personal life in an authentic and genuine way, it allowed true friendships to develop. In other words, don't just be an automated machine. We can all curate content, but can we all admit when we're sad or over-the-moon with joy when something exciting happens? That's what makes each of us a brand. I had an agent find me on Twitter. Years ago that would have never happened.
Jennifer: I launched Badonlinedates.com in 2007 much before the social media space existed. I do all the social media for the LLC now. At one point years ago I hired various people who were "experts" to do it for the LLC, who I later ended up firing, as it was not the voice of the BOD brand. They actually made the company look and feel robotic–I would say that their are no "experts" and that the space is still evolving, and that to be careful of anyone who says that they are "a social media expert." Check them out before signing on the dotted line.
Scott: I had no idea social required to much time and effort. … Not only do you have to create the social media identity; you have to maintain it too. And I find few things more embarrassing than a neglected or stagnant identity in the social media sphere… especially for huge brands and public figures. If you're not going to follow through with content, don't bother creating a social media presence.
Watch for tweets and pics from tonight's event. If you are not in LA, you can follow the hashtag #SMCLA.
Tags:
Brands
Community
Jennifer Kelton
Julie Spira
Q&A
Scott Lewallen
SMCLA
Social Media
Social Media Club LA
Write On! Online
Writing