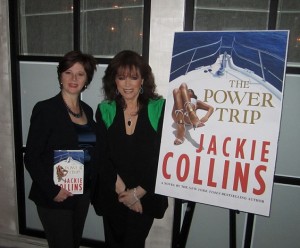 Last month, New York Times Best Selling author Jackie Collins released her 29th book: The Power Trip. She is an engaging author and Hollywood mainstay. I was thrilled to interview Jackie at the West Hollywood Book Fair in 2011, and delighted to attend her book launch in February, where I had the opportunity to learn more about her writing process. Bonus insight on Jackie Collins and social media in Social Times.
How do you stay inspired?
I love what I do. I have a passion for it.
I do hope that when I start to write the book, something epic is going to happen at the beginning and I do not know what that is going to be until I write the book. And then as I am writing it, it just comes to me, which is the joy of writing in longhand, because I create characters which take you on a trip. And I have got so many ideas.
People say I can't put your books down. And I say that's because when I am writing them, I can't put my pen down.
What is your writing process?
My process is I write in longhand—I have no idea what I am going to write next. … I have a character perhaps and I will let them take me wherever they want to go.
I have good handwriting, so I hand [my assistant] the pages at the end of every day. She puts them on the computer and I get them back typed the next day. Then I make all my next changes in handwriting and hand it back. And we go back and forth about ten times each. I don't make a lot of changes, I add things. It's like a tapestry.
The Power Trip is 2,000 handwritten pages. It's about 160,000 words.
At the beginning of The Power Trip—the first page—two people are in bed together, a man and a woman. One of them has a fabulous orgasm and the other one gets shot dead. When I wrote this, I had no idea who the two characters were going to be. Three quarters of the way through the book, I realized who they would to be. It just all fell into place. I am so lucky that way.
What is your schedule like?
I write all day. I am a Tivo addict – I have four Tivos in my bedroom, and they are all practically full. So I write all day and then at about 4 o'clock I stop and I watch a couple of hours of Tivo and catch up on that, and then I usually go out with friends for dinner or to a party or a screening or something, so my research is continual as far as Hollywood is concerned.
Advice for new authors?
That's the only way a young author can get noticed is either publish themselves or if they come out with a publisher to get great reviews. Otherwise it's very difficult.
I was very lucky when I was published. My first book was an immediate success, because it took the double-standard and turned it on its head and men were furious, and they wrote all these terrible things, and it was number one in two weeks.
But it's tough for a writer today. I would advise people to try and publish themselves because they'll do better than they'll do with a publisher. You have got to get the buzz going.
Tags:
Author Q&A
Debra Eckerling
Jackie Collins
The Power Trip
West Hollywood Book Fair