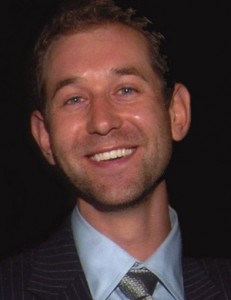 Writer/director Stuart Acher's first narrative feature film, #STUCK, starring Joel David Moore (Avatar) and Madeline Zima (Californication), is a indie romance with a modern premise: "What's the most awkward thing that could happen after a one night stand? You get stuck in traffic and are forced to get to know each other."
#Stuck has garnered several award such as Best Performances at the 2012 Napa Valley Film Festival, and Best Director, as well as the Audience Award and Best of the Fest Award at the 2013 Sun Valley Film Festival.
In order to raise money to "GetStuckinTheaters.com," Acher and his team bypassed Kickstarter and Indiegogo to create their own crowdfunding site.
Acher talks about his filmmaking and crowdfunding experience, and offers advice for world-be filmmakers is this Author Q&A.
What led you to become a filmmaker?
My Dad dusted off an old Beta-Max camera from the garage-full of junk, handed it to me, and said, "Want this?" That was it. I began messing around with it, and when I was in 6th grade … it all came to fruition. I had an English assignment on "What you wanted to be when you grow up," and we had to give an oral presentation in front of the class. I was terrified, so I asked if I could make a movie instead. After the initial "that-sort-of-defeats-the-purpose-of-an-oral-presentation" back-and-forth, she agreed … for double my grade. I always worked well under pressure. The irony is: I made a movie about being a doctor. My grandfather was going through open-heart surgery at the time and I was fascinated. So we got a mannequin, a cow's heart, and scrubs, and I made a film interviewing "the doctor" (Me wearing a mask) during open-heart surgery. I got an A. The rest is history.
Why did you write #STUCK?
After years of negotiating the studio system, and projects taking forever to get made, I decided to just do it! So, I wrote something that I knew was different, but doable for a price. Then, the real challenge was finding a story I was inspired to tell.
What was your process for writing it?
Well, I worked on a completely different draft for about a year with a writing partner Neil Pollner. That #STUCK had five different stories, all intertwining while in a traffic jam. Once that was complete, it was … not working. So I roped in another writer friend Dena Waxman, and after months more work, the stories didn't gel the way we wanted. They just refused to come together. And the frustration continued. Until I decided to REBOOT.
One of these five stories was the "One Night Stand," and it worked. It always worked. Mainly because it was the only story that wouldn't have occurred if the traffic jam didn't exist. But now I was faced with the real challenge: How do you make an entire feature STUCK in a traffic jam, interesting? And how can I motivate the film OUT of the car, that would not only allow the audience a break, but propel the characters and story meaningfully? After much pondering, I realized the true nature of this story is about how people sleep together too fast, then try and make a relationship afterward. In a sense, reverse-engineering a relationship. That's when it hit me. I'd create a forward narrative in car, and a chronologically reverse narrative in flashbacks. This would not only achieve the break from visual car monotony, but allow me to juxtapose the emotional temperature of my characters over and over again. That's conflict. That's interesting. That's something I wanted to write. Two weeks later, the draft was done. A month later, we had the actors, financing, and were in pre-production. Ten years of studio development never got me that far.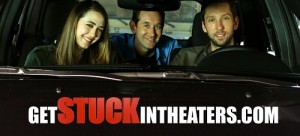 What was your favorite part of working on #STUCK? The greatest challenge?
My favorite part was the same as always … the moment it's done. But I supposed you want more of a procedure-based answer. I guess it was the shooting. It's always the most exciting to me.
The greatest challenge, when our original actors had schedule conflicts 24 hours before filming, and we had to re-cast. Fortunately Joel David Moore and Madeline Zima are professionals, and you can't even tell they didn't have pages until the first day of principal photography. I love their performances.
In what ways has crowdfunding made it easier for indie filmmakers?
Well, you still have to fight for every dollar… the only difference is, the power is in your hands. And that is true artistic freedom.
Advice for new screenwriters?
Write. Don't talk about your ideas. Write them. And most importantly, when you are writing that first draft, throw up on the page. The only way to write something good, is to accept the fact it's going to suck at first. Writing is re-writing.
What do you know now that you wish you knew when you started working on #STUCK?
The winning lottery numbers.
What's next?
I directed a movie called Mantervention starring Mario Van Peebles in drag… that was a fun one.
Tags:
#Stuck
Author Q&A
Filmmaking
Get Stuck in Theaters
Joel David Moore
Madeline Zima
Screenwriting
Stuary Acher
Write On! Online