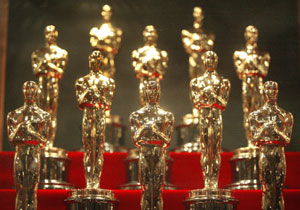 Today, the Academy of Motion Pictures Arts and Sciences announced the nominations for the 86th Annual Oscars.
This year's Best Picture nominees are American Hustle, Captain Phillips, Dallas Buyers Club, Gravity, Her, Nebraska, Philomena, 12 Years a Slave, and The Wolf of Wall Street. Many, but not all of them, received writing nominations.
Original Screenplay
American Hustle, written by Eric Warren Singer and David O. Russell
Blue Jasmine, written by Woody Allen
Dallas Buyers Club, written by Craig Borten & Melisa Wallack
Her, written by Spike Jonze
Nebraska, written by Bob Nelson
Adapted Screenplay
Before Midnight, written by Richard Linklater & Julie Delpy & Ethan Hawke
Captain Phillips, screenplay by Billy Ray
Philomena, screenplay by Steve Coogan and Jeff Pope
12 Years a Slave, screenplay by John Ridley
The Wolf of Wall Street, screenplay by Terence Winter
There was a lot of crossover between the Academy, Spirit, and Writers Guild Award writing nominees.
For Film Independent's Spirit Awards, the Best Screenplay nominees are: Before Midnight, Blue Jasmine, and 12 Years a Slave, as well as Enough Said by Nicole Holofsener, and The Spectacular Now by Scott Neustadter and Michael H. Weber.
Best First Screenplay nominees are Nebraska, as well as In A World by Lake Bell, Don Jon by Joseph Gordon-Levitt, Afternoon Delight by Jill Soloway, and The Inevitable Defeat of Mister and Pete by Michael Starrbury.
The Writers Guild of America Awards Original Screenplay nominees are the same as the Academy's: American Hustle, Blue Jasmine, Dallas Buyers Club, Her, and Nebraska.
Adapted Screenplay nominees are Before Midnight, Captain Phillips, and The Wolf of Wall Street, as well as August: Osage County by Tracy Letts, and Lone Survivor by Peter Berg.
Check out all the Academy, Spirit, WGA nominees.
Did you see this year's best writing nominees? What do you think? Who will win?
Join us on the February Write On Meeting on Blog Talk Radio, where Matt Lohr and I discuss this years nominations and what writers can learn from them.
Tags:
Academy
Oscars
Screenwriting
Spirit Awards
WGA
Writing