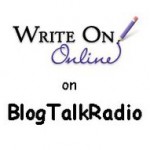 The February Write On Meeting will be Wednesday, February 12, at 1pm PDT/4pm EDT, on BlogTalkRadio.
Our guest will be Matt R. Lohr, co-author of the bestselling book Lohr is co-author of Dan O'Bannon's Guide to Screenplay Structure.  He is a regular contributor to JAZZTIMES Magazine and his views on contemporary and classic cinema can be found on his blog: 'The Movie Zombie'.
We'll be talking we will be talking about what makes a good "Oscar-worthy" screenplay. Post a question for Matt, call in (646-381-4910), or listen online. RSVP on Facebook. Hope you can join us!
Matt Lohr joined us in February 2013 to discuss last year's nominated screenplays. Check out his takeaways and listen to the replay.
Tags:
Blog Talk radio
Dan O'Bannon's Guide to Screenplay Structure
Matt Lohr
Screenwriting
The Movie Zombie
Write On! Meeting
Write On! Online