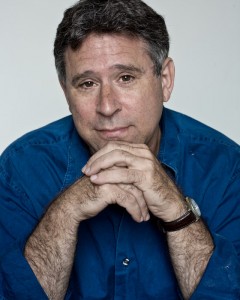 Joe Gilford is the author of Why Does the Screenwriter Cross the Road?…and other screenwriting secrets. Since 1999, he has taught screenwriting at NYU's undergraduate Film department. Gilford has written plays (he received the Alfred P. Sloan Foundation grant for his play "Danny's Brain" and "Finks" was critically acclaimed and nominated for the Drama Desk Outstanding Play and the Off-Broadway Alliance Best New Play awards), as well as documentaries for PBS' award-winning American Experience. Feature screenplays, Kalimantan and Moonbounce, are currently in preparation. Gilford's website StoryRescue.com has helped writers in every medium.
Why did you write Why Does the Screenwriter Cross the Road?
Years of teaching screenwriting at NYU and other places simply collected in my brain and in my lectures and notes. After about 10 years I said, "This looks like a book." It's just a large amount of knowledge I've collected which clarifies and organizes my methods and beliefs about screenwriting. I looked at so many other books and said, "I can throw my ideas out there too. Why not!"
How did that title come about?
The publisher, Michael Wiese Productions, thought up the title. They had it sitting on the shelf and they were happy to "gift" it to me. I'm grateful. Selling this type of book hinges on three elements: The title and sub-title; the cover, and the table of contents. Publishing is far more mercenary than scriptwriting—by a long shot!
What was your favorite part of writing it? The greatest challenge?
My favorite part was the fact that it was probably the easiest time I've ever had writing. Plays and screenplays are much harder than this book was. The book just spilled out of me. It was all in my head waiting to get out.
Probably the biggest challenge was hitting the deadline. I had 6 months to write 62k words (210 pages.). But I just did it like a job—like digging a mine shaft. I figured out the minimum amount of pages every day and I stuck to it. If I flagged, then I added pages to the next day. But on days when I went over my quota, I quit early and went for a bike ride!
How do you balance all the different facets of your life/career?
Anyone can tell you, we just do it. I have regular classes, so that's a schedule thing. I'm always working on more than one project and those get blocked into the schedule too.  My classes at two places are full days, so there's no writing on those days. I also have a writing partner on my current project and so there are meetings and work sessions. I spend lots of time prioritizing and I also like to drink.
Which is your favorite medium? Why?
My favorite medium is "employment." My other favorite medium is "a good day writing." So whatever I'm working on is the thing I'm putting my energy into.
Another favorite medium is "recognition and appreciation." Hearing an audience laugh and applaud at my play or getting awards is the whole reason I do it. I also do it for the journey I take with every new project. The story of writing a story is just as good a story as the story I'm writing. Coming up with catchy phrases is fun too.
And what is the biggest "screenwriting secret" everyone should know?
I'm not sure this is a big secret, but I strongly believe that I write a story for the characters—not the audience and not for myself. The imaginative journey I take is very complex. I feel like I'm an invisible force in the characters' lives and I'm there to arrange everything for them, cause them pleasure and pain, and hopefully teach them something new about themselves.
What are some common mistakes new screenwriters make?
That list is too long! One of the mistakes is not doing the above. Another is just writing without an outline or a plan (like a "beat sheet"). The other mistake is setting out to write "THAT MOVIE"—the movie they just saw. Write the movie that only you can write, not the one they just made. Another common mistake is not studying the craft. Read every book, take classes, join a writers group, all of that. Become an expert on it and do it as much as you can—fail, fail, fail.
Additional advice for screenwriters?
Don't despair. Courage comes from failure. Develop a thick skin that grows outwards, not inwards. Write as much as possible. Get the work out to as many people as possible. Watch out if you start making a living at it. It leads to an unhealthy dependency on income from writing.
What do you know now that you wish you knew at the beginning of your career?
Everything. Every day I feel like I'm starting from scratch; like I'm back in high school (when I hated to write!). But in a way that keeps me from getting glib and jaded. Everything is scary and new, and fresh and makes me fearful. This is what spurs me on. Some days are a deep personal crisis. Other days are like winning a war.
Tags:
Author Q&A
Joe Gilford
Michael Wiese Productions
Screenwriting
Write On! Online
Writing