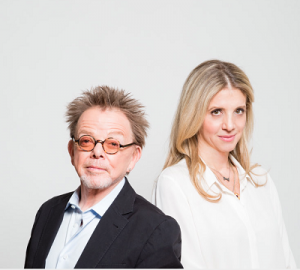 Oscar and Grammy-winning songwriter, and recovery advocate Paul Williams, and screenwriter and author Tracey Jackson are co-authors of the New York Times bestselling book Gratitude And Trust: Six Affirmations That Will Change Your Life. The book combines the knowledge Paul has gained in the 24 years he has spent working in the recovery movement, healing both himself and helping others to heal, and Tracey's lifelong quest for peace and a daily routine to get her through the ups and downs of life.
On June 24, Paul and Tracey are producing and speaking at the Gratitude and Trust #140 Summit, partnered with Jeff Pulver, at the 92nd Street Y, Lexington Avenue, New York. Not in New York? Watch online.
Also, listen to Paul and Tracy's Gratitude and Trust Podcast.
Why did you write Gratitude and Trust?
We wrote Gratitude and Trust in order to give people a very simple blueprint to follow that would allow them to get their lives on the right track. It stemmed from Paul's experiences in recovery and Tracey's having experiences in having many friends in recovery. We thought all people would better off with some of the guiding principles of the recovery movement to live by.
How did this partnership come together?
We were friends for 20 years, but actually met in the early 80's, as Paul likes to say in Robert Mitchum's bedroom. This partnership was formed because we both wanted to work together and this seemed like a natural place to start.
What was your collaborative writing process?
For much of it we wrote in the same room; certainly for the outline. The book was sold on a 140 page outline. We say that as people really need to remember how hard it is to sell a book, and no matter what you have done or if you are published you still have to let them (the publishers) know what they are getting. We would each write certain bits. We would meld them together. No question, Tracey can sit at the keyboard longer, as she is used to writing long form. But it was a collaboration of ideas and needs and knowledge.
Advice for people who are writing with a partner?
I think the best advice I heard from Delia Ephron who was talking about writing with her sister Nora. Neither person in a partnership has to know it all, but together you do.
What was your favorite part of writing this book? The greatest challenge?
Finishing is always the best part and then hitting the road and selling. Coming up with the keys that unlock the bigger doors is always fun. You pound your heads on the desk for days, then certain things become clear. Then you pound some more and voilà things open again. The greatest challenge was writing something that would appeal and have meaning to both the recovery community and the greater population. And we managed to do that.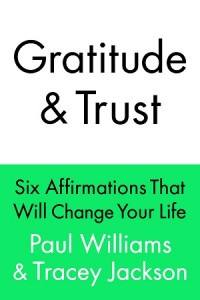 What are three things you hope people take away from your book?
That we all have problems, we all have things that need mending. Do not live with shame, learn from your mistakes and problems and move forward. And number two would be, that to fix those problems is our responsibility. We can't pass the buck of our lives onto our past, present, future, parents, siblings, whoever… Life and change is a process and constant It never ends. And that to give back to others is the greatest gift we give ourselves, and those around us.
Advice for non-fiction writers?
It's the same advice one gives any writer, write from the heart, if it means something to you it is bound to mean something to someone else. And never underestimate the power of the The Brand.
What are you doing now to spread the word or keep the brand going?
We just launched a podcast on PodcastOne called Gratitude and Trust. It's a continuation of what we do in the book; only it's weekly interviews with amazing people. It's getting the word out there in a different format, that is ongoing and lively. Last week, we interviewed Judd Apatow about his new book.
In what ways is speaking helpful for authors who are spreading the word about their books?
Books and speaking go hand in hand, most people don't get to speak unless they have a book, and if you have a book it's important to get out there in front of people and let them know what you are thinking about. It brings the words and concepts to life in a different way. It also gives your readers and fans a way to connect with the person behind the book.
What do you know now that you wish you knew before you wrote this book?
That if you fly only one airline you will almost always get TSA pre-check.
Tags:
#140conf
Author Q&A
Gratitude & Trust
Gratitude and Trust Summit
Paul Williams
Tracey Jackson
Write On! Online