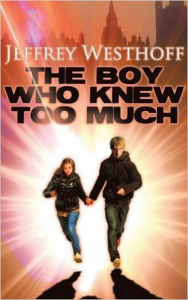 Jeffrey Westhoff, author of The Boy Who Knew Too Much, has served as a film critic, feature writer, reporter, and copy editor in his career as a journalist. He is a member of the International Thriller Writers, the Chicago Writers Association, and the Society of Children's Book Writers and Illustrators.
Jeffrey shares his successes and struggles in getting his first novel written and published.
What inspired you to write The Boy Who Knew Too Much?
It wasn't so much inspiration as an unexpected challenge. When I was still on staff as a newspaper feature writer, I was working on a story about teenage spy novels, such as Alex Rider and Young Bond. I attended a book signing by an author friend of mine, Laura Caldwell. Looking for sources, I asked her if she knew anyone who has written a teenage spy novel. She misheard me and said, "You're writing a teenage spy novel?" I said no and she said, "You should!" I replied, "You're right, I should!" By the time I got home that night, I had my title, main character and first chapter locked and loaded.
Why write Young Adult?
I think I've already covered that. But as I was deciding what kind of teen spy novel I wanted to write, it dawned on me that the main character should be a teen boy obsessed with spy novels who got thrown into a real espionage plot, a la Alfred Hitchcock. Because I was once a teenage boy obsessed with spy novels, I knew I could write this story.
What was your process for writing it?
Oh man, it was a lot of start-and-stop writing. I'd get into a flow, then I'd lose it—sometimes for several months. Revision took a long time, and I was often discouraged along the way. But at some point I always told myself I had to finish it, and eventually I did.
Getting it published?
Once I thought it was ready for publication, I signed up to do a pitch-a-thon at the Love Is Murder conference in Chicago, which I had been attending for several years. A pitch-a-thon is like speed dating with publishers and agents. After the conference I started the traditional pitching of agents via email. A few months later, Intrigue Publishing, one of the publishers I pitched to at Love Is Murder, offered to buy the book.
What was your favorite part of writing The Boy Who Knew Too Much? The greatest challenge?
My favorite part was getting to know the characters as I wrote the book. While in France my main character, Brian Parker, meets a girl named Larissa DeJonge, and I fell in love with her by the time I had finished the novel. I cried when I wrote her final scene.
The greatest challenge was the research. This book required a ton of research. It takes place in Switzerland, France and Spain, and I wanted to get all the geographic details correct so I consulted a lot of travel books. I had to research the latest America weapons systems to find my MacGuffin. I went up to Milwaukee to tour the high school Brian attends. While writing it seemed there was always a tiny detail I had to look up, such as what brands of motor scooters are available in Barcelona? Thank God for the Internet!
In what ways have you used your non-fiction skills for writing this novel?
I was a film critic for more than 25 years, and to do that you must develop a conversational writing style. I think that served me well writing the novel. I also relied on the research skills I had developed as a journalist (and as a teenage boy determine to find every fact about James Bond that my local library held).
How do you balance the different aspects of your writer life?
Not very well. I find it hard to write fiction when I am working on magazine assignments. I must change that if I plan to finish another book.
Advice for fiction writers?
Keep working on your fiction even when you're on deadline for a magazine article (do as I say, not as I do).
Advice for those seeking a traditional publisher?
This is my first book, so my only advice is don't be afraid to pitch at writers' conferences. It worked for me.
What do you know now that you wish you knew before you wrote this book?
That Amazon can be a fickle and uncaring beast.
Tags:
Author Q&A
Fiction
Intrigue Publishing
Jeffrey Westhoff
Love is Murder Conference
Mystery Writing
The Boy Who Knew Too Much
Writing
Young Adult