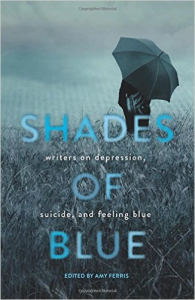 Amy Ferris is the editor of the anthology Shade of Blue: Writers on Depression, Suicide, and Feeling Blue. She is also an author, editor, screenwriter and playwright. Her fervent wish, passion is that all women awaken to their greatness, and that all folks – every single person – speak their truth. Amy lives in Pennsylvania with her husband and two cats.
She talks about what inspired her to take on this serious project, the benefit of writing something so personal, and more.
What inspired you to edit Shades of Blue?
Robin Williams death. That inspired me. I felt I needed and wanted to do something to end this horrible stigma; this epidemic called depression, suicide. I felt a huge need to step up and show up for this topic, this issue. I suffer from depression. I take meds. When word came out that he – Robin – committed suicide, it just felt like this was the moment to do something – to help save lives. To do something concrete. I didn't even hesitate.
How did you tackle such a massive project?
Well, the subject is massive – depression and suicide and feeling blue – mental health issues, but the project was extremely organic. I wanted each contributor to write about their truth without holding back. And each did, and truthfully, most of the pieces were just so exquisite. stunning. I was very methodical in my approach to this project. And Seal Press only gave me a year to do it – they wanted the book out within a year. A bit daunting, but we did it. The book is gorgeous.
What was the most satisfying part of working on it? The greatest challenge?
The most satisfying was knowing that this book could save lives. Literally. That's hugely satisfying. I don't think anything tops that. The greatest challenge was reading the essays and feeling the depth of pain, sorrow, suffering many folks experienced. that was very hard. It's a book that should be read in a few sittings.
What are the benefits for writers to share their personal stories?
They release a secret, a shame, a fear, a doubt. Everyone has something they don't wanna share, or say out-loud. We're so afraid of being judged, being ridiculed, being silenced, censored. Writing – sharing, speaking – our truth is life changing. It's no longer lodged in our system. It opens our soul.
What advice do you have for people who want to tackle writing something this personal?
I recommend first and foremost, that they write it just for themselves, to not think that they're writing for someone else to read. More like a diary. I think when we just sit and write something – anything – from a place of wanting to get it out of our system, let it go, release it – we don't censor. We just write. putting it out in the world is brave, but putting it down on paper takes huge courage. And brave is born out of courage.
Advice for those creating an anthology?
Make sure you have great writers to support the topic you've chosen. An anthology is truly a collection of voices and each voice should be unique. different. Make sure you have different essays – that each piece brings a different light, different hue to the subject. One of the things that happened with Shades, which was a real eye opener for me, there were a few essays that were similar in 'tone and topic' and the editor pulled a few from the collection because they were too similar. So, a great piece of advice is make sure that each essay is different.
What do you know now that you wish you knew before editing this book?
That just because I love a writer and their previous work doesn't mean that person will end up in the final book. I just assumed that each contributor would be in the final collection, and that didn't happen. That was a learning curve for me, and a good one.
Tags:
Amy Ferris
ANthology
Author Q&A
Depression
Non-fiction
Seal Press
Shades of Blue
Write On! Online