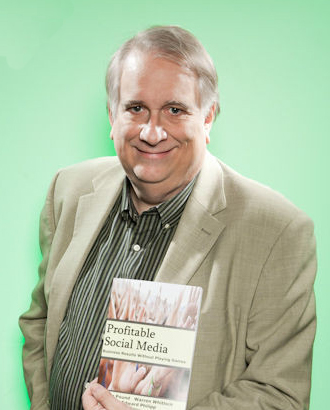 Warren Whitlock, author of Twitter Revolution, is a digital business development strategist. In 2008, he wrote the first book about Twitter and Mobile Marketing, and the bestselling "Profitable Social Media: Business Results Without Playing Games." He is the host of Social Media Radio and speaks frequently about social media marketing, online publicity and marketing, social networking and building lifetime value for rapid growth.
Warren is one of the table hosts at the #140conf/State of Now in Los Angeles on November 14, 2016. For more information and to buy tickets, click here.
Warren talks about his inspiration for writing Twitter Revolution, the evolution of social media, and the importance of being social.
What led you to write Twitter Revolution?
In February of 2008, I had been involved with creating hundreds of bestsellers, and had one myself years before. So I knew that a book on social media would be good for the upcoming market.
I did an Amazon search on "Twitter" and only found one children's book about a bird called "Twitter." That's when I knew it was the right topic for me. I'd been on Twitter for a while, and it stood out as a unique platform. We were already using "tweet" as a verb.
Best of all, we could quote 100+ people in the book. 140 characters allow for many quotes.
What was your favorite part of writing it? The greatest challenge?
The greatest challenge for writing a bestseller is marketing. Marketing should start as soon as you decide to write a book. Even though I was professionally promoting books, Twitter Revolution had no budget, and we had to start from scratch to build the tribe that supported us.
Social media was unknown, so I had the extra challenge of reaching a small audience, without some of the base audiences I could count on when I promoted other books. I didn't want to have my book do poorly and hurt my reputation for marketing. Fortunately, the book was well received, sold 10 times the number of copies I predicted, and was #1 or 2 in PR for 8 months.
How did you first get published?
I own a publishing company. I can usually get anything I'm working on accepted (LOL).
I'd set up the company back in the day when it was hard to get an online listing. Publishers considered it an afterthought, and we'd wait weeks or months to get corrections to descriptions and categories essential to professional promotion.
Today, that's much easier, but I still find most don't take the effort to have a great listing. The key is to find the right category. Online, that's just like choosing the section of a bookstore, and what shelf your book should be on. People can't read your book if they can't find it.
You have collaborated with other authors on your books. How, and what was the process?
I always collaborate. As the great African proverb teaches: "To go fast, go alone. To go far, go with others."
We interviewed dozens, got 65 endorsements, sent out 3600 free copies of a draft, and made sure everything we did was benefiting others.
In what ways has social media changed since you published your first book?
The revolution we talked about in Twitter Revolution is still in its infancy. Most brands and marketers think that the 20th Century "man with the biggest budget wins" rule holds, and use social media as "media" to push out messages.
We talked about the two-way conversation that customers want, and I've spent the last 8 years teaching the importance of listening. The market will tell you want it wants today, more than ever. We are all learning that people are attracted to those whom they know, like, and trust. We just find out what people are looking for, and see that they get it.
It's not about you. It's about them!
Why is social media so important for writers and other experts?
You are nothing without your audience. They read your book, buy your products, and, ultimately, do a much better job selling than you can ever do.
When people learn how much you care, they will seek you out, engage, consume, and share with the world.
What are some of the biggest mistakes people make with social media?
The biggest mistake is assuming it's media. It's social. You have to be social to be social.
Tips for social media, for authors and others?
Being a human is a natural thing for a human to do. Treat everyone as if they are a friend with pure motives. Listen and love. It's as simple as that.
What do you know now that you wish you knew when you first started writing?
There's no one grading your writing. I write a flow of consciousness. If it's going to be a book, or paid for by a client, I edit a lot, and a proofreader is a must. We threw out over half of what we had for Twitter Revolution.
There are awards, and some genres have stricter guidelines (fewer than you think). What's most important is the relationship you have with your audience. Today, they expect to give feedback, ask a question, get to know you, and buy more. The myth of a solitary writer who hides from readers is gone.
Tags:
Author Q&A
Marketing
Social Media
tribe
Twitter
Twitter Revolution
Warren Whitlock
Write On! Online