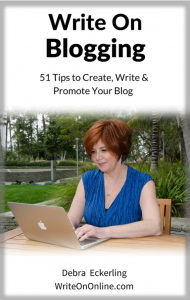 Are you ready to start a new blog?
Do you want to re-invigorate your old one?
My book – Write On Blogging: 51 Tips to Create, Write & Promote Your Blog – has everything you need to know to visualize and build your blog, plan and write content, and promote your posts.
And it's FREE on Kindle on December 8, 2016.
Filled with simple tips, writing exercises, and tons of resources, Write On Blogging is a road map on how to take what you are passionate about and develop your expertise through your blog.
There are tips on:
Visualizing and setting up your blog
Brainstorming ideas
Creating content
Developing an editorial calendar
Promoting posts
Setting your blog up for success
And more!
Today, an online presence is essential for any business, whether it's a brick and mortar store, online retailer, professional service provider, you name it. There may be tons of people with a business similar to yours, but it doesn't matter. Only you are you!
Show that you know your field by sharing your knowledge on your blog. Write On Blogging is your best first step!
Check it out! Write On!
* * *
About me: Debra Eckerling is a professional writer and communications specialist with more than 15 years of experience. A Project Catalyst, she works with individuals and small businesses to strategize, set goals, and manage their projects. She is the founder of Guided Goals  and Write On Online, a website and community for writers, and host of the Guided Goals Podcast. Debra has helped writers of all ages, abilities, and specialties take their projects to the next level.
Debra speaks on the subjects of writing, networking, goal-setting, and social media. She is co-producer of the #140conf, and hosts a monthly hangout in Los Angeles for writers, artists, and entrepreneurs in Los Angeles, California. She is also the author of Purple Pencil Adventures: Writing Prompts for Kids of All Ages and an editor for Social Media Examiner.
Tags:
Blog
Blogging
Free eBook
Write On!
Write On! Online