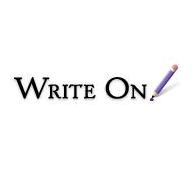 Happy Holidays!
Last week, I asked writers about their favorite writing books. Check out the top five books on writing. And visit WriteOnOnline.com tomorrow for ideas on last-minute gifts for writers.
Post your December Goals on Write On Online or Facebook to be entered in this month's drawing to win a book from Michael Wiese Productions.
* * *
Thanks to everyone who has downloaded, read, and/or reviewed my new book: Write On Blogging: 51 Tips to Create, Write & Promote Your Blog. Learn more on the New Book Review. And please share with your wanna-be blogger friends.
* * *
December 24: Happy Chanukah!
December 25: Merry Christmas! 
January 1: Happy New Year!
January 4: January LA Hangout at Peet's in Westwood. RSVP on Facebook.
January 13: Start the year off right with a goal-setting Lunch N Learn with Debra Eckerling at LAX Coworking. Come up with a mission statement, set short and long-term goals, prioritize, make a plan, and get ready to take on 2017! Details on Facebook and the website.
January 17: SoCal JAWS' 3rd Annual Goal-Setting Workshop at Nextspace in Culver City, CA. LA writers, join JAWS to reflect on what you achieved in 2016 and look ahead to the coming year. You do not need to be a member of JAWS to participate. Email me for details and RSVP info.
January 28: TECHMunch LA Food Blogger Conference at Cross Campus in Santa Monica. Details and tickets here.
Ongoing: Female Authors wanted for interviews on the #SheWroteABook podcast with Lena Anani. If interested, please inquire at http://SheWroteABook.com/Guest and please allow up to 24 hours for a response.
* * *
Thrilled that Write On Online's Facebook page has been included again in The Write Life's Top Facebook Groups for Writers. Thanks, The Write Life! Welcome to the new members who found us there. Check out the entire list.
* * *
Author Q&As are back on Thursdays on Write On Online. Do you have a new book or an upcoming book release? Want to be featured on Write On Online? For consideration submit your info here or email deckerling@gmail.com.
* * *
Last October, I launched the Guided Goals Podcast on Write On's companion site GuidedGoals.com. The podcast is a series of expert interviews, designed to help people pursue their passion projects. Each episode wraps with action items (recommended goals), so listeners can take what they heard, and move forward right away. Watch on YouTube, listen, and subscribe on iTunes, or listen on Stitcher. I will be launching the Guided Goals' newsletter soon. Please sign up and receive "5 Ways to Improve Your Productivity."
* * *
Do your kids love to write? Want to encourage them to hone and expand their writing skills? Check out Purple Pencil Adventures: Writing Prompts for Kids of All Ages.  Although it's geared towards kids, there are plenty of prompts adults can use to exercise those writing muscles! Write on!
* * *
Writers, please email me if you have a 2-3 line news item or event and/or if you are are interested in contributing a Write On! Review or Expert Column. Write On!
Tags:
Books
Goals
Guided Goals
Write On! Online
Write On! Wednesday
Writing