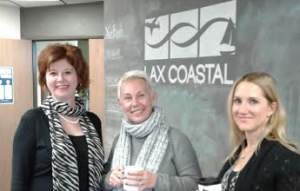 I was thrilled to return to LAX Coworking at the LAX Coastal Chamber of Commerce for what now is my 2nd Annual Goal-Setting Workshop. We had a few people return from last year and lots of new peeps. It was a lot of fun.
We started by talking about the importance of visualization and brainstorming to hone in on what you want to achieve, how to write a mission statement and make sure your goals support it, and the value of a future bio. Then, we got into how to set long-term and short-term personal and professional goals, and how personal goals support the professional ones. Plus, we discussed ways to set yourself up for success.
Watch the video from the workshop on the LAX Coworking Facebook page.
Check out my guest post on CreateWriteNow where I talk about how to use journaling to create goals.
Post and report on weekly and monthly goals on the Write On Online Facebook Page and check out the Jump Into January Contest.
Note: if you are in LA, I am doing an extended version of this workshop on Tuesday, January 17, at NextSpace in Culver City for SoCal JAWS – Women Journalists in Southern California. Email me for details.
Remember, setting goals is the first step. You need to look at them regularly, give yourself benchmarks and deadlines, and spend the time to complete your action items in order to achieve them. Good luck. You can do it!
Tags:
Debra Eckerling
Goal-Setting Workshop
Goals
LAX Coworking
Write On! Online
Writing