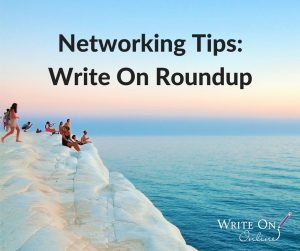 Networking is necessary in this day and age, but it can also be fun!
As you set goals for the year, be sure to include "expand your network." Fun activities in your areas of interest – in addition to mixers, workshops, and conferences in your field – enable you to meet new people and increase your circle. This is something that can help you both personally and professionally.
Here's how to break it into action-items:
Put yourself in at least one group social situation each month – or if you are really ambitious, go for one a week.
Add new peeps on LinkedIn (and possibly Facebook) and then follow-up via email and then perhaps by phone.
For those with whom you really connect, meet for coffee or lunch to continue the conversation.
Need more encouragement? Here are some excellent recommendations from the community:
General Tips
"Networking is simple. Be (genuinely) nice to everyone, and listen intently." – Lisa Napoli
"Genuine eye contact … and a solid handshake." – Jennifer Kelton
"Build relationships and provide value in follow up! It's planting seeds, not one and done." – Alyson Garrido
"Ask a question that's memorable." – Carol Barash
"Always go for the ask! I have a lot of people who don't understand that people don't inherently know what you are offering. In order to get the sale, you need to ask for it." – Kirby Israelsson
Business Cards
"Have your business cards handy in your right-hand pocket. Put cards you receive in your left pocket. Wear your name tag on the right side so that when you shake hands, the person's eye goes from hand up to name tag. … Don't make business cards glossy on both sides. Leave the back matte so you can write on it. Note what you talked about with this person and what you promised to send them." – Flo Selfman
"Bring and take lots of business cards. I made the mistake of giving a producer my card thinking he would email me so I could send him my TV pilot which he said he wanted to read. He never emailed me. I should have written down his email (he was out of cards)." – Diane Williams
"Don't drop in, drop your card and leave. ASK for a card instead of insisting on giving your card. Most people will gladly give you their card if asked (or contact info as Diane said above) and will then ask for yours. Finally, genuinely follow up within a couple of days to cement the conversation." – Tara DeWitt Coomans
For Events
"Don't just have your name on your badge. Have your social media handle. Or what you do. If you're at a conference, look at other badges / lanyards and see where people are from and try to strike up a conversation just based on that." – Adam Bell
"When I go to a big conference, especially one that is several days long, I ask people if I can take a picture of them holding their name badge up, so I can put a face to the name when I get home. I also write notes on the back of business cards between sessions or at the end of the day, so I can remember how we met." – Michelle L. LeBlanc
"Have a wing person who introduces you by name, occupation and specialty." – Shannon Luders-Manuel
"The reminder I need to keep giving myself: Actually go to the meeting, even if you are an introvert. It doesn't work if you don't go." – Jean Roth
"From an introvert – force yourself to talk to a certain number of people before you can leave." – Victoria Mendoza
What do you think? What's your favorite networking tip? Please share your thoughts in the comments.
Tags:
Goals
Guided Goals
Networking
Write On Roundup
Write On! Online
Writing