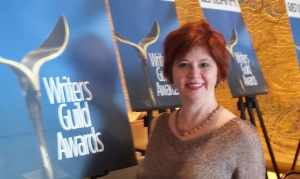 I love the WGA Awards! Any event that shines a light behind the camera and onto the person … on the computer keyboard … who started with a blank page … is aces in my book. The Writers Guild of America Awards, which has a mix of writers (nominees and honorees) along with family and friends along with celebrity presenters walking the red carpet, seems to get bigger every year.
I was fortunate to grab a few writers and have them share their words of wisdom.
Eric Heisserer
Screenwriter Eric Heisserer, who later took home the award for adapted screenplay for Arrival, shares what he does when he goes through a dry spell, what he wishes he knew at the beginning of his career, and more.
Allison Schroeder
The co-writer of Hidden Figures Allison Schroeder explains what inspires her. Her advice? "You've got to keep going. This is a marathon not a sprint."
Dan Wilcox
Dan Wilcox, best known as a writer on the acclaimed CBS series, M*A*S*H, was this year's recipient of the WGAWest 2017 Morgan Cox Award in recognition of his exemplary service to the Guild. "Keep writing," Dan says. "There's no substitute."
What do you think? What was your favorite film or tv show from last year? And what is your best bit of advice for writers? Please share in the comments.
Tags:
Allison Schroeder
Arrival
Dan Wilcox
Eric Heisserer
Hidden Figures
MASH
Screenwriting
WGA
WGA Awards