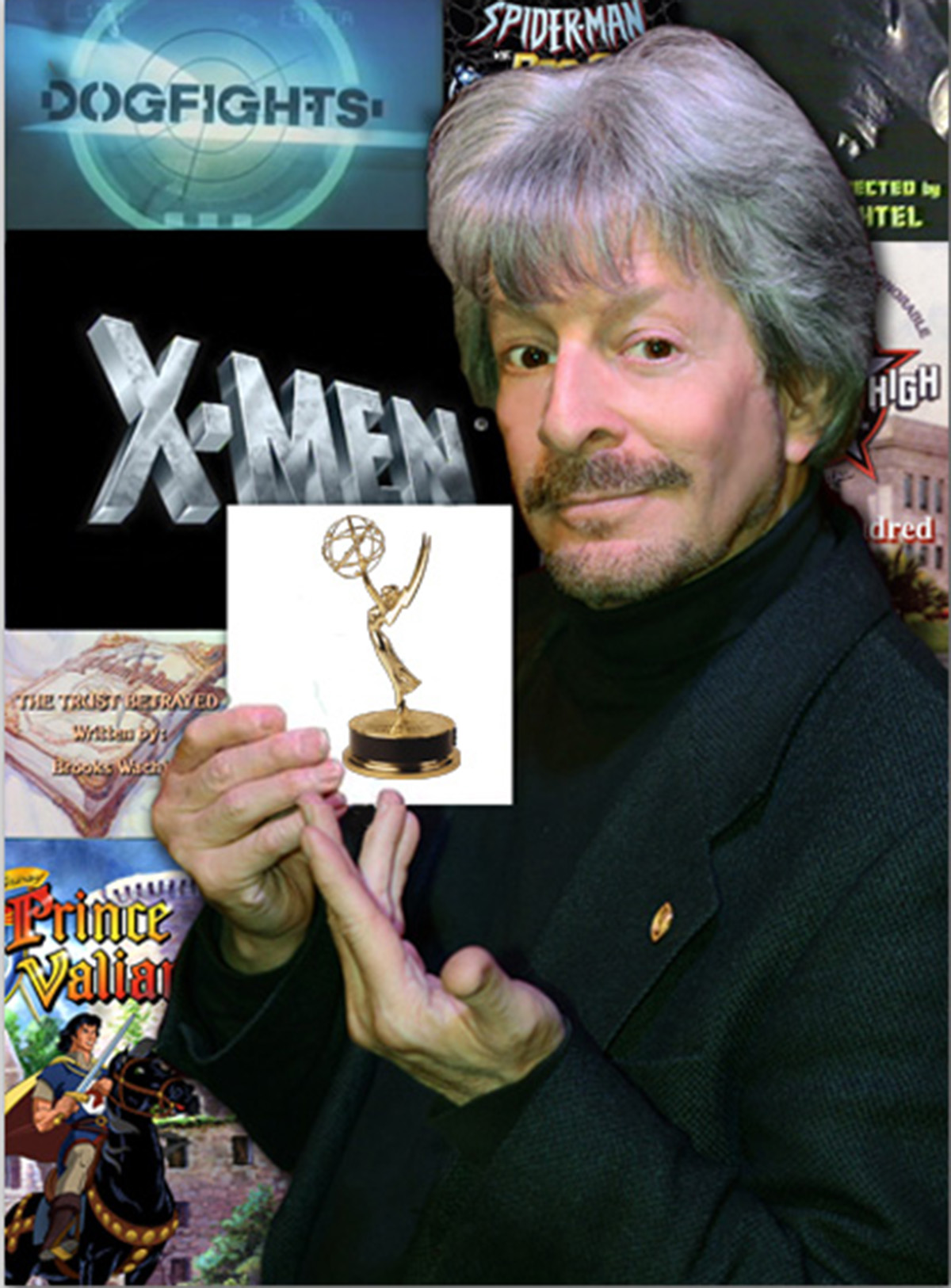 Brooks Wachtel, author of Lady Sherlock: Circle of the Smiling Dead, is an Emmy Award-winning screenwriter, novelist, teacher, and long-time magician member of Hollywood's Magic Castle. His writing and production credits include History Channel's Dogfights, Fox's Young Hercules series, PBS's Spider-Man, X-Men, Tutenstein, and more. Brooks's episode of Tutenstein, "I Did It My Way," won an Emmy Award. Lady Sherlock is his first novel. Learn more on his Facebook page.
Brooks Wachtel talks about his transition from screenwriter to novelist, the contrast between screenwriting and fiction writing, and offers advice for writers who want to work in TV and film in today's Author Q&A.
What inspired you to write Lady Sherlock?
Before Lady Sherlock was a novel, it was a screenplay. Not a screenplay that ever sold–but one that worked wonderfully as a writing sample. The script landed me lots of assignments. When I reread it several years later, I felt it had the makings of a novel. The idea originally came about as the confluence of several of my favorite interests.
First, I love writing strong female characters. I also have a love of history, especially the late-Victorian-Edwardian era, and Sherlock Holmes. Growing up as a military brat (or, more properly, "Naval Dependent") gave me an appreciation of history. I decided to combine these interests–history, naval, the supernatural, Holmes, powerful female characters–in one story.
Making my main character a woman–a very capable, confident woman–in a particularly chauvinistic era would be fun and offer story and character opportunities that a male lead would not. There would be so many circumstances and attitudes that she would have to overcome. She's a character equally skilled with women's rights (and lefts). There's a lot of humor in the book, and much of it is the collision between a witty, smart woman and chauvinistic attitudes (that she doesn't tolerate).
What was your process for writing it?
I had never written a novel. I thought, "How hard can this be? I'll just change the format from script to prose, add 'he said, she said,' and elaborate on the descriptions." The end result was a novelized screenplay–NOT a novel.
However, my friend Rich Mueller, who has worked in both novels and screenplays, encouraged me. The real breakthrough came when I started working with my amazing editor, Shari Goodhartz. We delved deeper into the story, the characters, the world. After more than a dozen drafts, each one more layered, more detailed, the story evolved into a genuine novel.
Getting it published?
My friend, Steven L. Sears, an amazing writer, introduced me to Peter Wacks, who was working with Kevin J. Anderson and the crew at WordFire Press. I asked Peter about self-publishing and he offered to take a look at my manuscript. A few months later, he offered to publish the book. I was stunned. Lady Sherlock was released November 1, 2016, with a wonderful layout, including illustrations, that harkens back to its Edwardian setting.
You have written in so many different formats and genres. Why write a novel?
After three decades of writing television scripts–and what a fun ride that has been–I wanted to try something different in the literary field. Writing a novel was a challenge and exciting and, unlike every one of my work-for-hire television assignments, this was mine!
In what ways is it different than/similar to your other writing?
There were many aspects of screenwriting that were transferable to novels: structure, crafting dialogue, the ability to define character quickly and distinctly, visual writing, creating action sequences, etc., and those skills were useful and found a place in the book. Writing is writing; technique may differ from format to format, but the core is the same: story.
Some of the differences I noted were that screenplays only relate what you can see and hear, and are always written in present tense. A novel can deal with so much more.
One of the first issues that came up was deciding the voice of the novel. Who is telling the tale? That is not an issue in a screenplay, which is always written in the third person, but it's an important decision to make for a book.
By having a story which takes place in 1906, told by Tasha's daughter (now an elderly woman) in 1982, I was able to get the immediacy of first-person narrative while using the narrator's personality to add humor (she's pretty feisty, like her mother), historical perspective and personal observations, as well as a stylistic recall of the tone of a novel written in the Edwardian period. My hope is that the book, with its period flavor and illustrations, will be an immersive experience and help the reader step back in time.
Advice for fiction writers?
Since most of my career has been in television, let me comment on that. Passion for writing and knowing your craft is a given. That's the art side of being a writer. Getting the early jobs and then maintaining a career is the business side. It's tougher. After all, it is called show-business.
To have a career in film and television, you have to be in a location where you can meet the people who can hire or recommend you. For me, that means Los Angeles.
Once here, attend film festivals, join organizations, do anything you can that allows you to meet the people higher up on the ladder. Once you meet them, find the fine line between being assertive and entering stalker territory. Have good script samples to present, as perfect as you can make them. You only have one chance to create a first impression.
When you land the gig, take it seriously. Remember, your job is to make life easier for the person who hired you. That means get your script in on time, with the right page count, and on model for the show you are writing. If the story-editor or producer doesn't have to do much work on your script, they will look very pleasantly at giving you another assignment or recommending you. If your script is late, needs massive re-writes, and causes your boss to pull an all-nighter fixing it, then your phone is not going to ring.
What's next?
At the moment, I'm writing the further adventures of Lady Natasha Dorrington, aka Lady Sherlock. I am also directing Debra DeLiso, a brilliantly talented actress, in the recording of the audio version of Lady Sherlock.
This last year has also seen me busy as a consultant for various TV projects.
What do you know now that you wish you knew when you started this project?
I underestimated the amount of effort, both in social media and in the real world, required to get eyes on the book once it was published. In television, the writer writes, gets a check, and goes on; the marketing is done by the entity which hired him or her.
With a novel, even though I have a publisher, I am, for the most part, that publicity/marketing entity. It is an entirely different skillset (and not one which is all that common to writers), and exceedingly time- and energy-consuming. So I am now engaged in mastering social media.
Tags:
Author Q&A
Brooks Wachtel
Emmy Awards
Fiction
Film
Getting Published
Lady Sherlock
Marketing
Mystery
Novel-writing
Publishing
Screenwriting
TV