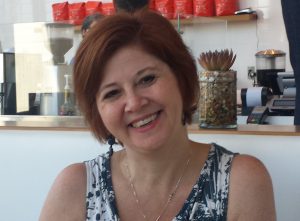 The April 2017 meeting was held last week. Am loving our new location C&M Coffee and Milk Westwood Gateway in West Los Angeles. Thanks, Brandon, for your hospitality … and for the parking validations.
A common theme during our conversations is finding balance. Not only do entrepreneurs and creatives need to divide their time between finding clients and working on projects, there's that whole work-life balance thing that sometimes – okay, frequently – gets thrown by the wayside.
With that in mind, in the Facebook live video recap I asked everyone to share a fun goal for the month. Early in the meeting, I got a recipe for clam chowder (my favorite) from Larissa. So, naturally my fun goal this month is to make that soup. Here's what some of the others had to say.
The next LA meeting is on May 3 at C&M Coffee and Milk. RSVP on Facebook.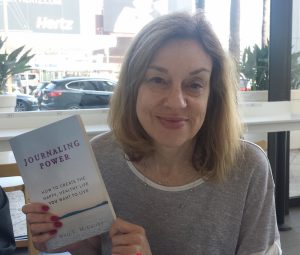 New Giveaway: Each month, I will give away a book at one of our live meetings. All you have to do is be present and enter your name in the drawing. In April, Michele Weisbart won a copy of Journaling Power: How to Create the Happy, Healthy Life You Want to Live by Mari L. McCarthy. Check out my Q&A with Mari. The May giveaway book is Christmas Karma by Gerald Everett Jones.
Write On Facebook Group: Last month, I relaunched the Facebook group for Write On Online in order to facilitate conversations, as well as encourage community and connection among members. There are daily threads where people can chime in, share their thoughts and links, and so on. This group is for writers, creatives, and entrepreneurs. Feel free to invite your friends and peers to join. Also like the Write On Online Facebook page.
Don't forget to post your April 2017 Goals. Please also share a fun goal for the month in the comments. #WriteOn
Tags:
Goals
Personal Goals
Write On! Meeting
Write On! Online
Writing