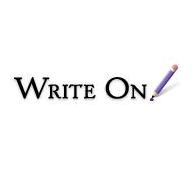 Post your May Goals on Write On Online or Facebook and be entered in a drawing to win a book from Michael Wiese Productions.
And for more community and connections join the Write On Online Facebook Group. Chime in on the threads, share your links, and more. Like the live hangouts, the group is for writers, creatives, and entrepreneurs. Feel free to invite your friends and peers to join too.
If you need blogging inspiration, check out my book: Write On Blogging: 51 Tips to Create, Write & Promote Your Blog. I am also talking about blogging today on the American Society of Journalists & Authors teleseminar at 10am pacific. More info below and here.
Want to be part of the next book in the Write On series? Take my goal-setting survey. I will be including data and examples from it in the book.
Upcoming Events
May 17: American Society of Journalists & Authors presents: How to Be a Better Blogger with guest expert Debra Eckerling. Are you blogging but not getting the traction you expected? What are the pros doing that you should be doing, too? What are the current best practices for blogging? Join us for a discussion that will take your blog (or the blog you write for a client) to the next level. This teleseminar starts at 10am pacific. Free for ASJA members, $19 for non-members. Register here.
May 20: IWOSC (Independent Writers of Southern California) presents "How to Write Query Letters and Proposals" at 10:30am pacific. Monica Faulkner, author, editor, journalist, copywriter, and speaker, will walk participants through the steps to irresistible queries and proposals. Location: Veterans Memorial Building, 4117 Overland Ave. in Culver City. RSVP required at IWOSC.org; $15 IWOSC members, $35 non members.
May 21: Author Carolyn Howard-Johnson will be speaking at a meeting of The Southern California chapter of the Historical Novel Society about Frugal Editing and Frugal Book Promoting at Du-par's Restaurant & Bakery, 214 So. Lake Ave, Pasadena, CA, at 11:30am. Both authors and those who love to read historical fiction are invited. The meeting is free, but you are invited to have lunch in the back room of the restaurant. Learn more about membership by contacting paul@truthinhistory.com.
May 22: IWOSC presents their (rescheduled) annual Literary Agents Panel at 7:30 pm. Sara Nestor of Verve LA represents screenplays; the other panelists will be literary agents. Location: Veterans Memorial Building, 4117 Overland, Culver City. Follow signs to Multimedia room in back.  RSVP at IWOSC.org; nonmembers $15; IWOSC members free.
May 25: Author Carolyn Howard-Johnson will be speaking at a combined meeting of Independent Writers of Southern California (IWOSC) & Small Publishers, Artists & Writers Network (SPAWN) at 7pm. The meeting is free but you are invited to eat with them a Mimi's Café, 400 N. Moorpark Rd., Thousand Oaks, CA. Details here. If dining, please arrive by 6:30pm.
June 7: June LA Hangout at C&M Coffee and Milk Westwood Gateway, 11111 Santa Monica Blvd, in Westwood from 1-3pm. C&M will validate parking in the building for the first 15.  RSVP on Facebook.
June 8: Book'd in Burbank: The Ultimate Bibliophiles' Night Out  at The Group Repertory/Lonny Chapman Theatre in North Hollywood at 8pm. This special YA Summer Edition features authors Maria Alexander, Maurene Goo, Aditi Khorana, and Lilliam Rivera. Get event details.
* * *
Plus
Author Q&As are back on Thursdays on Write On Online. Do you have a new book or an upcoming book release? Want to be featured on Write On Online? For consideration submit your info or email deckerling@gmail.com with your book and website links, as well as your short bio.
Check out the Guided Goals Podcast on Write On's companion site GuidedGoals.com. The podcast is a series of expert interviews, designed to help people pursue their passion projects. Each episode wraps with action items (recommended goals), so listeners can take what they heard, and move forward right away. Watch on YouTube, listen, and subscribe on iTunes, or listen on Stitcher. Season two is starting soon.
Do your kids love to write? Want to encourage them to hone and expand their writing skills? Check out Purple Pencil Adventures: Writing Prompts for Kids of All Ages.  Although it's geared towards kids, there are plenty of prompts adults can use to exercise those writing muscles! Write on!
* * *
Writers, please email me if you have a 2-3 line news item or event and/or if you are are interested in contributing a Write On! Review or Expert Column. Write On!
Tags:
Blog
Blogging
Goals
Write On! Online
Write On! Wednesday
Writing