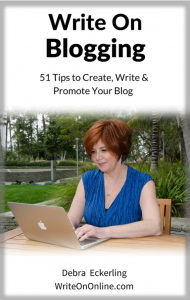 Is your goal to start or reboot your blog? There's still time to get it done in 2017. Or get a jump on 2018.
My book – Write On Blogging: 51 Tips to Create, Write & Promote Your Blog – has everything you need to know to visualize and build your blog, plan and write content, and promote your posts.
And it's FREE on Kindle on November 29, ,November 30, and December 1, 2017.
Filled with simple tips, writing exercises, and tons of resources, Write On Blogging is a road map on how to take what you are passionate about and develop your expertise through your blog.
There are tips on:
Visualizing and setting up your blog
Brainstorming ideas
Creating content
Developing an editorial calendar
Promoting posts
Setting your blog up for success
And more!
Today, an online presence is essential for any business, whether it's a brick and mortar store, online retailer, professional service provider, you name it. There may be tons of people with a business similar to yours, but it doesn't matter. Only you are you!
Show that you know your field by sharing your knowledge on your blog. Write On Blogging is your best first step!
RSVP on Facebook for a reminder. Check out my book! Write On!
Tags:
Amazon
Blogging
How to Blog
Write On Blogging
Write On! Online