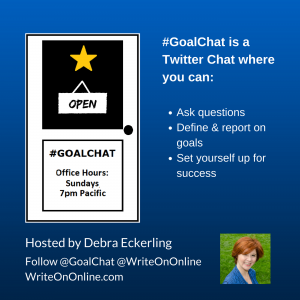 Thanks to everyone who joined us for the 1/28 #GoalChat. This week's special topic: Motivation. What motivates you? What do you do when you feel unmotivated? What advice do you have for those who need motivation?
Join us every Sunday at 7pm Pacific/10pm Eastern to set goals, ask questions, and get support. Feel free to tweet to @GoalChat throughout the week.
Note: Due to the Super Bowl, next week's #GoalChat will be on Monday, February 5, at 7pm Pacific/10pm Eastern.
Below is a recap with some of the tweets from this week's chat.
It's time for #goalchat pic.twitter.com/0yvNaxFjiY

— ⭐ #GoalChat ⭐ (@GoalChat) January 29, 2018
Introduce Yourselves: Who are you? Where do you live? What do you do? @WriteOnOnline #GoalChat pic.twitter.com/EYZu6xKULW

— ⭐ #GoalChat ⭐ (@GoalChat) January 29, 2018
I'm Deb. I live in West LA. I help people set, plan & achieve their goals. I do one-on-one coaching and group workshops. Am author of "Write On Blogging" & founder of @WriteOnOnline, a website & community for writers, creatives & entrepreneurs. https://t.co/BKv5f2Aw0h #goalchat

— ⭐ #GoalChat ⭐ (@GoalChat) January 29, 2018
Hello everyone. My name is Danny Kambel; I live in suburban Portland, Oregon. I work as a Sports Information Director @pacificu. #GoalChat

— Danny Kambel (@DannyKambel) January 29, 2018
I am Dorrie and I am psychologist who blogs about social media and psychology as well as #SocialMediaMarketing I live outside Philly and psyched about the #Eagles #GoalChat

— Dr. Dorrie Cooper (@sittingpretty61) January 29, 2018
Tom, from Colorado where I write and consult on #Leadership and government contracting. #goalchat And I never watch Award shows.

— Tom Reid (@_TomGReid) January 29, 2018
I'm Kevin W. from Northern VA (Washington, DC area) & I'm a Investigative Analyst and a #SportsBiz life-long student, net-worker, and developer of projects. #GoalChat

— Kevin Wilson (@KWilson805) January 29, 2018
#GoalChat I'm Rita Johnson- live in VT & am looking to relocate to San Diego. My background is mental health and addiction recovery advocacy and education. I'm working on a self care community for the workforce as well as other wellness products/services.

— Rita Johnson (@msritajohnson) January 29, 2018
Cheval John, founder and ceo of #vallanomedia. #goalchat.

— Cheval John (@chevd80) January 29, 2018
Late here but…

I'm Alberto, writer and content evangelist from Colombia. This month These days I'm creating two Content strategies, one for a Fintech company and another for a game developer company. #GoalChat

— Alberto Gómez (@alberMoire) January 29, 2018
Q1. What was your biggest win last week? @WriteOnOnline #GoalChat pic.twitter.com/Fa2a1GiZvf

— ⭐ #GoalChat ⭐ (@GoalChat) January 29, 2018
A1. Meeting my deadlines. Sometimes that's the best kind of win. Also got a new review of my book, so that was a nice surprise. https://t.co/gk9RcGnPam #GoalChat

— ⭐ #GoalChat ⭐ (@GoalChat) January 29, 2018
.@GoalChat, meeting deadlines is a significant accomplishment. To meet deadlines is a process that is supported by accountability and responsibility. #GetSET #GoalChat

— Danny Kambel (@DannyKambel) January 29, 2018
A1. The opportunity to reconnect with some of my colleagues to help with a personal strategic plan. #GoalChat

— Danny Kambel (@DannyKambel) January 29, 2018
A1. My biggest win was finally setting some goals with blogging and learning to really get into some kind of regular schedule of every other week. I am making new Twitter Chats. #GoalChat pic.twitter.com/lmRFOwKSdT

— Dr. Dorrie Cooper (@sittingpretty61) January 29, 2018
A1: Started my new job! 🙌 And off to a great start, too. #GoalChat

— Alexis Smith (@Alexified) January 29, 2018
#GoalChat Biggest win: clarity around a direction I've been wanting to go in with a launch. I'm going back through an e-course & working with a mentor. Will be testing this idea over the next few weeks!

— Rita Johnson (@msritajohnson) January 29, 2018
A1. My biggest win was securing an (Informational interview) w/ a new & key contact in the #SportsBiz for this Tuesday. We had tried to talk over the Christmas/Holiday break no no avail, so I'm 😃now. #GoalChat

— Kevin Wilson (@KWilson805) January 29, 2018
A1) Last week was mostly a "slog" week. There were no personal deadlines, just a need to make progress on several tasks. And those were successfully accomplished. HOWEVER – the webmaster finally got the #Leadership blog up and running. So – big win there. #goalchat

— Tom Reid (@_TomGReid) January 29, 2018
A1. My biggest win was seeing the social media cheaters get exposed by the new york times #goalchat

— Cheval John (@chevd80) January 29, 2018
A1 being able to record a new podcast episode and getting to catch up with a couple of friends. #GoalChat

— Tony Overthinking Expert (@SirKingofGifs) January 29, 2018
Q2. What are your goals for this week? @WriteOnOnline #GoalChat pic.twitter.com/92WlprS90P

— ⭐ #GoalChat ⭐ (@GoalChat) January 29, 2018
A2. My goals = Spend some time with my creative project. Continue to promote #GoalChat And keep on top of deadlines

— ⭐ #GoalChat ⭐ (@GoalChat) January 29, 2018
Last week goals included writing and writing more for my books – this week, the same! Woo hoo! #GoalChat A2

— Deborah Thomas (@DTNEtiquette) January 29, 2018
A2. I am knocking off work to go see Jim @jimsciutto from CNN tomorrow at Ursinus College. I have some more professional launches for organizations I am affiliated with and a blog post to publish. #GoalChat

— Dr. Dorrie Cooper (@sittingpretty61) January 29, 2018
A2. My goals for this week are
1. to have a successful conversation with PR students at SEMO on Monday.
2. to host a training session for my student workers, who'll be working baseball/softball games, this spring. #GoalChat

— Danny Kambel (@DannyKambel) January 29, 2018
A2. Call & set up (4) Info. Interviews this week and apply to (3) jobs this week. I also plan to write down my goals for my upcoming #NatlSportsForum trips in early February. #GoalChat.

— Kevin Wilson (@KWilson805) January 29, 2018
A2. My goals is to see how the super bowl will be portrayed over social media #goalchat

— Cheval John (@chevd80) January 29, 2018
A2B. Do a lot of podcast recordings, write two blog posts and participate in twitter chats too #goalchat

— Cheval John (@chevd80) January 29, 2018
I have important meetings Mon, Tue, & Wed. One Tues afternoon mtg got cancelled today, so need to replace it. #GoalChat

— Tom Reid (@_TomGReid) January 29, 2018
A2: Make progress toward my numerous work goals 😅 & be there for my loved ones more #GoalChat

— Alexis Smith (@Alexified) January 29, 2018
#GoalChat Goals: work on getting social profiles up for new niche; conduct polls and other methods for testing my idea; network with other SMMW 18 volunteers

— Rita Johnson (@msritajohnson) January 29, 2018
A2

– Setup new blog
– SEO setups 🙁
– 1 blog post
– 1 newsletter
– 3 live streams videos#GoalChat

— Alberto Gómez (@alberMoire) January 29, 2018
A2: To work on signing up a new client this week. #GoalChat https://t.co/AycsqPuqtW

— Aaron Kilby (@kilby76) January 29, 2018
Yes Sir!

I'm working with realistic goals and tasks this year. Following my calendar and insights from @WriteOnOnline Improving my time management allows me to join many chats as before. #GoalChat

— Alberto Gómez (@alberMoire) January 29, 2018
A2. My goal for this week is to write every day for my LinkedIn 30DS content challenge. It is 30 days of creating original content post on LinkedIn. #GoalChat

— Lainey B. Wellbrock (@HRcupofcoffee) January 29, 2018
A2: I'm working on refreshing my website, a new theme and new offerings – Very excited! #GoalChat

— Sabrina Cadini (@SabrinaCadini) January 29, 2018
A2 get another podcast done, kill this interview I have tomorrow. Get more reading done. #GoalChat

— Tony Overthinking Expert (@SirKingofGifs) January 29, 2018
Q3. What motivates you? #GoalChat pic.twitter.com/SqT7mHXukl

— ⭐ #GoalChat ⭐ (@GoalChat) January 29, 2018
A3. Deadlines. Other people making progress. Even more, when I am excited about a project and can't wait to introduce it to the world. #GoalChat

— ⭐ #GoalChat ⭐ (@GoalChat) January 29, 2018
A3. Taking concept to goal to timeline to accomplishment. #GetSET #GoalChat

— Danny Kambel (@DannyKambel) January 29, 2018
A3. Knowing that you have one life is what motivates me to succeed #goalchat

— Cheval John (@chevd80) January 29, 2018
The challenges I set for myself motivate me…#GoalChat A3

— Deborah Thomas (@DTNEtiquette) January 29, 2018
#GoalChat What motivates me: Greater freedom and flexibility, as well as improved health, which I'm looking to gain through serving others & building my "empire."

— Rita Johnson (@msritajohnson) January 29, 2018
A3. Being alive in the enervated about what life has to offer and what I can contribute to making my fellow man and the world a better place. I love people and find them fascinating and use psychology to solve problems. #GoalChat

— Dr. Dorrie Cooper (@sittingpretty61) January 29, 2018
A3: My wins and my failures – Everything I do is a learning experience to improve myself as an individual and as a business owner #GoalChat

— Sabrina Cadini (@SabrinaCadini) January 29, 2018
A3) On one hand – a bank account nearing empty I find VERY motivating! On the other hand, doing work that helps people improve and actually seeing that improvement. The new leadership book is doing that and I'm loving it! #goalchat

— Tom Reid (@_TomGReid) January 29, 2018
A3. Good (?) & topic. For me, interacting w/ people (over the phone & in-person) are my preference. These interactions, whether it be w/ family, friends, colleagues, etc… get me excited to hit my prof goals or have fun in my personal life. #GoalChat

— Kevin Wilson (@KWilson805) January 29, 2018
A3 honestly reading and talking to people motivate me to write and podcast. #GoalChat

— Tony Overthinking Expert (@SirKingofGifs) January 29, 2018
Q4. What do you do when you feel unmotivated? #GoalChat pic.twitter.com/0fLKHYA9NE

— ⭐ #GoalChat ⭐ (@GoalChat) January 29, 2018
A4. Take a break. Talk a walk. Do something that makes me happy. #GoalChat

— ⭐ #GoalChat ⭐ (@GoalChat) January 29, 2018
A4b. That's why it's so important to have an Alpha and Beta project. When one gets stalled, you have another something to work on. #goalchat

— ⭐ #GoalChat ⭐ (@GoalChat) January 29, 2018
I find a cappuccino and chocolate help everything! LOL #GoalChat A4

— Deborah Thomas (@DTNEtiquette) January 29, 2018
Chocolate solves lots of things #goalchat

— ⭐ #GoalChat ⭐ (@GoalChat) January 29, 2018
A4. I turn to friends, reading, and music! I usually need to refuel my tank! #GoalChat I take good care to allow myself to nurture myself on a physical, emotional and a spiritual level.

— Dr. Dorrie Cooper (@sittingpretty61) January 29, 2018
A4. Get away from the computer and take a walk to do some meditating #goalchat

— Cheval John (@chevd80) January 29, 2018
A4 sometimes crawl up and think. #GoalChat

— Tony Overthinking Expert (@SirKingofGifs) January 29, 2018
A4. Rest, relaxation and reflection. #GoalChat

— Danny Kambel (@DannyKambel) January 29, 2018
A4. Wow, normally I pick up the phone & share my pain w/ others: family or (good) friends. I do read books & listen to audio forms, but when I'm down & out, talking helps me. Getting advice always helps me (whether or not it needs to be acted on at that moment in time). #GoalChat

— Kevin Wilson (@KWilson805) January 29, 2018
A4b

Hi Kevin,

Mastermind groups works pretty well. 2014 was the year I started to join and create masterminds. People always listen and gives you feedback. This also helps me a lot.#GoalChat

— Alberto Gómez (@alberMoire) January 29, 2018
A4

I look for stories that inspires, maybe some calls, biopic movies, documentaries, some reading…#GoalChat

— Alberto Gómez (@alberMoire) January 29, 2018
#GoalChat A4. Talk to a good friend, read a book for pleasure, go for a walk, take a bath– then get right back on the horse!

— Rita Johnson (@msritajohnson) January 29, 2018
A4: Depending on the circumstance, I take breaks and walk to get inspired. Or, I look at what I accomplished so far and I get motivated again #GoalChat

— Sabrina Cadini (@SabrinaCadini) January 29, 2018
Great point. That's why it's helpful to track your activities. So you see you have done more than you thought @SabrinaCadini #goalchat

— ⭐ #GoalChat ⭐ (@GoalChat) January 29, 2018
I always have more than one reading and more than one writing project in process. If I get bored, I jump to one of the other candidates. When NOTHING gets me going, I brush the cats or wander in the woods near me to take pictures. #goalchat pic.twitter.com/nnvYk9u0Qj

— Tom Reid (@_TomGReid) January 29, 2018
Music for soul and body! #GoalChathttps://t.co/FivPPxTFUS pic.twitter.com/VwQi3yXibz

— Alberto Gómez (@alberMoire) January 29, 2018
A4.1 . Staying connected and learning something new or learning to see something in a different way helps me when I'm unmotivated. #goalchat

— Lainey B. Wellbrock (@HRcupofcoffee) January 29, 2018
A4.2 I also read an article recently on ways to recharge that will help you be more motivated and creative. be(I.e. writing, listening to music, dancing, drawing) basically something new and fun! #goalchat

— Lainey B. Wellbrock (@HRcupofcoffee) January 29, 2018
Totally agree. I take hip hop classes. My favorite stress relief. Not an expert at all. .. but getting better, I hope. 🙂 #goalchat

— ⭐ #GoalChat ⭐ (@GoalChat) January 29, 2018
Q5. What advice do you have for those who need motivation? #GoalChat pic.twitter.com/cCG79eIlOa

— ⭐ #GoalChat ⭐ (@GoalChat) January 29, 2018
A5. Come up with a reward system. Always have a passion project in progress – use that to get your engine running and then move over to you have tos. #GoalChat

— ⭐ #GoalChat ⭐ (@GoalChat) January 29, 2018
A5. Be YOU….but also accountable and responsible. #GetSET #GoalChat

— Danny Kambel (@DannyKambel) January 29, 2018
#GoalChat A5. Remember your "why" and keep it at the front of your focus. Cut yourself some slack– you're making strides and that's what counts.

— Rita Johnson (@msritajohnson) January 29, 2018
A5. Watch motivational videos on YouTube which will inspires you to keep on pressing on with your business goals and life #goalchat

— Cheval John (@chevd80) January 29, 2018
I use timelines to keep me on target…#GoalChat A6

— Deborah Thomas (@DTNEtiquette) January 29, 2018
A5. Motivation usually calls into question of perception of self and goals. Many people lose themselves in feelings of worthlessness, failure, and unrealistic expectations. Antidote = idea busting with a punch through draining feelings by feeding the self-esteem! #GoalChat pic.twitter.com/yemGMTnHdw

— Dr. Dorrie Cooper (@sittingpretty61) January 29, 2018
You have to have a vision around which to set your goals. Keep that vision in front of you all the time and remind yourself WHY you are doing what you are doing. That usually gets me back on track. #goalchat

— Tom Reid (@_TomGReid) January 29, 2018
A5. I'll pile on your comment #Debra. I would advice people to create a reward system (formal & informal). If I know the, express to them they can call me but to step away, & do an activity(ies) that you can/will laugh when doing it until your spark comes back. #GoalChat

— Kevin Wilson (@KWilson805) January 29, 2018
A5. I'll pile on your comment #Debra. I would advice people to create a reward system (formal & informal). If I know the, express to them they can call me but to step away, & do an activity(ies) that you can/will laugh when doing it until your spark comes back. #GoalChat

— Kevin Wilson (@KWilson805) January 29, 2018
Don't force yourself to find motivation – Use a positive and creative approach and ask yourself "Where can I improve? How? What am I aiming for?" #GoalChat

— Sabrina Cadini (@SabrinaCadini) January 29, 2018
A5. Keep moving forward. Don't quit even when you're not motivated. This is where you grow. Motivation comes and goes. Recharge and it'll be back. #GoalChat https://t.co/bW928jj3to

— Lainey B. Wellbrock (@HRcupofcoffee) January 29, 2018
How do you reward yourself when you achieve your goals? #goalchat

— ⭐ #GoalChat ⭐ (@GoalChat) January 29, 2018
One way to do rewards – put money in a jar when you reach benchmarks. Then, when you achieve goals, spend it on something special for you! #GoalChat

— ⭐ #GoalChat ⭐ (@GoalChat) January 29, 2018
A5. cont'd. I like that one, I haven't heard that tip since my youth camp days. Way to think outside the box Debra. I'll def use that one as well…👍👏😄 #GoalChat

— Kevin Wilson (@KWilson805) January 29, 2018
#GoalChat Reward: go to dinner or a show with a good friend. Make new goals (I'm nerdy like that).

— Rita Johnson (@msritajohnson) January 29, 2018
Reward
Wrapping up soon. Any requests for next week's special topic? Remember, due to the #SuperBowl the next #goalchat is Monday, 2/5, at 7pm PT

— ⭐ #GoalChat ⭐ (@GoalChat) January 29, 2018
Upcoming topics, updated: how to focus, rejection. working w customers, teamwork, documenting/assessing success. Anything else? #goalchat

— ⭐ #GoalChat ⭐ (@GoalChat) January 29, 2018
Please connect with @WriteOnOnline on Facebook: page https://t.co/tfJqJJxJW3 and group: https://t.co/D0VhQ2Dlop #goalchat

— ⭐ #GoalChat ⭐ (@GoalChat) January 29, 2018
Thanks again everyone for an amazing #goalchat about #motivation Continue the conversation on Facebook https://t.co/BKv5f2Aw0h (page) and https://t.co/BKv5f2Aw0h (group) See you next week for GoalChat at a special time – 2/5 at 7pm.

— ⭐ #GoalChat ⭐ (@GoalChat) January 29, 2018
Special topics for February:
2/5: Teamwork – suggested by @HRcupofcoffee
2/11: How to Focus and Avoid Distractions – suggested by @chevd80
2/18: Dealing with Rejection – suggested by @sittingpretty61
Tweet suggestions for future topics to @GoalChat #GoalChat

— ⭐ #GoalChat ⭐ (@GoalChat) January 29, 2018
Tags:
#GoalChat
Motivation
Twitter Chat
Write On! Online