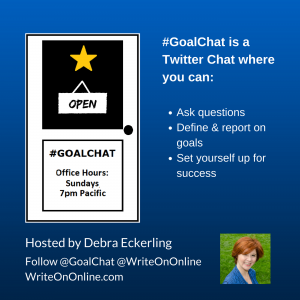 Thanks to everyone who joined us for the 2/11 #GoalChat on a how to focus and avoid distractions. We reported and set goals, shared our best focusing tips, and talked about good and bad distractions.
Join us Sundays at  7pm Pacific/10pm Eastern to set goals, ask questions, and get support. Next week's special topic is Dealing with Rejection – suggested by Dr. Dorrie Cooper (@sittingpretty61). Feel free to tweet to @GoalChat throughout the week.
Below is a recap with some of the tweets from last night's chat.
Welcome to #GoalChat. This week's special topic is How to Focus and Avoid Distractions – Thanks @chevd80 for the suggestion. @writeononline

— ⭐ #GoalChat ⭐ (@GoalChat) February 12, 2018
Please Introduce Yourselves: Who are you? Where do you live? What do you do? @WriteOnOnline #GoalChat pic.twitter.com/6KVm6j0xsW

— ⭐ #GoalChat ⭐ (@GoalChat) February 12, 2018
I'm Deb. I live in West LA. I help people set, plan, and achieve their goals. I do one-on-one coaching & workshops. Am the author of "Write On Blogging" and founder of @WriteOnOnline, a website & community for writers, creatives & entrepreneurs. https://t.co/BKv5f2Aw0h #GoalChat
— ⭐ #GoalChat ⭐ (@GoalChat) February 12, 2018
Hello! I'm Shiloh I am a born and raised Alaskan and I do a little bit of everything online that I can! I have a youtube that I am just getting started and have been on @snapchat for 2 years now! I love making connections with others and having a great time! pic.twitter.com/9MU6f6Li46

— Shiloh Morrison (@ShilohfrmAlaska) February 12, 2018
Tom, from the mountains outside Denver, where I write, teach, and consult on Leadership and Government contracting. #GoalChat

— Tom Reid (@_TomGReid) February 12, 2018
Hello, #GoalChat! I'm Dianna from NY, I work directly next to 🗽 herself, which gives me a great view from my office. pic.twitter.com/NNGw4NOoOW

— Dianna Albanese (@dialbanese) February 12, 2018
I am Jon and I write historical fiction. #GoalChat

— Jon Duckworth (@Duck_n_Pulpit) February 12, 2018
Q1. What was your biggest win last week? @WriteOnOnline #GoalChat pic.twitter.com/L9Io053QxG

— ⭐ #GoalChat ⭐ (@GoalChat) February 12, 2018
A1. Made huge progress on my next project/product. Can't wait to share it with you all. #GoalChat

— ⭐ #GoalChat ⭐ (@GoalChat) February 12, 2018
A1b. Plus, I tried a new dance class – Rumba Caliente – at @LADancefit with Sandy Ginsburg. What a workout, but so much fun! #goalchat

— ⭐ #GoalChat ⭐ (@GoalChat) February 12, 2018
A1. Getting to my kickboxing class three times last week. Felt awesome afterwards. 😁🥊 #GoalChat

— Dianna Albanese (@dialbanese) February 12, 2018
How fun! #GoalChat https://t.co/tRqAKd6ff6

— ⭐ #GoalChat ⭐ (@GoalChat) February 12, 2018
A1b: Also I was able to be a guest host on @SnapSistahs a part of @SnapDays_Bot it was my first interview on a podcast! wonderful people and a great movement towards the future! #goalchat

— Shiloh Morrison (@ShilohfrmAlaska) February 12, 2018
A1) Working hard to maintain momentum from past weeks as the book launch continues. Signed a new client last week. #GoalChat

— Tom Reid (@_TomGReid) February 12, 2018
#GoalChat Finished three weeks of night shifts and kept up with my journal scribblings… most of the time!

— AndromedaTrance (@andromedatrance) February 12, 2018
You all have had big wins this past week! Mine: I began narrating a new audiobook, and today I was interviewed for the Big Nerdy Questions podcast. It should go live on 2/22. @BNQPodcast

— Petrea Burchard (@PetreaBurchard) February 12, 2018
Q2. What are your goals for this week? @WriteOnOnline #GoalChat pic.twitter.com/abWlD4OmUp

— ⭐ #GoalChat ⭐ (@GoalChat) February 12, 2018
A2. Get my new project ready to share. So exciting! #GoalChat

— ⭐ #GoalChat ⭐ (@GoalChat) February 12, 2018
A2. Completing a reverse outline of a story I am editing. Do more work on the Anglo-Saxon Chronicles. #GoalChat

— Jon Duckworth (@Duck_n_Pulpit) February 12, 2018
A2.

-Introduce a new form of content to my company's corporate social media pages.
-Eat healthy.
-Start getting earlier starts to my day to get stuff done in the morning.#GoalChat

— Dianna Albanese (@dialbanese) February 12, 2018
Sometimes I forget that my after-workout "snack" was an entire box of cookies. Small wins, people. #GoalChat

— Dianna Albanese (@dialbanese) February 12, 2018
A2: to upload at least 1-2 videos for my youtube and have them scheduled to post on time for the next two weeks to get a little ahead of the game! #goalchat

— Shiloh Morrison (@ShilohfrmAlaska) February 12, 2018
Whether blogging, vlogging, or just getting newsletters pulled together, staying ahead of the schedule is a constant challenge. I'm with you on this. #goalchat

— Tom Reid (@_TomGReid) February 12, 2018
A2) I have several deliverables that have been in work for weeks that are due this week. Two are nearly done, which is good because they are due tomorrow!! The next newsletter will also issue this week. #GoalChat

— Tom Reid (@_TomGReid) February 12, 2018
@GoalChat #GoalChat – Goals this week: -Contact photographer to set up photo shoot for revamped website – Compete 5 modules in blogging course (from WAHS) – Homework for Mary Kay University & 3 MK bookings

— Rita Johnson (@msritajohnson) February 12, 2018
Special Topic: How to Focus and Avoid Distractions @WriteOnOnline #GoalChat Ready?

— ⭐ #GoalChat ⭐ (@GoalChat) February 12, 2018
Q3. What tips do you have for staying focused? @WriteOnOnline #GoalChat pic.twitter.com/ni71RAvBei

— ⭐ #GoalChat ⭐ (@GoalChat) February 12, 2018
A3. Deadlines – those are very motivating! Set appointments. Use a timer for work sprints. Then, take breaks. #GoalChat

— ⭐ #GoalChat ⭐ (@GoalChat) February 12, 2018
A3. Turn off phone. Close door. Ignore sounds and headaches. Lol #GoalChat

— Jon Duckworth (@Duck_n_Pulpit) February 12, 2018
A3 Planning things out always helps one of the best tools to incorporate into your life could be the 6 most important things list write down the most important things you have to do that day and from there at least you know you have accomplished them #goalchat

— Shiloh Morrison (@ShilohfrmAlaska) February 12, 2018
A3) Focus is purely a function of discipline. You have to CLEARLY lay out your objectives and timelines, determine your metrics for success, and properly reward yourself ONLY when you hit the target. Also make a "stop doing list" to remove unproductive distractions. #GoalChat

— Tom Reid (@_TomGReid) February 12, 2018
I like that you mention a "Stop doing List" could you go into more detail on that? #goalchat

— Shiloh Morrison (@ShilohfrmAlaska) February 12, 2018
Make a list of things you should NOT do. Might be anything from smoking to snacking to watching TV; whatever your vices are. You'd be better if you did NOT do them. Lay out a plan to eradicate them or remove the temptation. I have more in the book; should put it in blog!#goalchat

— Tom Reid (@_TomGReid) February 12, 2018
Q4. What are some of your biggest distractions? @WriteOnOnline #GoalChat pic.twitter.com/yHYeQUUYkm

— ⭐ #GoalChat ⭐ (@GoalChat) February 12, 2018
A4. Email. Social Media. Other non-urgent tasks. #GoalChat

— ⭐ #GoalChat ⭐ (@GoalChat) February 12, 2018
A4. The telephone, people asking questions, headaches. #GoalChat

— Jon Duckworth (@Duck_n_Pulpit) February 12, 2018
A4: not doing enough #selfcare if I don't perform enough self care I get distracted more or to tired to accomplish even the simple tasks that I should be able to accomplish easily #goalchat

— Shiloh Morrison (@ShilohfrmAlaska) February 12, 2018
A4) I arrange my distractions to be other work. When I get stuck or bored, I have another project in the queue. Only when a certain task gets completed or I have made sufficient progress for the time period do I then allow a reward. #GoalChat

— Tom Reid (@_TomGReid) February 12, 2018
YES! Alpha and beta projects! @_TomGReid #goalchat

— ⭐ #GoalChat ⭐ (@GoalChat) February 12, 2018
Q4b. Is there such a thing as good distractions? What are they? #goalchat

— ⭐ #GoalChat ⭐ (@GoalChat) February 12, 2018
See my last tweet! https://t.co/GmUtiUtRRY #goalchat

— ⭐ #GoalChat ⭐ (@GoalChat) February 12, 2018
Depends on what your goal is? #GoalChat Staying awake while driving, then no coffee is not a distraction but a necessity.

— Jon Duckworth (@Duck_n_Pulpit) February 12, 2018
A4b. I consider my weekly dance class a good distraction. Helps to take a break during the day and reset my brain! #goalchat

— ⭐ #GoalChat ⭐ (@GoalChat) February 12, 2018
Yay for "good" distractions! #GoalChat pic.twitter.com/EjXfHCgigJ

— Deborah Thomas (@DTNEtiquette) February 12, 2018
Hey Deborah! I think that the principle business model of Starbucks has nothing to do with coffee. It is a 15-minute vacation. Do not deprive yourself of the vacation you have earned. #GoalChat

— Tom Reid (@_TomGReid) February 12, 2018
I like that you mentioned 15-minute increments. @_TomGReid That is a great amount of time to step away and refresh @DTNEtiquette #goalchat

— ⭐ #GoalChat ⭐ (@GoalChat) February 12, 2018
Watching Sherlock Holmes is a good distraction. #GoalChat

— Jon Duckworth (@Duck_n_Pulpit) February 12, 2018
I needed a break this week and decided to go to a movie – The Darkest Hour…was a great decision! #GoalChat

— Deborah Thomas (@DTNEtiquette) February 12, 2018
Once things warm up, gardening is my good disctraction. #goalchat

— Jon Duckworth (@Duck_n_Pulpit) February 12, 2018
Q5. How do you avoid distractions? @WriteOnOnline #GoalChat pic.twitter.com/INoqR2Thmx

— ⭐ #GoalChat ⭐ (@GoalChat) February 12, 2018
A5. Turn off wifi. Silence my phone. Change up my work environment. #GoalChat

— ⭐ #GoalChat ⭐ (@GoalChat) February 12, 2018
A5. They keep finding me. Phone calls on reducing my credit card interest rates & car warranties. #GoalChat

— Jon Duckworth (@Duck_n_Pulpit) February 12, 2018
#Squirrel no but really by telling myself what needs to be accomplished and setting myself up to do that task then telling myself I can do something else when I have finished. seems simple but sometimes still doesn't help lol #goalchat pic.twitter.com/cvqgmxy17b

— Shiloh Morrison (@ShilohfrmAlaska) February 12, 2018
I am totally for the rewards system! We can do that as a future topic. #GoalChat

— ⭐ #GoalChat ⭐ (@GoalChat) February 12, 2018
Speaking of which … the topic next week (2/18) is Dealing with Rejection, suggested by @sittingpretty61 #goalchat

— ⭐ #GoalChat ⭐ (@GoalChat) February 12, 2018
#GoalChat How do people feel about pomodoro sessions? I jumped on late, so I apologize if this has already been covered.

— Rita Johnson (@msritajohnson) February 12, 2018
I am a fan of 15-minute work sprints @msritajohnson #goalchat

— ⭐ #GoalChat ⭐ (@GoalChat) February 12, 2018
Also, I schedule appointments for certain work tasks. That helps me focus too! @msritajohnson #goalchat

— ⭐ #GoalChat ⭐ (@GoalChat) February 12, 2018
Thanks, everyone, for joining us for #GoalChat! Best of luck with your goals!

— ⭐ #GoalChat ⭐ (@GoalChat) February 12, 2018
Have a great week, everyone! Please connect with @WriteOnOnline on FB – Page: https://t.co/tfJqJJxJW3 and Group: https://t.co/D0VhQ2Dlop #GoalChat

— ⭐ #GoalChat ⭐ (@GoalChat) February 12, 2018
Tags:
#GoalChat
Goals
Write On! Online
Writing